Play Premium Blackjack Online
Welcome, If you had a casino account with Casino.com, please click here for more information or to login.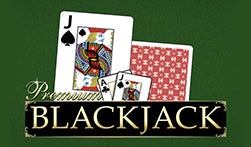 Premium Blackjack is a highly-polished and unique variant of Blackjack that combines a high betting range with a low house edge to create a game that all players can appreciate. Whether you're a new Blackjack player or cardsharp who knows their way around a table, Premium Blackjack could be the game for you.
With that said, let's look at some of the features that make this game unique. And remember, Premium Blackjack is just one of the many dozens of table games that you can find at Casino.com UK.
PREMIUM BLACKJACK KEY FEATURES
Provider: Playtech
RTP: 99.58%
Max Win: x100
Min Bet: £0.50
Max Bet: £500
RULES: HOW TO PLAY PREMIUM BLACKJACK
It's often said that the goal of Premium Blackjack is to get as near to 21 as you can. In actual fact, the goal is to beat the dealer. It doesn't matter if you beat them with a score of 10, 15, or 21—as long as you beat them, you win.
As a player, your goal is to build a hand that you think is strong enough to beat the dealer's hand. The highest possible score is 21, and if it is obtained with just two cards (an Ace and a 10, J, Q, or K) it is known as a "Blackjack" or a "Natural".
You can play up to 5 hands at once in a game of Premium Blackjack. All of these hands begin the same and offer the same features and possible moves. They are also played against the same dealer hand, but depending on the cards that you receive, you may choose to act differently from one hand to the next.
Premium Blackjack is a variant of Blackjack that follows the rules listed below:
6 decks are used. All decks are added to a shoe and are dealt one card at a time. Used cards are returned to the shoe and shuffled.
Every card is assigned a number and these numbers provide the total value of the hand. Aces can be both 1 and 11; Jacks, Queens, and Kings count as 10; all other cards use their face value.
Splits are available, but players cannot re-split. Doubles are allowed after splitting.
A single card is drawn for each Ace in a hand that has been split.
The dealer will not check to see if they have Blackjack until all cards are shown.
Any 21 obtained following a split will not be considered Blackjack.
All Blackjacks pay 3:2, which equates to 1.5x the stake.
If the dealer shows an Ace, the player doubles, and the dealer hits Blackjack, the player loses their bet; if the dealer shows a 10 and hits Blackjack after the player doubles, the player's doubled bet will be returned to them.
Many of the rules in Premium Blackjack are the same as other games of Blackjack, albeit with a few tweaks, as noted above. Some of the other rules to consider include:
Busting and Winning: If you have a hand that is closer to 21 than the dealer's, you win. If you exceed 21, you go "bust" and will lose the hand regardless of what the dealer has. However, the dealer can also go bust, at which point you will win with any hand of 21 or less.
Push: A "push" happens when players have the same total points. As the dealer will always draw to 16 and stand on 17, a "push" will only occur on scores of 17, 18, 19, 20, or 21.
Blackjack vs 21: Blackjack always beats a score of 21. The former is obtained by drawing an Ace and a 10 card; the latter can be obtained through additional cards and following a split.
Split
If your first two cards both have the same value, such as two Nines or two Kings, then you can split. At this point, your hand is "split" into two and additional cards will be drawn to each hand. There is no limit to how many cards you can draw to each of these hands, and they don't need to be played in the same way.
For instance, if you split two Nines and draw an Ace and a Two, you may decide to Stand with the first hand (Nine + Ace = 20) and Hit with the other (Nine + Two = 11).
There is an exception for Aces, though. It is possible to split Aces, but in doing so you will only receive 1 card to each of your two hands.
Double
Also known as a "double-down", this move can be made when you have two cards in your hand. If you choose to take this option, then your wager will be doubled and you will be given one more card. This third and final card will ultimately reveal your total score, after which the game will be settled.
If you are dealt a Five and a Six for a total score of 11, you may choose to double. If a Ten card is dealt, you will score 21 and the dealer will then reveal their cards to determine if they have beaten you (with a Blackjack), if the hand will be pushed (with a score of 21), or if you win.
Insurance
When the dealer's face-up card is an Ace, it means they are in a strong position. An Ace is considered to be the most powerful card in a game of Blackjack. Not only can it act as both a 1 and 11, but it only needs a 10 to form a Blackjack, and there are four different 10 cards in the deck (Ten, Jack, Queen, and King).
The insurance bet provides "insurance" against such an eventuality. It can be taken whenever the dealer is showing an Ace. A sum that is equal to 50% to your stake will be placed to one side and, if the dealer shows a 10 and scores Blackjack, you will be paid 2:1, which means you'll get your stake and insurance back.
If the dealer's card is not a 10, the insurance won't payout, but it is still possible to win the normal bet.
10-Card Charlie
Although rare, it is possible for you to draw 10 cards without going bust. This is known as a "10-Card Charlie" and it triggers an automatic win. It is possible to achieve this outcome on split hands but doing so requires you to draw many low-value cards.
For instance, if you draw Two, Three, Three, Three, and Seven, then you have a total of 18 and have already drawn 5 cards. In such cases, it's not possible to make the bet. However, if your first 6 cards are evenly split between Aces and Twos, then you technically have a score of just 9, and there are a few ways you could complete a 10-Card Charlie (such as a mixture of Aces and Twos and a mixture of Twos and Threes. You could even win with a Four, Three, Two, and Two).
Side Bets
A side bet is a wager that you place on the "side", one that is distinct from the main game and can be won even if the main game is lost. A side bet is dependent on the cards in your hand (and sometimes in the dealer's hand) but doesn't work in the same ways as the main game.
You need to place a main bet before you can place a side bet.
Perfect Pairs
The Perfect Pairs side bet pays if the two cards have the same face value. You can make this wager on your own hand, as well as the dealer's hand. There are several different outcomes for this bet.
A Coloured Pair means that the cards are the same colour but form a different suit (e.g. the Four of Hearts and the Four of Diamonds). A Red/Black Pair means that they are from different colours and suits (e.g. Four of Hearts and the Four of Clubs). As for the Perfect Pair, it means that the cards are the same value and suit (e.g. 2x Four of Hearts).
Add your chips to the Player's Pair area to bet on the player's hand and the Dealer's Pair area for the dealer.
There is also a side bet known as 21+3, which can be accessed by placing your chips on the relevant "21+3" area. 21+3 forms a poker hand from your two cards and the dealer's face-up card. If they are all the same colour, you have a Flush; if they are all the same value, it's a Three of a Kind.
PREMIUM BLACKJACK ODDS AND PAYOUTS
The most basic rules and payouts are shown on the Blackjack table at all times. For everything else, you can refer to the table below.
| | | |
| --- | --- | --- |
| Winnings | Payout | Example |
| Winning Hand | 1:1 | You have a higher score than the dealer. |
| Insurance | 2:1 | The dealer shows an Ace, you take Insurance, and they score a Blackjack. |
| Blackjack | 3:2 | Perfect Pair (Side Bet) |
| Perfect Pair (Side Bet) | 25:1 | Two of the same cards. |
| Coloured Pair (Side Bet) | 12:1 | Two cards of the same value and colour. |
| Red/Black Pair (Side Bet) | 6:1 | Two cards of the same value. |
| Suited Three of a Kind (Side Bet) | 100:1 | Three cards in the same suit and value. |
| Straight Flush (Side Bet) | 40:1 | Three cards that form a Straight Flush. |
| Three of a Kind (Side Bet) | 30:1 | Three of the same value cards. |
| Straight (Side Bet) | 10:1 | Three cards in a row. |
| Flush (Side Bet) | 5:1 | Three cards of the same suit |
GET YOUR PREMIUM BLACKJACK BONUS TODAY
As a new player, you could be entitled to bonus credits that you can use to play Blackjack, as well as Golden Chips that let you play free hands. It's a great way to play a few hands of Premium Blackjack and get accustomed to playing this great game! Check out our  bonuses  page for more information.
We have covered everything you need to know about playing Premium Blackjack. If you still have a question about playing this game, you can use one of the following help options:
In-Game Help Menu: Every game has a built-in file that contains details about the rules, payouts, bonuses, and more. Click the little hamburger menu to access this feature and learn more.
Customer Support: We have a dedicated Customer Support team on-hand to help you every second of the day. You can use Live Chat, telephone, or email—we're always happy to help.
PLAY PREMIUM BLACKJACK FOR REAL MONEY
Now that you know the basics of Premium Blackjack, there's only one thing left to do: Play! Sign up today to collect your Welcome Package and explore countless casino games from the world's biggest providers. If you want to take things to another level, make sure you check out our Live Blackjack options, where you can play the game with real dealers.