Welcome, If you had a casino account with Casino.com, please click here for more information or to login.
If you're looking for a simple and secure payment method for adding funds to your online casino account, you don't have to look further. Neosurf is a pre-paid voucher, which means that online casino players can avoid using their debit cards or going through the bank.
A prepaid value card that you can use online to transfer funds to your casino bankroll, Neosurf is a new and increasingly popular option with players across the globe. Available in a variety of values from £10 to £100, this is a simple but fast, secure and easy-to-use option that provides you with 24-hour access to all areas of our online casino, including games, the Cashier for money transactions, and customer care.
When you choose Casino.com UK as your preferred Neosurf Casino, you will enjoy complete control over your money, safe and secure gaming, and access to 300+ exciting real money games, including exciting options such as 3D, live dealer and progressive jackpot games with giant payouts.
As a new player, you may also be eligible for your site's Welcome Bonus which will provide a healthy boost your bankroll and provide you with more playing funds to use on your favourite casino games. Alternatively, as a returning player, you can check out our promotions page to see what bonuses they currently have on offer for existing players..
Designed to allow consumers to easily purchase goods and services online and a relatively new payment method, the Neosurf cash voucher prepaid card is already established in multiple countries worldwide and it has recently become a viable payment method at online casinos in the UK. You choose the denomination of the card you wish to purchase and then you locate an authorised physical retailer and buy your prepaid Neosurf card with cash.
The cards are available in denominations of £10, £15, £20, £50 and £100. The minimum allowed deposit is £10 and the max deposit is £200, which means that you'd have to enter in two £100 cards to make the maximum possible deposit. There are also online retailers available if you have a debit card you would like to use to purchase a cash voucher prepaid card.
Once you have your card, you will also receive a special 10-digit personal payment code that allows you to use the voucher for online purchases including online casinos. This method removes the need for any bank account, or debit card details, and has vendors across the globe for convenience.
You can locate your nearest vendor using the Location Finder on their website; simply select the country then enter your address and the locator will do the rest. Neosurf also allows you to cash out your casino games winnings, for an all-round payment method service.
As safe and fast as cash, Neosurf is an innovative, simple yet secure online payment method that provides access to online purchases in local currency at thousands of retailers across a variety of industries worldwide. Available to buy from over 135,000 vendors across the globe, it's no wonder that more and more players are choosing to use this convenient option to fund their bankroll.
When you choose this option to make your casino deposit, you don't need a bank account, or debit card and there's no need to share personal information; the card is bought with cash and can be used instantly after purchase via your special voucher 10-character personal payment code. You simply find a retailer and input your 10-character personal payment code online to complete your transaction.
You don't need to use the prepaid balance all at once; like a bank account, your purchase amount is deleted from your overall balance whenever you use it and the remaining balance can be transferred to another prepaid voucher up to a maximum of £250 or equivalent.
ADVANTAGES OF USING NEOSURF AT CASINO.COM UK
The advantages of choosing this payment method are numerous. Firstly, it is simple and straightforward to use, from purchasing the voucher to redeeming it to paying and playing online. Also, it is a highly secure option for online money transactions because when you purchase or use the Neosurf card to deposit funds into your casino bankroll online, you don't need to provide a bank account, debit card or other personal details to make use of its services and benefits.
However, you can also opt to purchase a prepaid voucher online if you do have a debit card you wish to use – either way, you won't need to complete any complicated sign-up forms or time-consuming security tests. This has a positive impact on your gaming because it means there is no need to wait 3-5 business days like with many other payment methods; instead you can start playing all your favourite casino games without delay, making any payments you make using Neosurf truly instant. Therefore, the biggest advantage is that the money is available for you to use as soon as the transaction is completed.
Payments can be made into your bankroll via this prepaid card at any time of day or night; so the 24-hour access to your bankroll means you can always play when it best suits you. Another major advantage is that you can even use Neosurf to cash out your winnings; all you need to do is open a MyNeosurf account through the payment provider's website. This will give you access to details such as available balance, transfers etc.
The details you need to provide are minimal; name, email, date of birth and password, and then you're good to go – it takes just seconds to complete. You can then attach a bank account for withdrawals direct to your bank account, but you can also withdraw your winnings before making this final step and store your winnings with your payment provider in the interim.
In short, when you choose this payment method you enjoy speedy, discrete, secure, and convenient control over your online funds. And if you have any issues, the Neosurf customer care team is second to none; as an added cool bonus, use their live chat facility and a transcript of your conversation will be emailed to you automatically for your reference and records.
Use the location finder on the payment provider's website to locate your nearest outlet – including convenience stores, newsstands, supermarkets, and internet cafes worldwide – then select the value of the card you wish to purchase and buy your card. Once you have your card, you can use it to purchase goods or transfer funds online at thousands of online recognised outlets.
HOW TO MAKE A DEPOSIT WITH NEOSURF
Depositing money with Neosurf at one of our recommended online casinos is a straightforward process. The first step is to head to a local retailer that sells the prepaid card and purchase a card in the denominations you want to deposit.
Now you can log in to your online casino account, head to the Cashier and locate the prepaid option. Select Neosurf from the drop-down menu and a pop-up window will appear for you to enter in the amount of money you wish to deposit. On the back of the card is a secure 10-digit code, you'll have to input these numbers in the proper field, click enter and the money will be transferred to your account. Once the funds have been processed, you'll be able to begin playing all of our popular online casino games immediately.
Deposit in 4 Easy Steps
Select Neosurf deposit in the Cashier
State your deposit amount
Enter your 10-digit personal payment code
When your funds show in your bankroll, play!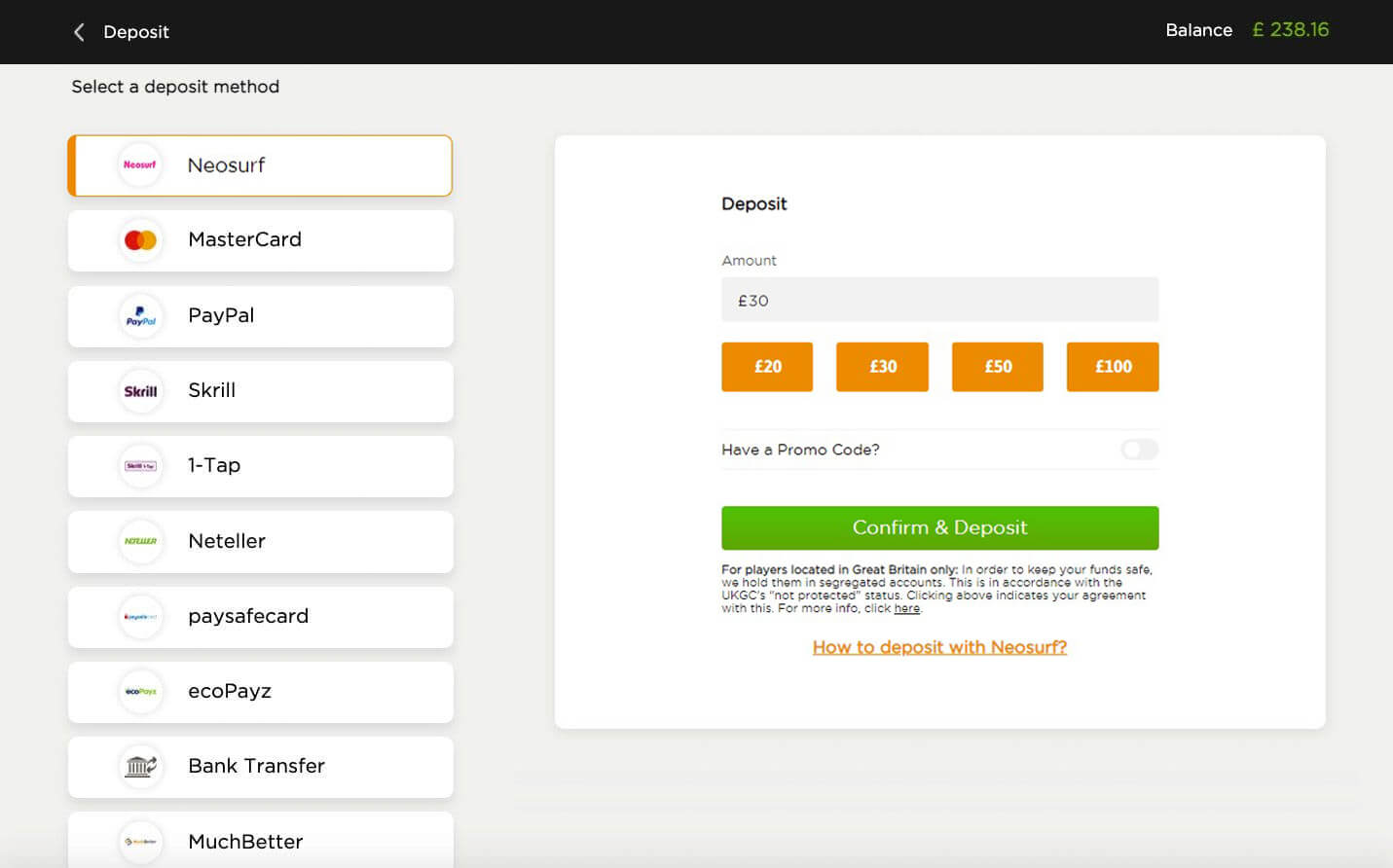 SAFE AND SECURE MONEY TRANSACTIONS EVERY TIME
Since you don't require any personal data to purchase your prepaid voucher, your online transactions are always safe and secure. The company uses a variety of transaction monitoring and verification methods to ensure you can always make purchases or transfer money online with peace of mind.
And as the player is at the heart of everything we do at Casino.com UK, we ensure that we recommend the very best Neosurf casinos, so you can enjoy the best possible all-around online casino experience. We use our extensive knowledge and experience of online casinos to make sure you always receive professional service. Security is our top priority and our sites use the same standard of P128-bit SSL (Secure Socket Layer) data encryption as is used by the world's biggest banks and financial institutions to ensure your money transactions will be fast, safe and secure every time.
PLAY TO WIN REAL MONEY WITH NEOSURF
To play real money games, you need to have an active casino games account with a funded bankroll. To make your bankroll deposit, go to the Cashier, select Neosurf as your payment method of choice, and then specify the amount you wish to deposit and use to play your favourite games online. Follow the on-screen instructions from your payment provider – you will need to enter your 10-digit personal payment code – and if you have inputted the details correctly your money will show in your bankroll instantly, ready to play.
Many of the common games we have on offer include table games, card games, online slots, video poker, 3D game, live dealer games. For the chance to win a giant payout, make sure you take a look at the progressive jackpot games! Progressive jackpots have a minimum seed amount and they increase in size as players pay into the progressive side bet, but with no upper limit to how much they can pay out, progressive jackpots regularly reach into millions. Please note: progressive jackpot, 3D and live dealer games are available as real money games only.
FREQUENTLY ASKED QUESTIONS (FAQs)
How fast are Neosurf deposits?
Instant! The money is transferred to your bankroll right away so long as details are inputted correctly and you have sufficient funds on your prepaid card balance.
When can I make my deposit?
Your site's Cashier page is open 24 hours a day and your prepaid card can be used at any time to fund your bankroll.
In which currency can I purchase my pre-paid card?
You choose whichever currency is in use where you live – so for example, UK players would purchase a card in GBP (£) and this is the currency used when making transfers online. You can make purchases in other currencies but they will be subject to the current exchange rate and show on your voucher in the currency you purchased.
Where do I view my transaction history?
On your casino site's website, go to the Cashier to view all your deposits, bonuses and withdrawals for complete transparency. To view your transaction history with your prepaid voucher specifically, go to your online MyNeosurf account and look at the History page.
Can I withdraw my winnings using this option?
Yes. To do this you need to open a MyNeosurf account with your payment provider – it takes just minutes to open an account and it's also free.
Is it safe to provide my prepaid voucher details?
Yes. You do not need to submit any personal or banking details, just your 10-digit personal payment code.