Mega Moolah Slot Review: Unleash the Jackpot Safari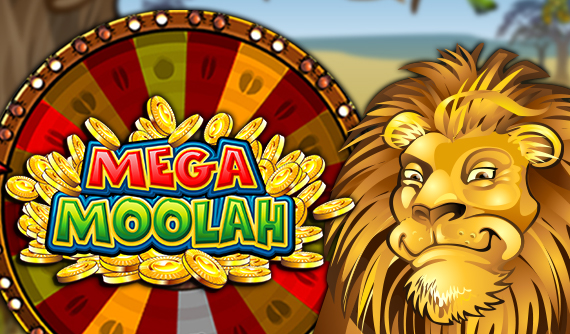 With four progressive jackpots, Mega Moolah is one of the most popular online casino games for UK punters.
The Mega Progressive starts at £1,000,000 and grows with each spin by punters from around the world. In addition to the progressive jackpot, Mega Moolah also has a bonus spin feature and a wild that will double your win.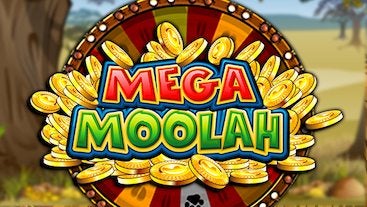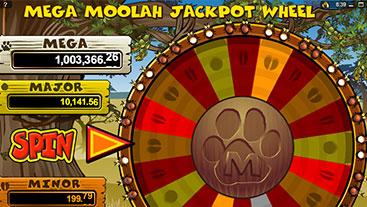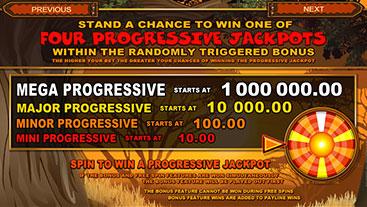 Game Type:

 

Progressive Jackpot
Return to Player (RTP): 88.12% + 8.8% (Progressive Jackpot Contribution)
Volatility:

 

Medium - High
Themes:

 

Safari, Africa, Animals
Release Year:

 

2006
Mega Moolah is only available for real money players. Register your account at one of our recommended real money online casino sites and make a deposit using any of the payment methods available on your chosen site.
The process is quick and easy, and in no time at all you'll get to experience the excitement that comes with playing one of the best online slots on the market.
Mega Moolah became one of the most sought-after casino games mainly due to the Mega Progressive jackpot. Over the past decade, Mega Moolah has paid over fifty-five million pounds to online slot players around the world.
There are four available jackpots:
Mega Progressive Jackpot: Starting at £1,000,000, this jackpot once paid out €18,915,872.81 (over €17 million) to a lucky punter.
Major Progressive Jackpot: While this jackpot doesn't quite reach as high as the Mega jackpot, winning it would be a pretty good day at the casino. The Major jackpot starts a £10,000 and will continuously grow until it's won.
Minor Progressive Jackpot: This jackpot starts out at £100 and will pay out more often than the Major and Mega jackpots.
Mini Progressive Jackpot: With a starting jackpot of just £10, this is the most commonly won Mega Moolah progressive jackpot.  
Mega Moolah has a Return to Player (RTP) of 88.12% plus 8.8% for the progressive jackpot contribution, giving it an overall RTP of 96.25%. What this means that the expected, or average, return that a punter can expect after playing this game is 96.25% of the money wagered. In other words, if you bet £100, on average, you'd end up with £96.25.
This number is based on millions of games, so if you're playing 100 games, that is really just a small sample in the overall scheme of things.
The progressive jackpots may be the most popular aspect of Mega Moolah, but there are some excellent features in the regular game as well. To get started you will need to place a bet and then click on the spin button.
The game does not have an autoplay feature, but you choose to play in Quick Spin mode, which allows for more spins in a shorter amount of time.
Coin Sizes and how the betting system works:

 

There are three different coin sizes that you can choose, they are 1p 2p, and 5p. You can also choose to bet between 1 – 5 coins per line.
The game has 25 fixed paylines, so what all of this means, is that the minimum bet is 25p (1p x 25 lines) and the maximum bet is £6.25 (1p x 5 coins x 25 lines). All payouts are calculated based on the line bet, and not the overall bet. However, as you'll see later on, your odds of winning the Mega Jackpot are increased based on the size of your bet.
Symbols:

 

There are three types of symbols on the reels:

Standard:

 

The main high-value symbols are cartoon drawings of wild animals that are found roaming the African safari. The top paying symbol is the elephant with a top payout of £37.50 when you get five on a payline. Its followed by an elk, giraffe, zebra, and deer. The A- 10 playing card symbols are the lower value symbols, and they have a top payout range from £2 - £7.50. You can see the complete paytable below.
Wild:

 

The roaring lion is the wild symbol and the overall highest paying symbol. It can be found on all five feels and adds a 2x multiplier any time it talks part in a win.
Scatter:

 

an unidentified red-headed creature is the game's scatter symbol. This symbol will start paying out when there are at least two anywhere on the reels. Additionally, if you have 3, 4, or 5 on the reels in a single spin, you will get to play fifteen bonus spins.
| | | | | |
| --- | --- | --- | --- | --- |
| Symbols | 2x on the Reels | 3x on the Reels | 4x on the Reels | 5x on the Reels |
| Wild Lion | 15x | 125x | 1,500x | 15,000x |
| Scatter | 50x | 75x | 500x | 2,500x |
| Elephant | 6x | 50x | 250x | 750x |
| Elk | 4x | 40x | 150x | 600x |
| Giraffe |   | 30x | 125x | 500x |
| Zebra |   | 20x | 100x | 400x |
| Deer |   | 10x | 50x | 250x |
| A |   | 8x | 40x | 150x |
| K |   | 6x | 30x | 100x |
| Q |   | 4x | 20x | 75x |
| J |   | 3x | 15x | 60x |
| 10 |   | 2x | 10x | 40x |
| Scatter |   | 15 Bonus Spins | 15 Bonus Spins | 15 Bonus Spins |
Bonus Rounds: There are two bonus features that you can win in the Mega Moolah slot game. When you get three or more scatter symbols you will win 15 spins. A 3x multiplier will be applied to all wins during the bonus spin feature.
The progressive jackpot round is randomly awarded during regular gameplay. If you're selected, you'll be taken from the reels and get a chance to spin the Progressive Jackpot reel. There is just one slot for the Mega Progressive Jackpot making the odds of hitting it pretty small. The Mini Progressive and Minor Progressive Jackpots are the most commonly won.
While the Mega Moolah slot game is best known for its huge prizes, it also offers a number of bonus features that further increase your potential wins. Let's take a closer look at what those are.
Wild Symbols
The Lion symbol is the Wild symbol of the Mega Moolah slot. This symbol can replace all symbols on the board, except for the Scatter symbol. The more Wild symbols you find on your game board, the better your chances of finding a match!
Multipliers
As an added bonus, whenever you make a match with a Wild symbol, the amount you win is automatically doubled! This means there's even more incentive to find a Wild symbol on your game board. Plus, if you're in the free spins bonus round when making a match with the Wild symbol, the amount you win is automatically tripled, giving you huge returns from a single spin.
Free Spins
The Mega Moolah UK slot game has one bonus round that you can unlock by finding three or more of the Monkey Scatter symbols on your game board. When you find three Monkey symbols on your game board, you'll be rewarded with 15 free spins of this amazing slot! If you're lucky enough to find another three Monkey symbols during one of your free spins, you'll be rewarded with an extra 15 free spins that will help boost your winnings even further.
The progressive jackpots are awarded at random. However, there are some things that can be done that will increase the odds of that happening. For starters, increasing the size your bet will give you a better chance of winning, and with a max bet of just £6.25, you won't have to break the bank making a max bet.
As with most slot machines, there is the idea of playing the "hot machine", and this seems to be true with Mega Moolah as well. Pay attention to the jackpot history, and after it pays out once, it's more likely to do so again within a month or two, until it cools down. The jackpot has been won, an average of 9 times a year over the past three years.
The final tip is how to manage your money effectively while also getting the most opportunities to win. While the odds of winning improve with higher bets, it's still possible to get to the jackpot while making the minimum 25p bet. Therefore, if you're going to budget £100 for Mega Moolah you can play 200 games making a 50p bet instead of 16 games making the maximum £6.25 bet. While the odds for each spin are lower to hit the jackpot, the overall odds are increased based on the number of games.
From time to time, you will be able to find Mega Moolah offers on the promotion page of your online casino site. The offers are often updated, so make sure to check out the page regularly. In addition to Mega Moolah bonuses, new players are eligible for a Welcome Bonus Package, and current players can take advantage of a variety of bonuses and bonus spins.
Game Theme - Design & Sound
The theme of Mega Moolah is centred around an African safari adventure. Players are transported to the heart of the savannah, where they encounter a wide array of colorful and charming animal characters. The vibrant and cartoonish design of animal symbols such as lions, elephants, giraffes, and monkeys creates a visually appealing atmosphere that immerses players in the safari experience.
The sound design of Mega Moolah complements the safari theme and adds to the overall excitement of the game. The game typically features an upbeat and catchy African-inspired soundtrack, including drums, tribal chants, and other African instruments. The slot machine's spinning reels produce classic slot machine sounds that will appeal to lovers of classic slot machines and each animal symbol on the reels is accompanied by its own unique sound effect, immersing you further into the safari experience that Mega Moolah looks to imitate.
Making a deposit at one of our recommended casinos is an easy process. Once your account is active you can visit the cashier and choose from several payment methods such as:
Visa
Mastercard
Bank transfers
Citadel Instant Payments
PayPal
Boku
Skrill
Neteller
paysafecard
ecoPayz
MuchBetter
For a complete list of available banking options for UK players check out the payment methods page of your chosen casino - you may find that some sites have more or fewer payment options than the ones we have listed.
SOFTWARE AND MOBILE EXPERIENCE
Mega Moolah was developed by Microgaming, and they did an excellent job ensuring the game worked just as well on Android and iOS devices as it does on regular computers. The animations when the wild lion or red-headed scatter symbol appears are sharp and don't have any annoying lags.
The overall gameplay is identical to the desktop version, with the same odds of winning the progressive jackpots. If you want to play this exciting game from your phone, you can download one of the available online casino apps, or you can browse the site and just log in to your account from your phone.
It's hard to find fault with a game that has a starting progressive jackpot of £1,000,000 plus three other progressive jackpots and a bonus spin feature with a 3x multiplier. 
Mega Moolah FAQ
What is the RTP rate of the Mega Moolah slots game?
The return to player rate of the Mega Moolah online slot game is 88.12%. This is considered low, as the industry average is around 96%.
What is the volatility of the Mega Moolah casino game?
The Mega Moolah slot has a medium level of volatility. However, due to its low RTP, you may find your bankroll is drained faster playing this game compared to an average medium volatility slot.
How can I win the Mega Moolah Jackpot?
The Mega Moolah jackpot bonus wheel is triggered randomly during the course of regular gameplay. However, you can slightly boost your odds of triggering the wheel by playing with the maximum bet. Once you've triggered the bonus wheel, you can spin it to find out which progressive jackpot you've won.
What bonus features does the Mega Moolah Jackpot slot offer?
The Mega Moolah slot has Wild symbols and Multipliers that increase your potential returns over a single spin. It also offers a free spins bonus round, where players can win 15 free spins by finding 3 Scatter symbols on their game board.
What is the biggest possible win on the Mega Moolah slot?
The biggest standard win on the Mega Moolah slot game is 1800x your bet, but that does not include the four progressive jackpots that the game offers.
Mega Moolah Progressive Slot Game