Welcome, If you had a casino account with Casino.com, please click here for more information or to login.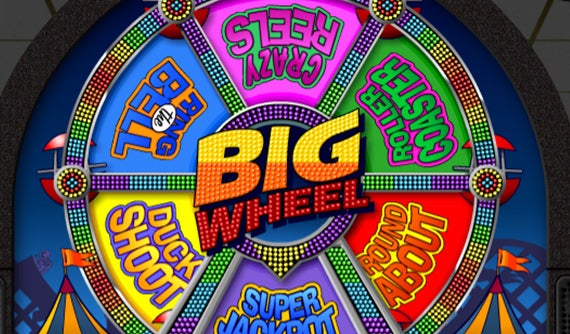 INTRODUCTION
Jump behind the wheel and prepare for a nostalgic journey courtesy of Realistic Games and the Big Wheel slot game, available at many of our recommended online casinos. This is a colourful, quirky slot that has a few modern tweaks and features but ultimately relies on an old-school, traditional layout and mechanics that will be familiar to anyone who grew up playing vintage slot machines in pubs, clubs, and arcades.
You know the sort—you dropped a few coins inside the slot, you pulled the big plastic lever, and you watched the three reels spin before your eyes. They were big, clunky, and noisy, but they were also incredible machines and it's thanks to these slots and the generation they entertained that we have online slot machines.
Big Wheel pays homage to a vintage style that has faded but never quite disappeared and it will appeal to anyone who remembers the aforementioned slots fondly, as well as anyone who likes their games fast, simple, and colourful. Big Wheel also includes a feature that was commonplace on all retro slots and made them what they were, but has since disappeared.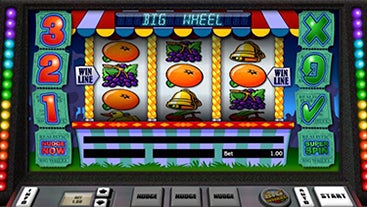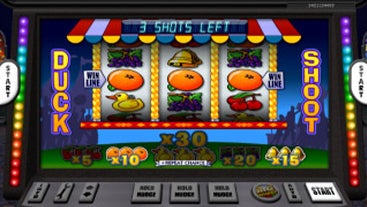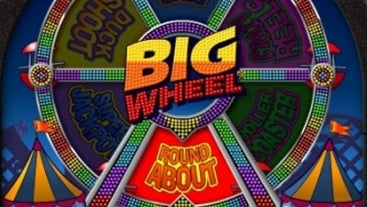 MAIN FEATURES
Game Type:

 

3 reels and 1 payline
Return to Player (RTP):

 

95.23%
Volatility:

 

Medium
Theme:

 

Retro
Release Year:

 

2016
If you have ever played arcade slots then you'll remember the "nudge" feature. This was all the rage back in the day and was as exciting, if not more so, than any Bonus round or Free Spins feature. It's not something you see much of these days, but it's something that Realistic Games has brought back with the Big Wheel slot.
There are three nudge buttons on the game reels, which have been built to resemble a gaming cabinet, and these each represent one of the reels. There are three nudges to use on each spin and they help to shift the reels into a higher-paying position.
PLAY FOR REAL MONEY
If you're ready to play Big Wheel for real money and see where this game takes you, then make a deposit today. There are numerous ways that you can add money to your online casino account and all will ensure that your account is loaded and ready to go straight away.
Just remember to keep a close eye on your budget and to gamble responsibly at all times.
JACKPOT
The maximum win on the Big Wheel slot game is 30x your stake. This means that a stake of £1 can generate a win of up to £30 with a single spin. There is no limit to how many times this jackpot amount can be won in a row or with the use of free spins and other game features.
RULES
Bet sizes 
Symbols
Main: Ducks, Oranges, Grapes, Cherries, Liberty Bell
Scatter: Game Logo
| | | | | |
| --- | --- | --- | --- | --- |
| Symbol | 2 on a Payline | 3 on a Payline | 4 on a Payline | 5 on a Payline |
| Ducks | - | 30x | - | - |
| Grapes | - | 20x | - | - |
| Liberty Bell | - | 15x | - | - |
| Oranges | - | 10x | - | - |
| Cherries | - | 5x | - | - |
Big Wheel may look like a simple game on the surface, but once you start spinning those reels you'll realise that it is anything but. There are a few features that set this game apart from other retro slots while still providing the speed and simplicity associated with these titles.
These features are activated when the Big Wheel Bonus symbol appears on the centre reel. At this point you just need to press the button, spin the wheel, and then wait for one of the following to land:
Roundabout:

 

Hit "Start" to halt the flashing lights as they switch between different symbols. If they stop on a symbol then you will receive a prize to the value of that symbol.
Super Jackpot:

 

Returns a win of three ducks along with the chance to repeat that win as much as 9 times.
Roller Coaster:

 

Hit "Start" to determine the number of moves, after which the reels will move accordingly.
Ring The Bell:

 

The reels spin gradually until they hit a bell, after which a prize is awarded.
Crazy Reels:

 

Wins are awarded for symbols that appear in any position.
Duck Shoot:

 

Pays the lowest symbol and then provides a chance to switch to a higher-paying symbol via a gamble feature.
SOFTWARE AND MOBILE EXPERIENCE
Big Wheel was designed to work as well on mobile as it does on desktop. The touchscreens of tablets and phones also provide more of a tactile experience, which adds to the immersion and increases the nostalgic factor to 11. It's how this game was meant to be played and you can join in regardless of the device or platform that you use.
CONCLUSION
Big Wheel is a slot that is sure to please everyone, from the retro slot fans who yearn for the days of fruit machines and nudge features, to those who lean more towards the big bonus slots loaded with all kinds of features, such as Gladiator and Rocky.