Welcome, If you had a casino account with Casino.com, please click here for more information or to login.
A prepaid card that you can use online to transfer funds to your casino bankroll, Paysafecard is a popular option with our UK players because it is fast, secure and easy to use, giving you instant access to everything we have to offer at Casino.com UK. Choose Casino.com as your No.1 Paysafecard Casino today and you'll have complete control over your money and access to 300+ exciting casino games, including progressive jackpot games with massive payouts up for grabs – and if you need any help, our professional customer care team are available around the clock to assist you in your queries. In addition, you can claim an online casino bonus to boost your bankroll and provide you with more playing funds. We have a range of bonuses on offer such as our 100% up to £100 Bonus (plus 200 spins) for all new players opening an account and playing real money games with us today.
HOW TO DEPOSIT WITH PAYSAFE
Making a deposit with Paysafe is easy and convenient, below are the steps to follow:
Select Paysafecard deposit in the Cashier
State your deposit amount
Enter your 16-digit PIN
When your funds are verified, play!
Should you wish to withdraw with Paysafe, you'll need to make sure that the deposit was done via the Paysafe email address.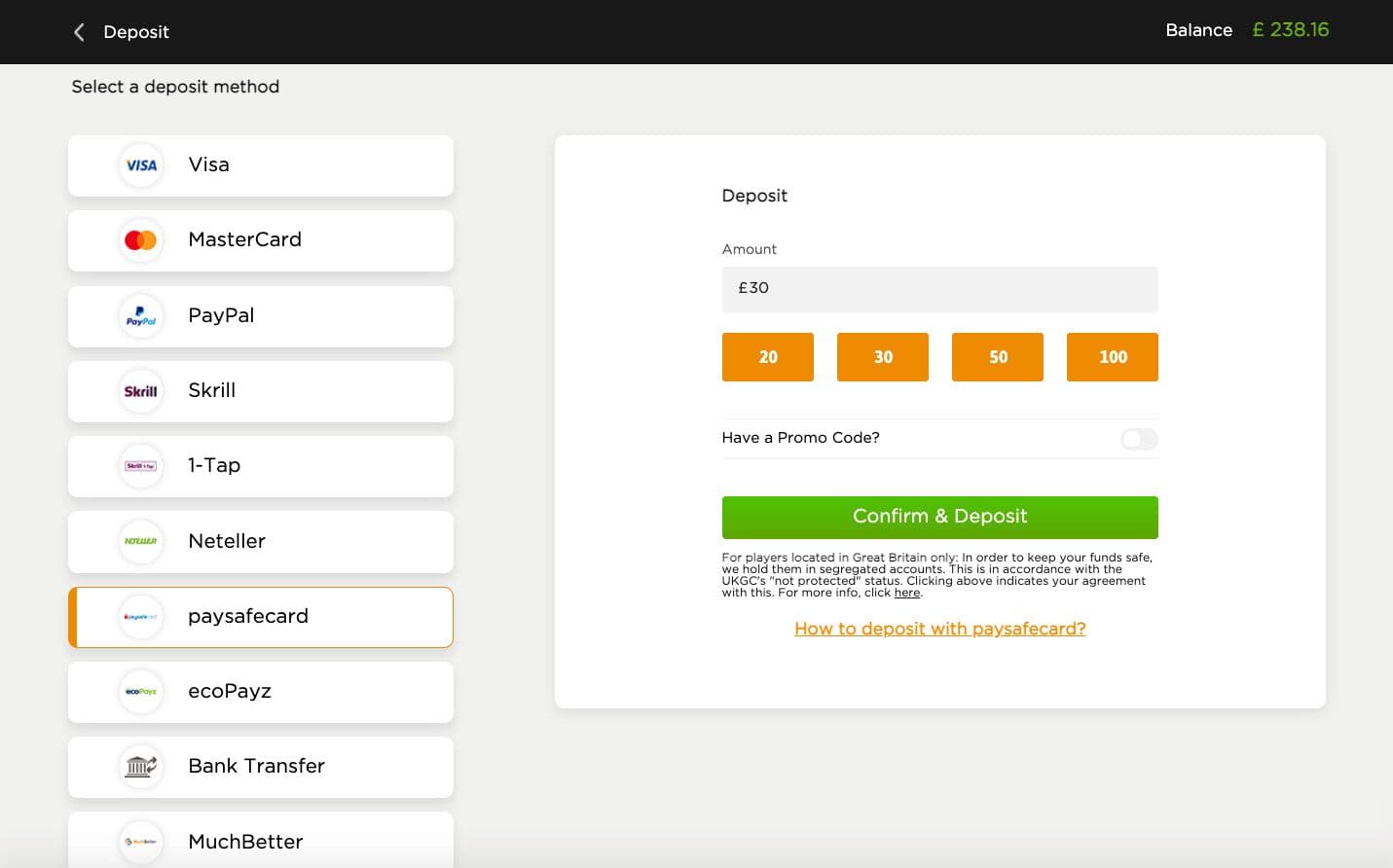 HOW TO WITHDRAW WITH PAYSAFE
Paysafecard withdrawals are only available after a deposit was done with a "paysafecard" email account.
On the withdrawals page, after selecting 'paysafecard', the user has to enter the email address associated to "paysafe" in the relevant field (this is not the email address registered with Casino.com).
It's important to clarify that money deposited with the Paysafecard PIN cannot be withdrawn via Paysafe - this can alternatively be requested back via a bank transfer.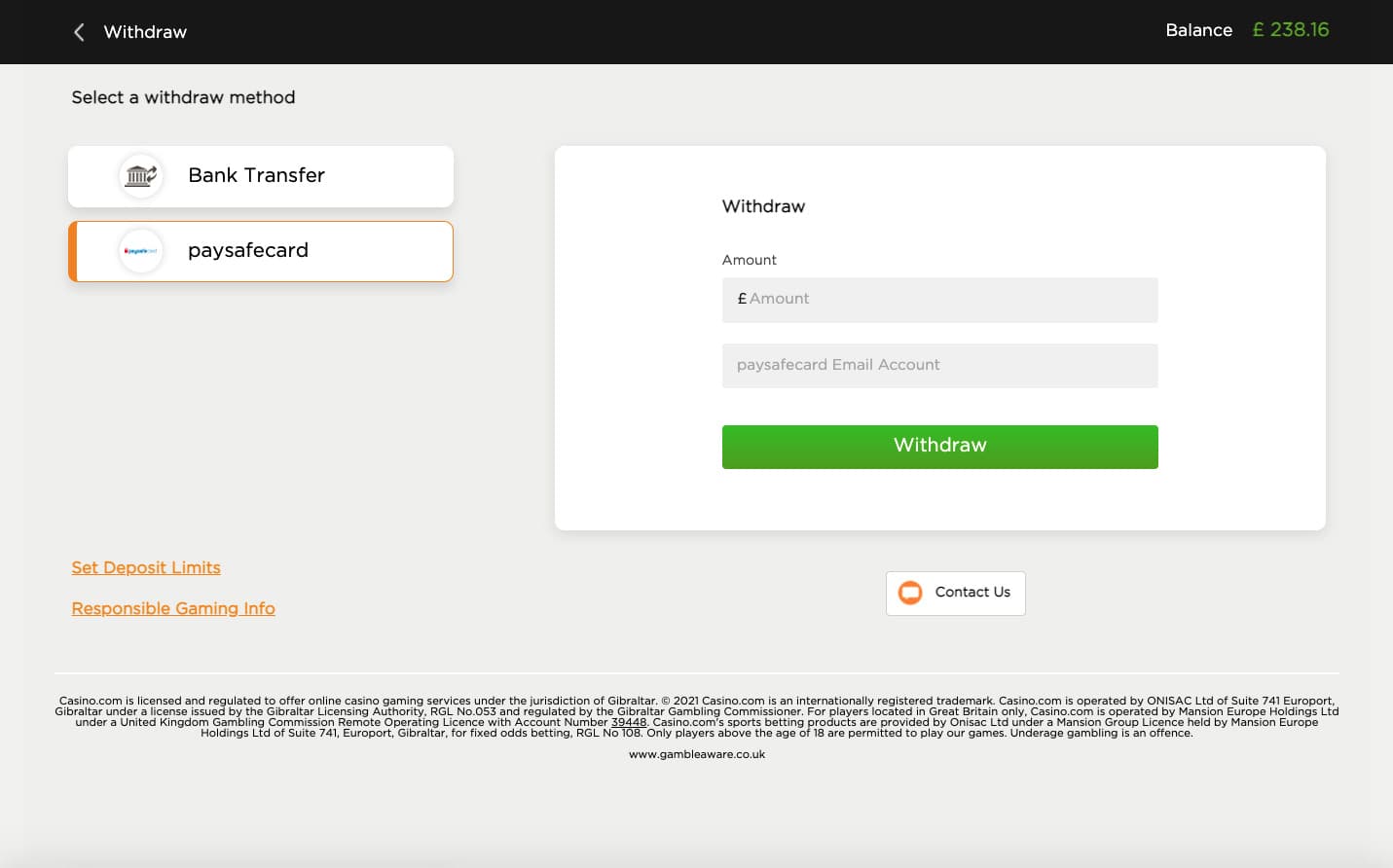 BENEFITS AND DISADVANTAGES OF PAYSAFECARD
As with all payment methods, there are positives and negatives to using Paysafecard. It's important to weigh your options and decide whether the positives outweigh the negatives.
Benefits
Private: Making a deposit or withdrawal to your Casino.com account should be easy and worry free. That is one of the biggest advantages of using the Paysafecard. You don't have to connect the card with your bank account or enter any sensitive financial information. Just enter your Paysafecard numbers and the amount of money you wish to deposit, and you're all set.
Fast: Since there is no interaction with your bank or credit card companies, the deposits occur within 24 hours. This way, you won't miss out on playing your favourite real money casino games or missing out on any casino time-based casino bonuses.
Secure: As long as you don't share your 16-digit Paysafecard number with anyone, the card is as secure as using cash. It doesn't connect with any of your financial institutions and has no personal information of the user. In the worst case scenario, where someone loses the card, the only risk is the money currently on the card.
Disadvantages
Low limits:

 

Paysafecard is not a great choice if you're planning on making large deposits. The card has a £250 maximum deposit limit.
Withdrawal limitations:

 

Not everyone can make a withdrawal using a Paysafecard. Only users who made a deposit using a My Paysafecard

 

email account

 

can make a withdrawal. If you are eligible to make a withdrawal, the maximum amount you can withdraw is just £2,500.
Not the most convenient option:

 

If you prefer to stay anonymous with Paysafecard and not connect it with any other card or bank account, you will need to go out to a local retailer and add money to your account.
FAQs
Is Paysafecard Instant?
Paysafecard is one of the fastest ways to transfer money to your Casino.com account. The transaction is completed instantly, and the money is readily available in your account.
Is Paysafecard free?
Casino.com doesn't charge any fees for using a Paysafecard. However, there are some general fees that Paysafecard charges its account holders. For more information on these fees, check with Paysafecard.
Is Paysafe a safe payment method?
Yes. You do not need to submit any personal details, just your 16-digit PIN.
Can I withdraw my winnings to my Paysafecard?
If you make a standard deposit with Paysafecard using the 16-digit PIN, you can't withdraw money back to the card. Instead, you'll need to choose the bank transfer option for withdrawals. However, if you have made the deposit using a "My Paysafecard" email account, you can withdraw up to £2,500 at a time.
In which currency will my card be debited?
It will be debited in whichever currency you have purchased – so for example, UK players would purchase a card in GBP (£) and this is the currency used when making transfers online.