Spin a Win Live Casino Game
Welcome, If you had a casino account with Casino.com, please click here for more information or to login.
Spin Win Casino Game is Playtech's take on the classic Wheel of Fortune setup, a simple but immensely entertaining format that allows for seemingly endless variety. You can place multiple wagers, witness a myriad of outcomes, and enjoy yourself playing one of Playtech's most colourful and engaging Live Casino games to date.
It's the talk of the town—a buzzing game show with all the neon style of a Sin City casino, and you can play it at a number of our recommended casino sites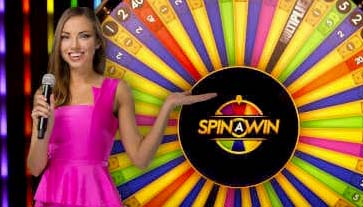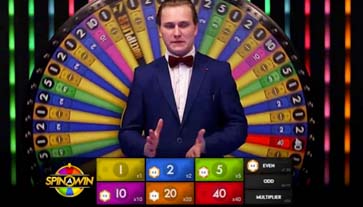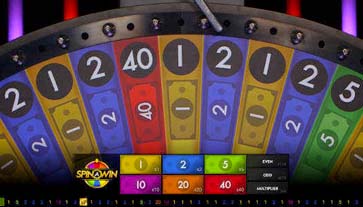 Although Spin a Win has a few different features, they're all relatively easy to grasp, creating a game that is very easy to learn. 
The first thing you need to know is that there are 53 spaces on the wheel and each spin will land on one of these spaces. The goal is to place your money where you think the wheel will stop, not unlike a game of Roulette.
RTP
The RTP on Spin a Win ranges from a low of 90.67% to a high of 97.22%. At the higher end of this RTP, Spin a Win offers a similar RTP to European Roulette and a better RTP than the one you will find on American Roulette variants.
The lowest RTP is returned on the number 40 while the highest is offered for all odd side bets.
| | |
| --- | --- |
| Bet Type | RTP |
| 1 | 95.34% |
| 2 | 95.51% |
| 5 | 91.24% |
| 10 | 96.58% |
| 20 | 92.74% |
| 40 | 90.81% |
| Odd | 97.22% |
| Even | 91.67% |
| Multiplier | 96.30% |
Game Provider
Spin a Win was developed by Playtech, one of the biggest iGaming developers in the world, and one that has a substantial and award-winning Live Dealer platform.
Game Type
Spin a Win is a Live Game Show, which means it is hosted by a presenter while the players assume the role of the contestants. There are no cards or dice, just a wheel, and a few basic rules.
Multipliers
The 53 spaces on the Spin a Win wheel consist of 6 numbers. These are spread across 51 spaces, with two multipliers (2x and 7x) on the remaining ones.
If the wheel stops on one of these multipliers, it will be applied to the following spin.
For example, if you reveal a 7x before the number 2 (2:1) the odds will be multiplied by 7x, creating a total payout of 14:1.
Min Bet
You can wager as little as £0.10 on a single game of Spin a Win. Just select the "0.1" chip and add it to your chosen wager.
Max Bet
The maximum wager is £5,000. There is no single chip with which you can place this bet, so you will need to stack multiple chips together.
The first step to playing Spin a Win is to make sure you have some funds in your online casino account.
As the game loads, you'll encounter a colorful wheel along with a variety of betting options and chip denominations for placing your bets.
This gambling spinning wheel consists of 6 numbers and two multiplier spaces (one for 2x and one for 7x), totaling 53 segments distributed as follows:
1 = 23 Spaces
2 = 15 Spaces
5 = 7 Spaces
10 = 3 Spaces
20 = 2 Spaces
40 = 1 Space
The more times that a number appears, the lower the payout will be. However, the probability of it appearing will also be higher.
If the wheel lands on one of the multiplier spaces, it will be used to boost the size of a number bet. For instance, if you have wagered on the number 1 and it lands on the 2x multiplier followed by the number 1, you'll get a 2x payout increase.
You can place up to 9 bets, and you have approximately 18 seconds to do so.
Whether you're joining for the first time, or you have been a member for several years, you may be able to play Spin a Win Casino with a bonus or promotion from one of our recommended online casinos.
Spins and even extra on your deposit can be used to take a spin on that big and colourful wheel. To learn more, drop by the Promotions page of your chosen site and see what's available. These bonuses are changing all of the time, so don't forget to check the Terms and Conditions and make sure you get every penny that you are entitled to.

You can place a few different bets prior to every turn of the Spin a Win wheel, and most of them are self-explanatory:
Number Bets (e.g., 1 or 2): The wheel must stop on one of these numbers.
Even Bets (e.g., 2, 10, 20, or 40): The number must be even.
Odd Bets (e.g., 1 or 5): The number must be odd.

Multiplier Bets (e.g.,): The result must either be "Multiplier x2" or "Multiplier x7".
The odds and payouts for these outcomes vary considerably. We have listed them all below:
| | |
| --- | --- |
| Type | Payout/Outcome |
| Multiplier x2 | X2 Payout Boost |
| Multiplier x7 | X7 Payout Boost |
| Odd (Side Bet) | 0.75x |
| Even (Side Bet) | 1.25x |
| Multiplier (Side Bet) | 25:1 |
| 1 | Evens |
| 2 | 2:1 |
| 5 | 5:1 |
| 10 | 10:1 |
| 20 | 20:1 |
| 40 | 40:1 |
BETTING AND PLAYING STRATEGIES
There are no strategies to guarantee success, but there are a few things you can keep in mind to better your game.
The RTPs are a great example. An RTP shows you how likely a game is to pay out and how big those payouts will be. The higher the number is, the greater your chance of success will be. Where Spin and Win Casino is concerned, the RTP ranges from 90.67% to 97.22%, which is quite a broad range. To increase your chances, stick with the higher end of this range, which includes bets such as the odd side bet (97.22%) and the number 2 (95.51%).
It also helps to have a bonus behind you and to ensure you fully understand the rules and payouts. So, before you start wagering and spinning, be sure to read this guide to the end and check out your online casino's promotions page.
FAQ
Is there a strategy to win the game?
If you're looking for a game where you can win consistently with a little forethought and strategy, you're barking up the wrong tree. Spin A Win is a game of chance and while some players have proposed certain betting strategies, none of them are guaranteed and there is a risk involved with all Spin A Win wagers.
What multipliers does Spin A Win have?
Spin A Win has two multipliers, and these occupy one space each on the wheel. The multipliers come into play when you have a number bet, as they can boost your winnings by 2x or 7x. You can also bet on these multipliers using the side bet option.
Are there similar games to Spin A Win?
Money Drop Live offers a similar level of entertainment and simplicity as Spin A Win, and there are many other games like it, including Deal or No Deal Live.
Can I play Spin A Win on my mobile?
Of course! Many modern online casino games are mobile-friendly, and that's true whether you're spinning the latest Playtech jackpot slot game or enjoying another fun and exciting Live Game Shows.
PLAY SPIN A WIN FOR REAL MONEY
Spin a Win is a unique take on a classic game, and it's one that you can play in an online casino.
You're just a few clicks or taps away from placing your bets and taking a spin—Playtech's most colourful creation is waiting for you!