Play Megajacks Video Poker Online at Casino.com UK
Welcome, If you had a casino account with Casino.com, please click here for more information or to login.
We're proud to present a game with a strong sense of past, present, and future – that's Megajacks, an exciting video poker title which offers a progressive jackpot. So you may remember how video poker used to look in the 1980s – simple graphics, simple colours, and the friendly buttons on the cumbersome machines which filled the casino halls back in that decade. Well, many years later, in the age of Online Casino Games, Megajacks certainly hasn't forgotten, because it's fully themed in this retro fashion! In many ways, this is video poker like people were playing it back when the game originated, with traditional rules – and the clue is in the name; this is a 'Jacks or Better' style game where the minimum winning hand is a pair of Jacks. Other winning hands are listed out in the paytable which, in classic fashion, is always at the top of the play screen.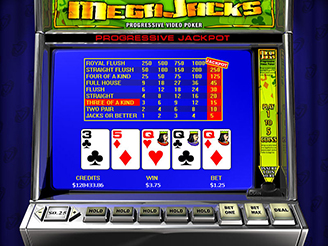 Retro-style graphics meet the latest high tech jackpot
But don't be fooled by Megajacks' retro-styled looks, there's so much more going on with this game. We're offering a chance to get your hands on the networked progressive jackpot – this is a special jackpot which all of the people playing the game – wherever they are in the world, however they're playing – can buy into. It makes full use of the latest Online Casino technology to connect players in a way like never before, and it could be you who takes advantage of this! The highest payout from the progressive jackpot is awarded to the player who, while participating in the progressive game and while playing for the maximum number of coins, can put together a hand with a Royal Flush.
The mega bonus for new players worth up to £3,200
There's also a chance to double up your winnings which comes into play at the end of a successful hand – you can choose to 'Double' or to 'Double Half'. In the former case, you can double your winnings by simply picking a card which is higher than the one which is face up. The latter option opens up another tactic where you can stake only half of your winnings on the doubling game. It's a fantastic feature which is very popular with Online Video Poker players. Equally popular is a special bonus which we've put in place exclusively for new players at Casino.com UK – this could be worth up to as much as £3,200. So if you want to play a traditional game with a networked, progressive twist, there's never been a better time to join us for a game of Megajacks!
Play Megajacks Video Poker Online at Casino.com UK