Play 10's or Better Video Poker Online at Casino.com UK
Welcome, If you had a casino account with Casino.com, please click here for more information or to login.
10's or Better is a Video Poker game which is played with the common deck of 52 cards (Jokers not included). The game takes its name from the fact that the lowest winning combination is a pair of tens. It's a fast and exciting spin on poker, which also allows you to double up your winnings. And in our Online Casino you can play for free, with no deposit. 10's or Better follows the rules of classic poker, but with one notable exception – in order to put together a winning hand you need to have at least a pair of tens. But there's an added layer of excitement, because you'll also be given the chance to double up your winnings at the end of a hand. It's a popular game, particularly because of the speed at which it can be played, and because it's easy to understand and simple to learn. New players can keep an eye on the paytable at all times because it's displayed in the middle of the game screen.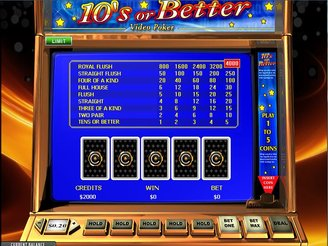 Play amazing video poker games today at Casino.com UK
If you're already a fan of traditional poker, then 10's or Better is a game which you'll love. The basic rules are the same, only the payouts are different, with the smallest being the pair of tens and the largest being, as always, the highly-sought-after Royal Flush. At the start of the game, you'll be dealt five cards. You then need to choose which ones you want to hold, and which ones you want to change, and you need to choose your stake. Then, the dealer will deal the new cards, and if you've got at least a pair of tens then you're a winner. In this case, you'll be given the opportunity to 'Double' or to 'Double Half' – in this part of the game the dealer has one card face up, and you need to choose from four others which are face down – you're looking for a card which is higher than the dealer's. That's as complicated as 10's or Better gets, and that's what makes it a great introduction for people who are joining the exciting world of Online Video Poker for the first time. But it's also a great way for more experienced poker players who fancy taking a relaxing break from some of the more in depth online casino games.
It gets better than better: A bonus worth up to £3,200
But those aren't the only reasons that playing 10's or Better at Casino.com UK is a great introduction to Video Poker – we've got a great offer for all new players of our Online Casino Games, which could be worth up to £3,200. So don't just be prepared for better, be prepared for the best – and start playing with us today!
Play 10's or Better Video Poker Online at Casino.com UK