Welcome, If you had a casino account with Casino.com, please click here for more information or to login.
Provider:  Playtech
RTP: 92% - 96.84%
Theme: Fantasy
Available Games: 10
Playtech's brand-new fantasy-themed slot suite introduces innovative features and combines them with popular slot mechanics. The result? A ground-breaking series of games, like nothing you've seen before. The Kingdoms Rise suite of slots tears down the standard slot machine model and replaces it with unique interactive features and player rewards.
You'll find:
An in-game map used to navigate between slot games.
Spendable game tokens to unlock features such as bonus rounds.
Three individual progressive jackpots.
Unique themes ranging from fiery desert sands to turbulent underwater adventures.
HOW TO PLAY KINGDOMS RISE SLOT GAMES
What makes the Kingdoms Rise suite of games so exciting is that each game is unique. Some use the fixed paylines method while others have a Ways to Win engine, where all you need is matching symbols on adjacent rows to create wins.
However, the basics are the same. Once you register your account and make a deposit at Casino.com UK, you can open any of the Kingdoms Rise slot games from the casino game lobby. Choose a stake size that you are comfortable with and spin the reels. To view the paytable for the game, press the "i" information button, and you'll see a clear breakdown of the payouts and the bonus features. The common features found throughout the Kingdom are bonus spins, stacked symbols, sticky wilds, respins, and dynamic multipliers.
Once you're in the Kingdom, you can open the Map feature on the side of the reels and transport to a different region or area. This will open a different Kingdoms Rise slot game, and you can start playing without delay. You can earn gold tokens while playing the Kingdom Rise slots. The tokens can be redeemed at the Shop for special features and bonuses.
Any of the three progressive jackpots can be randomly triggered on any spin. According to Playtech, the only way to increase your odds of winning is by making larger bets.
AVAILABLE KINGDOMS RISE SLOT GAMES
The Kingdom Rise world seems to expand every few months, as Playtech adds new and exciting games for UK players. Each slot game takes part in a different section of the Kingdom Rise universe and focuses on different characters, complete with unique ways to win, features, symbols, and payouts. Some consistent factors that connect all the games are the tokens you can use at the Feature Shop and quick access to the maps to jump to different parts of the Kingdom.
All Kingdom Rise slot games have a connected progressive feature with three different jackpots. The jackpot grows with each bet placed by players in any game.
| | | | |
| --- | --- | --- | --- |
| Game title | RTP | Paylines | Game Summary |
| Kingdoms Rise™: Battle Beast | 96.22% | 4,096 Ways to Win | The 6x4 grid provides plenty of action with a bonus spin feature, the Battle Beast games that include expanding symbols, and a top prize of 10,000x. |
| Kingdoms Rise™: Captain's Treasure | 96.05% | 50 | Head out to the open sea and hop aboard the Captain's ship on a quest for treasure. You might find a special wild symbol that triggers several respins, with the wild moving around the reels. |
| Kingdoms Rise™: Chasm of Fear | 93.07% | 1,024 Ways to Win | Follow the team of explorers as they search deep caves for treasure. While the search is for a 10,000x treasure, some other goodies you might discover include a bonus game with 6 spins that adds two rows to the reels, expanding the game to 3,465 ways to win. |
| Kingdoms Rise™: Forbidden Forest | 92 – 95.99% | 576 Ways to Win | Venture into the forest and discover the five protectors of the forest plus a host of animals. The owls flying around this forest can award you with as many as 12 respins. |
| Kingdoms Rise™: Guardians of the Abyss | 92.10 - 96.09% | 25 | The underwater realm of the Kingdom is where you'll find Akali, Jax, and Odeon. Each of these guardians has its own bonus spin feature. The different bonus modes can include extra high-value symbols, addition wilds, or a multiplier. |
| Kingdoms Rise™: Legend of Elvenstone | 96.84% | 10 | Dare to defeat the dragon? Join the brave dragon hunters to protect the Kingdom, and you could be in line for wins up to 750x. The bonus features include a Wild Drop, which can move around the reels, and a Dragon Bonus Round, which includes three respins. |
| Kingdoms Rise™: Legion Uprising | 92.03% | 25 | Welcome to the volcanic depths of the Kingdom, where dragons and skeleton creatures battle for the magic book of spells. As they fight amongst each other, you could benefit from a bonus feature with up to 10 spins and a 100x multiplier. To help increase the odds of winning, a sticky wild symbol will remain on the centre of the game board for the entire feature. |
| Kingdoms Rise™: Reign of Ice | 96.50% | 25 | Grab your mittens and head over to the coldest part of the Kingdom. You'll need a hammer to break through the ice and earn an unlimited number of respins with sticky wilds. |
| Kingdoms Rise™: Sands of Fury | 92.24 – 96.23% | 20 | Visit the desert where magicians and wizards do battle. Each of the characters has a Feature Reel above the reels. When the meter fills up, they'll direct their magic at you with bonus spins and special features. |
| Kingdoms Rise™: Shadow Queen | 96.46% | 25 | The Shadow Queen is ready to reward her subjects with 10 bonus spins and a multiplier that increases after each win. |
THE MAP AND ITS FUNCTIONALITY
You can explore the Kingdoms Rise world and navigate from game to game via the map. Each location varies greatly just as each game's features do. You can seamlessly travel from the luscious green forests of the Forbidden Forest to the undersea marine adventure of Guardians of the Abyss in an instant.
All available games are visible, as well as a teaser for future games. To launch any of the Kingdoms Rise slots, click on the flag directly above the game's location to start it.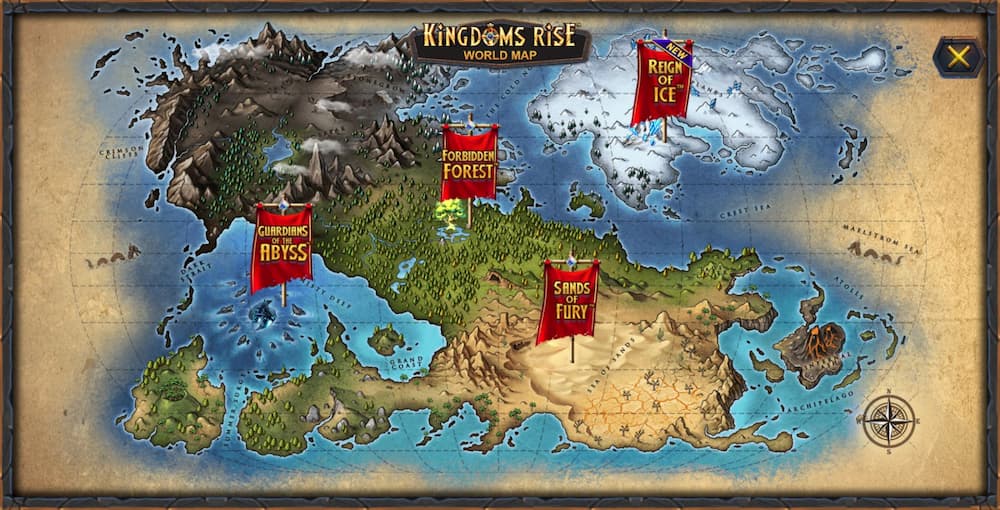 Kingdoms Rise comes with its very own innovative rewards system that awards you with Game Tokens and Pending Game Tokens just by playing the games. Accumulate them at no extra cost, and you can use them to unlock unique and exceptional bonus features and bonus rounds from the feature shop. Plus, each available purchase has been uniquely tailored to each game.
Game Tokens

 

- Can be awarded and earned during regular slot gameplay. Up to 5 Game Tokens + 2.5 Pending Tokens can appear on the reels and will be added to your token balance. Your token balance is unique to you and stores your earned tokens. When you have accumulated at least 300 tokens, you'll trigger the Feature Shop icon, letting you know that you can make a purchase.
Pending Tokens

 

- Can only be redeemed when you have accumulated 500 or more, at which point they'll transfer to your token balance.
Once you've gained 300 Game Tokens, you can make your first purchase from the Feature Shop. As we mentioned before, each feature is unique to one of the Kingdoms Rise games and winnings are paid directly to your balance.
There are three brand-new progressive jackpots available in all of the Kingdoms Rise slots. Any spin amount can win a jackpot, but the larger the bet, the higher chance there is of winning a jackpot.
The jackpots available are:
Epic Jackpot

 

- A tremendous mystery progressive jackpot, which can be hit at any time.
Power Strike Jackpot

 

- A capped jackpot with a timer. It must be hit before the ticker counts down to zero.
Daily Strike Jackpot

 

- This jackpot pays randomly every day and must be won before the ticker reaches zero each day.
When playing Kingdoms Rise remember these essential tips and tactics.
Always read the game's information and paytable before playing
Be aware of each game's different layout, features and bonus structure
Coins awarded on one game can be used to purchase a feature for another game
Explore the Feature Shop and note how much each feature costs. You can even either build-up your token balance and play several features at once
Be aware of each game's different volatility and pick one that fits your play-style
If you want to boost your balance with bonuses and bonus spins, then check out all our latest offers on our promotions page at Casino.com UK.
We have more than just one type of bonus available, to learn about everything on offer, read our dedicated casino bonuses and bonus spins pages.
FAQ
What Kingdoms Rise slot has the highest RTP?
Of all the Kingdoms Rise slot games, the 10 payline, medium variance Legend of Elvenstone has the highest RTP, set at 96.84%.
How do jackpots work within the Kingdom Rise suite of games?
There are three progressive jackpots in all Kingdoms Rise slot games.
Epic Jackpot: No limits, and can be won on any spin.
Power Strike Jackpot: The jackpot must pay out before exceeding the maximum limit.
Daily Strike: The smallest of the three jackpots, it pays out once a day
Can I practice for free?
Unfortunately, due to regulation in the UK, there is no Practice Mode or free play option for the Kingdoms Rise suite of slot games. You will need to register your account and make a deposit to play. There are some low-stakes games that give you the opportunity to spin the reels for as little as 10p per spin.
Can I play Kingdom Rise on my mobile?
All Kingdoms Rise slot games, as well as hundreds of other slots, table, and Live Dealer games, are available on your mobile device. Playtech did a great job adapting the game for smaller screens in both landscape and portrait modes. Some of the buttons may be moved or placed behind the Hamburger menu button to maximize the screen space for the game.
It is important to take safety precautions when playing online casino games on your mobile device. While Casino.com UK uses powerful encryption to secure its games and networks, if a hacker accesses your phone, they can log in to your account. Therefore, we recommend all UK players avoid playing while connected to unsecured hotspots or public Wi-Fi.
PLAY KINGDOMS RISE SLOTS FOR REAL MONEY
Playtech's latest fantasy world suite of games is bound to catch your interest with its unparalleled player-rewards, fresh content and individual bonus features. There are more Kingdoms Rise games to come, and each release promises more non-stop fantasy slot action.
For your chance to win one of the game's three progressive jackpots and play for real money, all you need to do is register, login and fund your account.
Join the adventure of a lifetime with Kingdoms Rise and explore each game today.