Play 3D Roulette Online at Casino.com UK
Welcome, If you had a casino account with Casino.com, please click here for more information or to login.
When it comes to making you feel like you're really in the thick of the casino atmosphere, 3D Roulette is a cut above the regular 2D Online Roulette games which you might have played in the past. With stunning visuals and lots of detail, 3D Roulette transports you to a place with all the excitement and buzz of a luxurious casino. 3D Roulette is a meticulous reproduction of the classic French Roulette game, with 37 numbers on the wheel along with a single zero. Everything on the table has been recreated down to the smallest detail to keep you completely immersed in the game: from the gleaming arms on the wheel's turret, the texture of the baize, even down to realistic reflections and the way the ball bounces. And no expense has been spared on the sound effects either - you can hear the dealer announcing the results after each round. All of this comes together to give you the feeling of being in a real casino, rather than playing a simulation.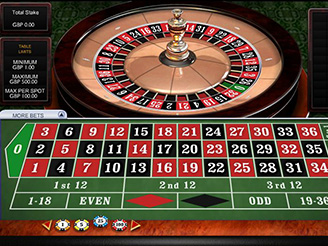 Realistic casino atmosphere and a bonus of up to £3,200
Of course, none of this would matter if the game itself wasn't first class, but there's no need to worry on that score. It's got the great gameplay which the experts love and which beginners can easily learn. To start playing, select a chip which represents your wager and place it on your desired number or area. If you want to increase your wager then you can click again on a chip which has already been placed on the table. Before spinning the wheel, you can remove a wager by cancelling the previous action. There's also a great introductory section for beginners which explains all of the different payouts; you can view this by selecting the 'paytable' option. But that's not the only thing which new starters will find in our Online Casino - we've put together a great bonus offer which could be worth up to £3,200!
Come and play the most realistic Roulette game around!
As well as all the realistic presentation and the classic gameplay, 3D Roulette provides you with many more customisation options than you would usually find in other Online Casino Games. Click on the 'visual' options and you can enable or disable various features of the wheel, such as the arms on the turret or the sheen on the wheel's numbers. These are all just so that you can tailor the appearance of the game to your own personal taste; they won't affect how much fun you'll have with the amazing roulette gameplay. So grab the introductory offer and start playing today!.
Play 3D Roulette Online at Casino.com UK