Age of the Gods Bonus Roulette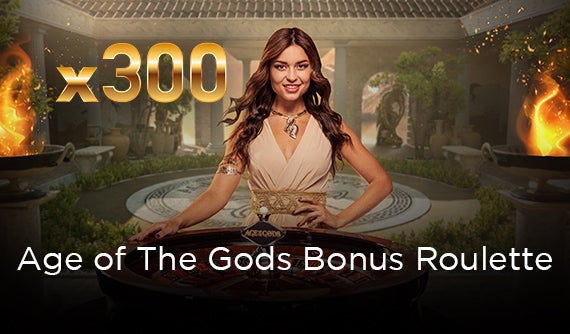 Togas, statues, marble plinths, and the occasional angry storm sent by a vengeful god—it can only be Age of the Gods!
This epic slot series has been given a new home in Playtech's Live Casino. It features all the mythological imagery that you're used to and the progressive jackpots that you love, but the reels have been swapped for wheels and a Live Dealer has taken the place of an automated RNG.
Age of the Gods Bonus Roulette is a fresh take on one of the most iconic titles in the online gambling industry, and you can play it at many of our recommended online casinos.
AGE OF THE GODS BONUS ROULETTE: KEY FEATURES
Provider: Playtech
RTP:

 

94.74%
Min Bet: £20
Max Bet: £5,000
Theme:

 

Greek Gods, Mythology
Game Type:

 

Roulette / Live Game Show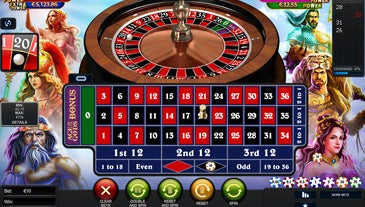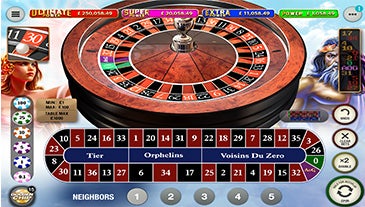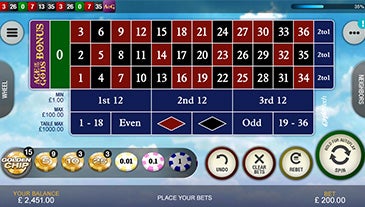 HOW TO PLAY AGE OF THE GODS BONUS ROULETTE
Although Age of the Gods Bonus Roulette may look a little complicated at first glance, it's actually very simple and all takes place on a single game screen.
To place your bets, you simply need to select your preferred chip denomination in the bottom-right corner. These chips can then be added to the betting board in the centre of the window. Every time you click on the board, you will add one of these chips. Your current total bet is displayed in the bottom-left corner next to your account balance.
If you're not sure which bets to place, select the "Lucky Dip" option followed by your preferred number. It will then place some random bets. Alternatively, you can use the "Bet Creator" to program bets that can be used multiple times.
Other features to look out for include the numbers listed above the chip denominations. These display what the previous numbers were going from left to right, with the most recent spins shown on the left.
To remove all the chips that you have placed on the board, click "Undo" (not possible if the betting round has finished). To place the same bet again following the completion of a spin, click "Rebet", and to double the wager, click "x2".
Bet Types
Inside Bets:

 

Refers to all of the number bets as they are "inside" the betting area. These are the numbers shown across the top of the Age of the Gods Roulette betting board.
Outside Bets:

 

The bets that sit "outside" of the main betting area, covering options such as "Odd/Even" and "Red/Black".
Straight Up: A single number bet placed by dropping chips so that they fit entirely within your chosen square. This is the bet that offers the highest possible payout (with the exception of the bonus).
Split Bet:

 

A bet on two numbers placed by putting chips on the horizontal or vertical line between the numbers.
Street Bet:

 

A three-number bet. To make this wager, place your chips on the outside edge of your chosen numbers.
Corner Bet:

 

Bet on four numbers that meet at a corner by placing chips on that corner point.
Line Bet:

 

A wager on 6 numbers made by placing chips on the line that runs through two groups of three,
Column Bet:

 

A bet on 12 numbers. There are three possible column bets: "1st

 

12", "2nd

 

12", and "3rd

 

12".
Dozen Bet:

 

A wager on a dozen numbers that form a horizontal line.
50/50 Bets:

 

There are three possible bets here, all classed as Outside Bets. They are Red/Black, Odd/Even, and High/Low, the latter of which is a choice between "1-18" and "19-36".
Special Bets:

 

A "Special" bet is one that you place either by calling it out (in land-based casinos) or placing it yourself (online casinos). It requires you to place a combination of bets and is essentially a betting strategy for a single spin. Some of these bets only work on French and European wheels, but others work just as well on American Roulette games.

Complete Bets:

 

Complete Bets are popular with high rollers and involve placing all Inside and Outside Bets that cover a single number.
Half Complete Bets:

 

Similar to the above, but with only Inside Bets.
Voisins du Zero:

 

All numbers between 22 and 25 on the Roulette wheel. The name of this bet means "Neighbours of Zero" as it includes zero and many of the numbers on either side of it.
Tiers Du Cylindre:

 

Often known simply as "Tiers", this is one of the most popular special bets in the United Kingdom. It covers all numbers between 33 and 27, spanning 12 numbers placed as 6 splits.
Orphans:

 

The numbers that are not included in the above two special bets.
Spin Now Feature
The Spin Now feature is used to speed up the betting round when there are only a few players on the table. It's not always available and is simply a way of saying, "I'm ready when you are" to all other players.

Age of the Gods Bonus Roulette offers many similar payouts and probabilities to what you will find in traditional games of American Roulette. If you're not sure how these games work or what kind of payouts to expect, the following table will help you.
| | |
| --- | --- |
| Bet Type | Payout |
| Bonus Round | Up to 300x |
| Single Number Bet | 35/1 |
| Split Bet | 17/1 |
| Street Bet | 11/1 |
| Corner Bet | 8/1 |
| Line Bet | 5/1 |
| Column Bet | 2/1 |
| Black/Red | Evens |
| Odd/Even | Evens |
| High/Low | Evens |
Progressive Jackpot
There are four progressive jackpots on Age of the Gods Bonus Roulette, and these are all triggered via the jackpot game. If you make it to the jackpot game, you are guaranteed to walk away with one of the prizes.
| | | |
| --- | --- | --- |
| Jackpot Name | Average Jackpot | Jackpot Seed Amount |
| Ultimate Power | £450,000 | £100,000 |
| Super Power | £25,000 | £5,000 |
| Extra Power | £2,500 | £500 |
| Power | £250 | £50 |
AGE OF THE GODS BONUS GAME
You can wager on the Bonus Feature by placing your chips on the "B" square. If the ball stops here, the bonus will commence and three reels will be spun a total of three times. It's possible to win 100x with each spin, creating a total potential payout of 300x.
Age of the Gods Coin - 100 x
Zeus - 50 x
Poseidon - 25 x
Hades - 20 x
Hercules - 15 x
Apollo - 10 x
Athena - 8 x
Aphrodite - 5 x
Players aren't guaranteed a win during this bonus round, so sometimes wins might not be created.
| | |
| --- | --- |
| Symbol | Payout |
| Age of the Gods Coin | 100x |
| Zeus | 50x |
| Poseidon | 25x |
| Hades | 20x |
| Hercules | 15x |
| Apollo | 10x |
| Athena | 8x |
| Aphrodite | 5x |
PLAY AGE OF THE GODS BONUS ROULETTE FOR REAL MONEY
Now that you've read all about Age of the Gods Bonus Roulette, the only thing left to do is to play it for yourself! This game is available at many of our recommended online casinos, as well as a full selection of live game shows to choose from. You can play for real money once you have funded your account.
Join one of our recommended casinos today to play for yourself—if you're new, you could even be entitled to a Welcome Package.
AGE OF THE GODS BONUS ROULETTE FAQ
What Is Age of the Gods Bonus Roulette?
Age of the Gods Bonus Roulette is a combination of Live Casino Roulette and the Age of the Gods slot series. It's a blend that ensures you can make all of your favourite Roulette bets while also playing for big progressive jackpots.
How Can I Win On Age of the Gods Live Bonus Roulette?
There are multiple ways to win on Age of the Gods Bonus Roulette. At the most basic level, you can win by placing Roulette bets, just like any other variant of American Roulette. You also have a bonus round to consider and on top of that, there are four progressive jackpots that can be won by any player at any time.
Can I Play On My Mobile?
As with the Age of the Gods slot games, Age of the Gods Bonus Roulette is 100% mobile-compatible. If you have an online casino account, you'll be able to play this game directly through your mobile browser or through your casino's dedicated mobile app.
Age of the Gods Bonus Roulette