Play Blackjack Surrender Online at Casino.com UK
Welcome, If you had a casino account with Casino.com, please click here for more information or to login.
Do you ever get that feeling in the middle of a game where you wish that you had a completely different hand of cards? Blackjack Surrender gives you the option to continue normally with the cards which you already have, or to take a chance and return your cards to the dealer in exchange for some new ones. It's a new twist on Online Blackjack which keeps you permanently on your toes - do you want to play with the best cards, metaphorically stacking the deck in your favour, or do you want to take your chances the old fashioned way? It's up to you!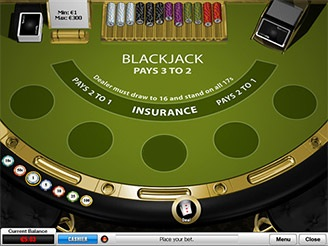 Put your hands up if you'd like a £3,200 bonus
Blackjack Surrender is quite common amongst Online Casino Games, but it's rare that you'll find it in a conventional casino. One reason might be the requirement to understand some very specialist methods of communication... In a game with a live dealer, many people would want to tell the dealer verbally that they want to surrender their cards. But this is a tricky affair if you're in a crowded casino with lots of noisy people around you! This is why, over the years, a specific set of gestures has grown up around the game, to prevent any misunderstandings. One particularly stylish way is by touching the baize with your forefinger and drawing an imaginary line between yourself and the dealer. Or some people take a more direct approach by raising their hands, as if they were being held at gunpoint! Of course, when playing online you don't need to worry about any of this – and to further make it easier to get playing this exciting Blackjack variant, we're offering new players an exclusive bonus which could be worth up to £3,200.
Play the most skilful & tactical blackjack game today!
Blackjack is without a doubt one of the most popular casino games in the world. Its longevity is legendary, to the point where it can be difficult to pinpoint the exact origins of the game. The most we know is that the first traces can be found in France in the 1600s, with a game known as "Vingt-et-un". From there it travelled to the United States where it picked up the name Black Jack; taken from the Jack of Spades, because players who won by getting 21 using that card would pocket the jackpot. Although that particular rule fell into disuse, the name stuck.
So has this casino game piqued your curiosity? If you're an intelligent and skilled player, then the ability to request a new hand can really turn a game of Blackjack Surrender to your advantage! So don't delay, join us in our Online Casino today!
Play Blackjack Surrender Online at Casino.com UK