Casino Stud Poker at Casino.com UK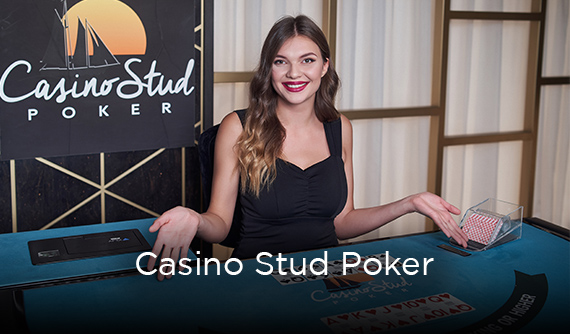 Fancy a game of Poker played against a real dealer? Casino Stud Poker could be just what you're looking for.
Launched by  Playtech  back in the summer of 2019, Casino Stud Poker is a Live Poker game that follows the rules of Caribbean Stud. It's player vs dealer, 5-cards vs 5-cards, and there are a couple of side bets thrown in for good measure.
Casino Stud Poker is popular because it's fast and simple. Simply make the best 5-card hand, beat the dealer, and wait for the result—that's all there is to it. This popular variant of 5-card stud Poker is also available 24/7 to all members of Casino.com UK.
RULES: HOW TO PLAY CASINO STUD POKER
You have four betting options in a game of Casino Stud Poker:
Ante: The main game begins with an ante bet. 5 cards are dealt (face up) to the player while the dealer receives 1 face-up and 4 face-down cards.
Call/Fold:

 

A fold ends the hand, and the player loses. A call stakes 2x the ante wager and reveals the dealer's cards, at which point the hands are compared.
Jackpot: A side bet where you play for the progressive jackpot. It is an optional bet, and it rewards the grand prize to players who reveal a royal flush. If multiple players are active at the same time, the prize will be shared among them.
5+1:

 

A theoretical poker hand is created using the player's 5 cards and the dealer's face-up card. It remains in play even if the ante bet is folded.
Casino Stud Poker Hands
Understanding Poker hand values is essential. It's critical knowledge that will benefit you whether you're playing 5-Card Stud Poker, Texas Hold'em, and pretty much all other variants. Fortunately, there are some common-sense tricks that you can use to remember these values.
The easiest way is to commit these to memory is to remember that hand strength is dictated by probability—the less likely it is, the higher the value will be. Two pairs are more common than three of a kind, and so it has less value. It's also easy to remember that four of a kind beats three of a kind which beats two of a kind (a pair), and that two pairs is better than one pair.
Here is a list of all Poker hand values:
High Card:

 

The high card is simply the highest card in a hand that doesn't have anything else.
Pair:

 

Two matching cards, such as two 7s.
Two Pairs:

 

A self-explanatory one. If you have two 7s and two 8s, you have two pairs. If you have two 7s and two 7s, on the other hand, it's a four of a kind.
Three of a Kind:

 

You have three of a kind when you literally have three cards of the same value, such as three 7s.
Straight:

 

All the cards must be consecutive for the hand to be a straight. If competing against another straight, the highest one will win.
Flush:

 

A flush is when you have all 5 cards in the same suit. They don't need to be consecutive (that would be a straight flush) and if it goes against other flush hands, the winner will be the one with the highest card.
Full House:

 

Three matching cards and two matching cards.
Four of a Kind:

 

Like a three of a kind but with an additional card, such as four 7s.
Straight Flush:

 

Five cards that are consecutive and in the same suit.
Royal Flush:

 

There are only four possible royal flush hands as it can only be formed from a 10, J, Q, K, and A of a single suit.
Casino Stud Poker Rules
The dealer must reveal a hand that has at least an Ace or king high to qualify. If their hand is weaker than this, and the player has called, they will win even money on the ante and their call will be returned.
If the dealer's hand qualifies, the hands are compared. A dealer win results in a loss of the ante and call wagers. A player win results in an even money payout on the ante bet and a call bet that pays in accordance with the payout table.
CASINO STUD POKER PAYOUTS
To win the Casino Stud Poker progressive jackpot, you must have the jackpot side bet active. It will trigger when a royal flush is revealed. It's the best possible hand in a game of Poker—a fitting hand for such a massive jackpot!
The biggest payout in the main game is 100:1 and this is also triggered by a royal flush, with a regular straight flush rewarding 50:1. If you wager £1 per hand, and don't play any side bets, a straight flush will return a £50 profit while a royal flush will pay £100.
The lowest-scoring hand is a regular high card, and it activates an even money payout if it's strong enough to beat the dealer. Take a look at the table for more payout information.
| | | | |
| --- | --- | --- | --- |
| Casino Stud Poker Hand | Payout | 5+1 Side Bet | Jackpot Side Bet |
| Royal Flush | 100:1 | 1000:1 | Jackpot |
| Straight Flush | 50:1 | 200:1 | 2500x |
| 4 of a Kind | 25:1 | 100:1 | 250x |
| Full House | 10:1 | 20:1 | 50x |
| Flush | 7:1 | 15:1 | 25x |
| Straight | 5:1 | 10:1 | 10x |
| 3 of a Kind | 3:1 | 7:1 | 3x |
| 2 Pairs | 2:1 | x | x |
| Pair | 1:1 | x | x |
| High Card | 1:1 | x | x |
All new players at Casino.com can qualify for our Welcome Package, which offer bonus credits and spins (bonuses vary). You can use these bonuses to play games of Live Poker, as well as many other Live Casino games, and all you need to do to qualify is sign up, make a qualifying deposit, and start playing.
To learn more about bonuses—including cashback and Golden Chips—visit our Promotions page. Before you opt in, be sure to read the Terms and Conditions, as that's where you'll find terms relating to wagering requirements, payment restrictions, and expiration dates.
CASINO STUD POKER FAQ:
What is Casino Stud Poker's RTP?
There are several RTPs, as you have the main game and the side bets. The main game carries an RTP of 98.18% and assumes that the Ante and Call bets are played optimally. The side bets are 91.44% and 81.84%, with 5+1 being the higher of the two.
What is Casino Stud Poker's minimum bet?
Bets begin at just £0.50 on Casino Stud Poker. It's the lowest chip denomination and it's also the lowest possible bet. Just select the "0.5" chip and place your bet.
What is Casino Stud Poker's maximum bet?
You can bet as much as £500 on a game of Casino Stud Poker. There is a 500 chip that you can use to easily place this bet.
Can I play on my mobile?
All Casino.com UK games are mobile-friendly, including Live Poker titles like Casino Stud Poker. Simply access the casino through your mobile device and take things from there. You will have a vast selection of Live Casino games, Slot Games, and other interactive titles to explore. Most iOS and Android devices are supported, including older devices.
PLAY CASINO STUD POKER FOR REAL MONEY
The best way to learn how to play is to watch other people playing. As a Casino.com member, you can enter our Live Casino lobbies and watch the action unfold without wagering a penny. Once you're ready to get involved, simply deposit some cash into your account (we accept a multitude of secure payment methods), set your budget, and place your wager.
You can even collect a new player Welcome Package to introduce you to the site!
Sign up for an account with Casino.com today.