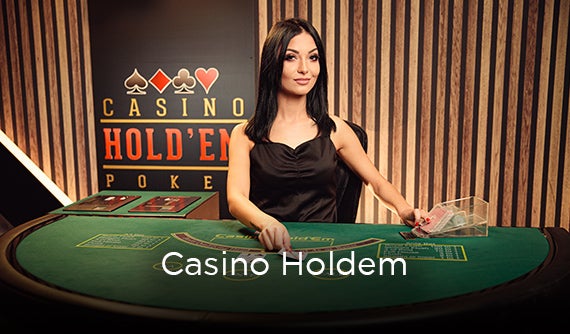 Texas Hold'em is one of the most popular poker games in the world. Its popularity has grown exponentially due in large part to the World Series of Poker tournament. You don't need a $10,000 buy-in to start playing Live Casino Hold'em at the online casino, just an active and funded account.
Casino.com UK has a well-deserved reputation for recommending some of the very best Hold'em Poker casinos in the UK. What's more, with Live Casino Hold'em you'll be able to watch as the cards are dealt, thanks to HD streaming cameras set up at the Casino Hold'em table.  
Number of Live Dealer Hold'em Games Available:

 

1
Platform:

 

Playtech
Min-Max Bet Limits:

 

£1-£5,000
Watching Mode:

 

Yes, you can join as a live watcher
AVAILABLE LIVE CASINO HOLD'EM POKER GAMES TO PLAY
Like all Live Casino games at our recommended casinos, you will need to register an account for access to the games. Get started today by clicking on the "Register" or "Join Now" buttons on your casino's site to open and fund your account. After the deposit has been made you can log in to your new account, go to Live Casino lobby, and head to the Live Casino Hold'em Table.
Unlike Live Baccarat, Live Blackjack and Live Roulette, which have multiple variants for each game, there is just one Casino Hold'em. The game has a minimum bet of £1 and a maximum betting limit of £5,000.
There is no limit as to how many players can sit at a single table, with each punter making their own bets on the outcome. The game uses a single deck of cards, and it rotates the decks after every hand.
| | | | |
| --- | --- | --- | --- |
| Live Hold'em Game Name | Bet Limits (Min-Max) | RTP % | Description |
| Casino Hold'Em | £1-£5,000 | 93.74% - 99.18% | Go head-to-head against the house in a fast-paced game of Casino Hold'em. The game includes an AA side bet that pays out as much as 100:1 |
It's hard to compare Live Hold'em Poker with the online casino version of the game. In the Live Casino game, you have the ambience of the casino, an actual dealer to chat with while playing, and of course, playing with real cards.
This is as close as you can get to playing at the casino, but instead of fighting traffic, you can lay from anywhere on your computer or mobile device.
Don't be intimidated by the Live Dealer technology; there is no software to install and no webcams or microphones to connect. All you need is a stable internet connection and a real money account, then you're ready to play.
Pros:
Live dealer
Authentic casino experience
High-quality streaming cameras bring you right to the casino floor
Cons:
There is a time limit to place bets and call
Unlike Texas Hold'em, in Live Casino Hold'em you are playing against the dealer. There is no need for a poker face or knowing how to bluff because the dealer will not fold or raise based on what you do.
The game flow is as follows:
Before the cards are dealt, you must place your ante bet. This is your buy-in to play the game. At the same time, you can also place an AA side bet and then you receive two face-up cards, the dealer gets two face-down cards, and the three Flop cards are placed in the middle of the table.
You now have two choices, you can Call, which will require you to double your ante bet, or Fold and wait for the next hand.
If you choose Call, the final two cards will be dealt and whoever can make the best five-card poker from their seven cards is the winner.
Here are the key terms to know when you play Texas Hold'em or Casino Hold'em:
The Dealer:

 

Instead of playing against other punters, all the players are trying to beat the dealer. The dealer must have at least a pair of fours to qualify for the game. Otherwise, the player automatically wins.
The Blinds:

 

In Live Casino Hold'em, you can place the Call bet before the cards are even dealt. This is known as the Blinds, and it will always be twice the ante bet.
Pre-Flop:

 

The Pre-Flop is what happens before the communal cards, or Flop, are dealt. In Texas Hold'em, this is a chance to check, raise, or fold. In Casino Hold'em the player's and dealer's cards are dealt at the same time as the Flop.
Hole:

 

These are the player's two cards.
Flop:

 

The first three communal cards are known as the Flop.
Turn:

 

This is the fourth card that is flipped over. In regular Hold'em games, another round of betting takes place after the turn is dealt.
River:

 

This is the fifth and final card to be flipped over.
Showdown:

 

After the River is dealt, all the players will reveal their cards and see who has the best hand.
All In:

 

A punter who is either confident in their hand or trying to bluff their way to a win can go all in and bet all their chips. This isn't an option in Live Casino Hold'em
Fourth Street:

 

This is another term for the Turn.
Fifth Street:

 

This is another term for the River.
Button:

 

In Texas Hold'em, the players take turns being the dealer, and the button is a marker to let everyone know who is dealing.
Check:

 

If you aren't sure if you should raise or not, you can pass your turn to the next player, and they will set the initial bets.
A typical game of Casino Hold'em has three parts.
Setup: A player must first place an ante bet, and then the cards are dealt.
Betting Rounds: In Live Casino Hold'em there is just one betting round, which is double the ante. In Texas Hold'em, players will bet before the Turn, and River cards are flipped over.
Showdown: All punters show their cards, and whoever has the best hand is the winner.
If you have any other questions while playing or watching Live Casino Hold'em, click on the "Hamburger" help button for a complete breakdown of the paytable, betting flows and more. You can also refer to the Help section below for more information.
Casino Hold'em is all about getting the best hand, and the better the hand, the better the payouts. For example, a Royal Flush is the best possible hand, and it will pay out 100:1 while a pair of Aces pays out just 1:1.
The game will automatically select the best possible hand from the seven cards for the payout. For example, if you have a 3 and 6 and the five community cards are 2, 4, 5, 6, and K your best hand is a straight, the pair of 6's won't be accounted for.
The hierarchy of hands is as follows:
Pair
Flush
Full House
Four of a Kind
Straight Flush
Royal Flush
For a complete list of the odds and paytable, click on the Help Menu button on the game board and scroll down to Return to Player and Payout Tables.
Understanding the ins and outs of the game and being able to recognize the odds and potential outcomes in a hand of Casino Hold'em is part of what makes Hold'em such a popular game.
However, there are a few strategies that you can use as a guide in deciding if you should Call or Fold.
High Hole Card: If, once the Flop cards are out, you have the best hand with an Ace or King high card, you should call.
Don't bet on a losing hand:

 

If the dealer is showing a strong hand, such as having three of a kind or a flush, and you're holding junk cards, fold. There is no sense raising since you can't bluff your way to victory.
Call If You're Close: If you're a card away from a Straight, Flush, or Royal Flush, even if you don't have anything else in your hand, you should hit.
Many punters will tell you that you have to go with your gut and if that works for you, that's great. However, if you want to make smart choices – learn the odds. Keep in mind that you're playing with a single deck or cards and only call when the odds are in your favour.
SOFTWARE (PLAYTECH'S LIVE HOLD'EM PLATFORM)
Many of our recommended online casinos partners with Playtech, one of the most reputable online casino game developers. Their platform has a well-earned reputation as safe, secure, reliable, and most importantly, trustworthy.
The Live Dealer Casino Hold'em games are part of the Eurolive platform, which takes place in a casino in Riga, Latvia. The entire casino is dedicated to online players and has high-quality streaming videos that bring all the live-action right to your screen.
The quality of the stream is excellent

 

and punters can chat with their dealers by typing in questions or comments and the dealers will respond.
Playtech has worked hard

 

to bring Live Casino games to Android and iOS devices. The games are fully responsive and can be played with the phone in landscape or portrait mode.
The buttons are big enough

 

so that you should have no issues clicking on the chip and location on the betting table.
There is no need to download

 

any special software to access the Live Casino game. It can be accessed by logging onto your account and entering the Live Casino lobby.
There is no difference in terms of gameplay

 

between playing on a desktop or mobile, except for the added convenience that you have while connected to a mobile device.
Playing Live Casino Hold'em can be an exhilarating and fun gambling experience. However, for some, the pace of the game or the rule changes from Texas Hold'em can be troublesome.
Some things, like the pace of the game and making sure you get your bets in before the timer expires, take some practice to get comfortable with. Therefore, it's always a good idea to play for very low stakes in your first few hands until you're comfortable.
If you need additional assistance, from a technical aspect or game support, you can click on the Help button, which is the three bars on the left side of the game board. This will open up a detailed help menu that has everything from Game Flow, Betting Options, Definition of Terms, Explaining the AA Side Bet, Odds and more.
If you need technical help, your online casino will have a Customer Support team available via telephone or email. They will be able to answer questions about technical trouble, billing, deposits, gameplay and much more.
When you register a new account at one of our recommended casinos, you may become eligible for an exclusive Welcome Bonus Package. This is often a combination of bonus money and free spins for some slot games.
The bonus money often can be used when playing Live Casino Hold'em and is a great way to try out the game, and get comfortable with the pace of Live Dealer games.
There are also bonuses and promotions, often with offers specific to Live Casino Hold'em. For details, check out the bonuses page and the promotions page to see all available offers and read the General Promotion Terms and Conditions.
ADDITIONAL LIVE DEALER GAMES
Casino.com UK recommends online casinos that host over fifty live dealer games including Live Blackjack, Live Baccarat, Live Roulette and more. There are several variants for each game, with a wide range of betting options.
Just like Live Casino Hold'em, these games are only available for real money players.
Playing Live Casino Hold'em is the best and most convenient way to play this casino game. While the rules are slightly different than Texas Hold'em, the game is still very entertaining and gives the punter great odds of winning.