Play Kingdoms Rise: Legion Uprising Slot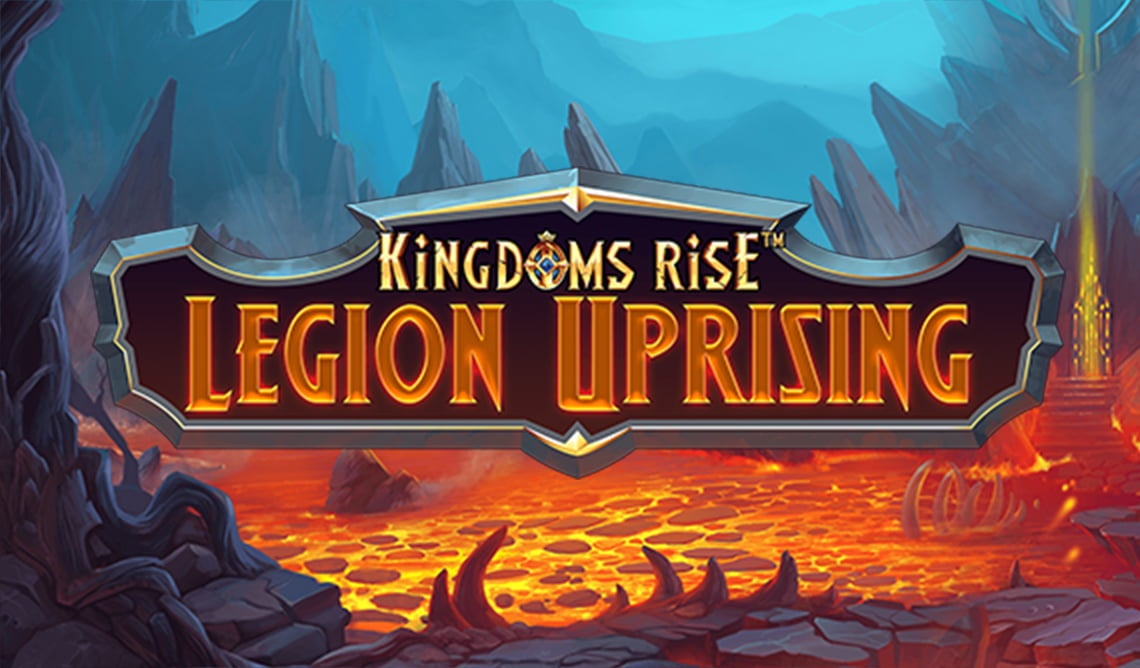 The volcano is ready to erupt, a dragon is waiting to attack and the King is desperately trying to retain control of the kingdom. He's ready to payout cash prizes to his UK supporters when they spin the reels in the Legions Uprising slot game at Casino.com UK. This slot is part of Playtech's Kingdoms Rise universe and has a comic-book style feel to it, with fearsome graphics and a colourful cast of characters, including a skeleton, sorceress, and the dragon. The king has a few tricks up his sleeve, such as payouts s high s 120x and a free spin feature with sticky wilds, for lucky casino players. To enjoy these royal benefits, you'll need to play Kingdoms Rise: Legion Uprising for real money at Casino.com UK. Get all the details in this online slot game review.
RTP: 92.03% - 96.02%
Game Provider:  Playtech
Game Type: 3 rows, 5 reels, 25 paylines
Game Theme: Fantasy,  Progressive Jackpot
Minimum Bet: £0.10
Maximum Bet: £2,000
There are plenty of chances for UK players to win real money playing Legion Uprising, but you need an online casino account to get started. Click on the JOIN button at the top of the page to register your account and then fund it by visiting the Cashier and choosing your preferred payment method. Once the transfer is complete, you can access the Legion Uprising from the Casino.com UK casino game library.
The slot game has 25 fixed paylines, so the only decision you need to make is your stake size. While you only need to set the total, bear in mind that all payouts are based on the line, which will be explained in the Payout section below.
Once your bet is ready, press the spin button to play the game. A winning spin requires three or matching symbols along a payline, beginning with the first reel on the left.
The Legion Uprising has one onus feature. If you land 3 or more free game scatter symbols you will not only earn a payout of up to 100x your stake size, but you'll trigger the Mighty King's Free Game feature with an increasing multiplier.
Games 1 and 2: 2x multiplier
Games 2 and 3: 3x multiplier
Games 4 and 5: 4x multiplier
Games 5 and 6: 5x multiplier
Games 7 and 8: 6x multiplier
Games 9 and 10: 7x multiplier
To increase your odds of winning, the kind wild symbol sticks to the center space on the third wheel for the entire feature.
During the base game, you can collect Kingdoms Rise game tokens when they appear on the reels. The value for the tokens is based on the size of your wager. While these tokens are collected each time they appear on the reels, they aren't related to the game itself. Rather, you can use them to purchase features and enhancements for any of the Kingdoms Rise slot game.
The Shop has three modifiers for the Mighty King's Free Game feature and one special bonus round:
500 tokens: You receive 3 free spins with a 1x multiplier, plus the king wild symbol starts on the 4th reel. After each spin, the wild moves one reel to the left and the multiplier increases by 1x.
1,000 tokens: You receive 6 free spins, a 2x multiplier, plus the wild symbol begins on the 4th reel. After every two free games the wild shifts one reel to the left and the multiplier increases by 1x.
2,000 tokens: You receive 6 free spins, a 4x multiplier, plus the wild symbol starts on the 4th reel. Every two spins it moves one space to the left and the multiplier increases by 2x.
The special feature is the Volcano Free games, which you can purchase with 2,500 tokens. You will receive 10 free spins with a starting 2x multiplier. The wild symbol is locked on the central space on the reels and doesn't move. After every second spin, the multiplier increases by 1x.
In addition to the Shop, another benefit of playing Kingdoms Rise slot games at Casino.com UK are the three progressive jackpots.
Daily Strike: The jackpot must randomly pay out once a day.
Power Strike: The jackpot has a maximum prize and must payout before exceeding the limit
Epic Strike: The biggest of the three jackpots has no time limit or max prize.
Winning these progressive jackpots are random and not connected to the main game. You can increase your odds of winning the Daily and Power strike playing as the deadline/limit nears. Increasing the size of your stake is also a way of improving your odds for winning any of the three jackpots.
Membership certainly has its benefits. When you join Casino.com UK and make a deposit you'll be rewarded with an exclusive Welcome Package. This combination of bonus offers will allow you to play Kingdoms Rise: Legion Uprising with house money. The details on the bonus offer are frequently updated, so be sure to visit the Promotion page for the latest updates.
As an active online casino member, you can also opt-in to email messages and receive seasonal promotional offers. These are a great way to take advantage of all the benefits that come with Casino.com UK.
Legion Uprising has an excellent in-game bonus – a free spin feature with 10 free games and automatic increasing multipliers. This is a good way to increase your bankroll and best of all, in-game bonuses don't have wager requirements. The money is instantly added to your regular account.
As a fixed 25 payline slot game, you have to take into account that all payouts are calculated by dividing your total bet by 25 and then multiplying that by the payout for your win. For example, if you make a £2 bet and land five dragon symbols in a row, the payout will be £40. (£2/25 = £0.80 line bet x 1,000x for a five dragon = £40).
Top payouts range from 150x – 600x. The four low-value symbols are precious gems and have a top payout range of 30x – 100x. You can open the complete paytable directly from the Legion Uprising gameboard.
ALL AVAILABLE KINGDOM RISE SLOT GAMES
If you would like to navigate through the full selection of Kingdom's Rise slot games in the UK, see our list below:
| | | | |
| --- | --- | --- | --- |
| Game title | RTP | Paylines | Game Summary |
| Kingdoms Rise™: Battle Beast | 96.22% | 4,096 Ways to Win | The 6x4 grid provides plenty of action with a bonus spin feature, the Battle Beast games that include expanding symbols, and a top prize of 10,000x.  |
| Kingdoms Rise™: Captain's Treasure | 96.05% | 50 | Head out to the open sea and hop aboard the Captain's ship on a quest for treasure. You might find a special wild symbol that triggers several respins, with the wild moving around the reels. |
| Kingdoms Rise™: Chasm of Fear | 93.07% | 1,024 Ways to Win | Follow the team of explorers as they search deep caves for treasure. While the search is for a 10,000x treasure, some other goodies you might discover include a bonus game with 6 spins that adds two rows to the reels, expanding the game to 3,465 ways to win. |
| Kingdoms Rise™: Forbidden Forest | 92 – 95.99% | 576 Ways to Win | Venture into the forest and discover the five protectors of the forest plus a host of animals. The owls flying around this forest can award you with as many as 12 respins. |
| Kingdoms Rise™: Guardians of the Abyss | 92.10 = 96.09% | 25 | The underwater realm of the Kingdom is where you'll find Akali, Jax, and Odeon. Each of these guardians has its own bonus spin feature. The different bonus modes can include extra high-value symbols, addition wilds, or a multiplier. |
| Kingdoms Rise™: Legend of Elvenstone | 96.84% | 10 | Dare to defeat the dragon? Join the brave dragon hunters to protect the Kingdom, and you could be in line for wins up to 750x. The bonus features include a Wild Drop, which can move around the reels, and a Dragon Bonus Round, which includes three respins. |
| Kingdoms Rise™: Reign of Ice | 96.50% | 25 | Grab your mittens and head over to the coldest part of the Kingdom. You'll need a hammer to break through the ice and earn an unlimited number of respins with sticky wilds. |
| Kingdoms Rise™: Sands of Fury | 92.24 – 96.23% | 20 | Visit the desert where magicians and wizards do battle. Each of the characters has a Feature Reel above the reels. When the meter fills up, they'll direct their magic at you with bonus spins and special features. |
| Kingdoms Rise™: Shadow Queen | 96.46% | 25 | The Shadow Queen is ready to reward her subjects with 10 bonus spins and a multiplier that increases after each win. |
You can play Kingdoms Rise: Legion Uprising for real money at Casino.com UK. Once you register your account and make a deposit, you'll be able to spin the reels, possibly trigger the Mighty King's Bonus Games, collect tokens and have a chance at winning a progressive jackpot.
In addition to Legion Uprising, Casino.com UK is home to a massive selection of online slots, live casino games and more. Try your luck and see if you can win real money today.
Play Kingdoms Rise: Legion Uprising Slot