Blackjack is one of the most authentic casino table games of all time. Blackjack games have been enjoyed through the generations, with people more recently venturing online to enjoy classic blackjack or '21' against virtual and human dealers.
Although the classic blackjack version remains one of the most played card games on the planet, it is true that multiple blackjack variations have evolved through the years. Many of which have become staples in the portfolios of the leading online casino operators.
Common Blackjack Variations
How can you tweak the game mechanics of blackjack games, we hear you ask? Well, as a matter of fact, there are multiple elements of classic blackjack that game developers have evolved to add a different dimension to '21'.
House edge

One of the key differentiators in blackjack variations is an altered house edge – often in favour of the house. Many new blackjack games now pay 6:5 for blackjack as opposed to the 3:2 odds you can get at a table of classic blackjack. Just by playing at a blackjack table which pays 6:5 for blackjack instead of 3:2 you are giving up a ~1.3% edge to the house.
Number of decks played
Although classic blackjack is played using a single 52-card deck, many blackjack games now feature additional decks of cards. In fact, some blackjack variants contain up to eight decks of cards in the dealer's shoe.

Rules on doubling down and splitting

Some blackjack variations enable players to double down after splitting to try and make up for the lost house edge elsewhere. In reality, if you can double down after splitting your initial two cards, you will only gain a meagre ~0.1% in house edge, which is nothing compared with playing a 6:5 blackjack game.
Dealer Rules on soft 17
Newer blackjack games have given the dealer alternative rules for playing soft 17. If the dealer stands on soft 17, that is good for you. However, some variants now allow the dealer to hit on soft 17, giving the house an extra ~0.2% in house edge.

The Most Popular Blackjack Variations to Play Online
American Blackjack
American Blackjack is considered the classic Blackjack game. There are many reasons why this is still a favourite with card lovers across the US and beyond. The main reason being its exceptionally low 0.5% house edge which is achieved when you play the optimal blackjack strategy. Classic or American Blackjack also comprises just a single 52-card deck, which does give players a chance to try to implement probability into their blackjack betting.
European Blackjack
European Blackjack was one of the first blackjack variations. Like roulette, there just had to be a European variant to this classic table game. European Blackjack is played using two 52-card decks, which increases the house edge. However, the dealers at European Blackjack tables are required to stand on soft 17, which is a favourable addition for players. European Blackjack sees blackjack pay out at odds of 3:2. However, players are only permitted to double down when their initial hand value is worth nine, ten or 11. If a player achieves a blackjack at the same time as the dealer their hand is deemed a tie or 'push', with their initial stake refunded.
Perfect Pairs Blackjack
Perfect Pairs Blackjack was one of the first blackjack variations to contain side bets. Although it has many of the same rules and stipulations as American Blackjack, it comes with one clever side bet. Players place an additional side bet if they think their first two cards will be the same value e.g. two kings or two sixes. The payout for this is 6:1. However, if the two cards are the same value and colour you can win 12:1 payouts. The biggest 25:1 payout is reserved for those who land two cards of the same value, colour and suit.
Free Bet Blackjack
Table game inventor Geoff Hall – one of the legendary figures in blackjack – devised the blackjack variant Free Bet Blackjack. The biggest twist on normal blackjack games is that players don't have to risk additional funds when splitting or doubling down on hands. Of course, to give such a generous feature, there must be a catch. The catch being that the should the dealer go bust with a score of 22, the result is a 'push' rather than a win for the player. In addition, the dealer can hit on soft 17, however, blackjacks do pay 3:2 rather than 6:5. Free double downs are offered on initial hands worth nine, ten and 11. Free splits are offered on all paired hands except ten value cards, which includes pairs of tens, jacks, queens and kings.
Blackjack Switch
Blackjack Switch was also designed by Geoff Hall. In fact, Blackjack Switch was developed in 2009 before Free Bet Blackjack. In Blackjack Switch, players must make two initial bets of equal size. They can then switch their second card dealt to each hand so as to create the best hand possible. The primary trade-off for having this flexibility is that the if the dealer goes bust with a score of 22 then the hand results in a 'push' rather than a win for the player, as would normally be the case. Worse still, blackjacks pay out even money (1:1) and the game is played across six or eight decks.
Multi-Hand Blackjack
Multi-Hand Blackjack is one of the most recent blackjack variations. Much of its game rules follow classic blackjack gameplay, barring one key exception – players can play multiple hands at once. Played across six 52-card decks, Multi-Hand Blackjack offers a house edge of just ~0.47% when utilising optimal blackjack strategy. Blackjack still pays out the 3:2 norm, which is good to see. Meanwhile, the dealers must also stand on soft 17, which is another benefit for players. Multi-Hand Blackjack results in players playing more hands per hour, which means that a player can spread his/her risks by betting a smaller amount on a number of hands rather than relying on just one hand per deal.
Spanish 21
Spanish 21 is another interesting twist on the original blackjack version, where the 10s are removed from the dealer's shoe. Furthermore, players can 'resplit' their hands and double down on any hand, no matter how many cards have already been dealt – it's even possible to double down after splitting or resplitting. One of the main features of this game is that a player hitting 21 will always win, and a player blackjack always beats a dealer blackjack. Of course, without those 10s in the deck it is a little harder to make blackjacks. Spanish 21 also has a bespoke payout system. Five-card hands worth 21 pay out 3:2, while six-card 21s pay out 2:1. A risky seven-card 21 pays out even more at 3:1. The following payout rules are also in effect: 21 with any three sevens pays 3/2; 21 with 6-7-8 pays 3:2; 21 with three sevens of same suit pays 2:1 and 21 with three sevens when the dealer has the fourth seven pays out 50:1.
Live Dealer Blackjack
There is also a growing demand for live dealer blackjack games online. Although online blackjack isn't strictly a blackjack variation, it's still a major innovation for blackjack games. Live casino gaming providers run studios where trained dealers manage physical games of blackjack in real time – streamed to active players in high-definition (HD) quality pictures. With the ability to chat to dealers and fellow players in via the live chat box facility, live blackjack offers a highly engaging and social table game experience from the comfort of your armchair.
Summary of Blackjack Variations
The reality is that blackjack games now come in various guises. These blackjack variations have been warmly embraced by online casino operators looking to diversify and add new revenue strings to their bows. If you are unfamiliar with any of the rules of a new blackjack game type, be sure to read the help section in full before you risk a penny of your own money. If it's a live dealer blackjack game, you could always sit and watch a live game unfold to understand the game mechanics first.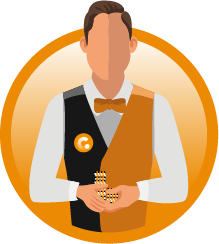 Did you know?
Blackjack rules and gameplay vary less in regional versions than they do in games like roulette. The biggest difference between American and European versions is when the dealer gets their second card. In European games, they get this card after you play your hand. With American games, the dealer's hole card is dealt face-down before you play.