Casinos symbolize unbridled consumerism and unimaginable wealth, but have you ever wondered just how much revenue these icons of avarice generate? We've taken a look at these international monuments to money and compiled a summary of the world's top ten most profitable land-based casinos. Our rankings include both stand-alone properties and gaming conglomerates, taking into consideration their complete entertainment offerings alongside their gaming profits.
1. Las Vegas Sands Corporation – $13.7 Billion per annum
No other company on our list can compete with the way Las Vegas Sands blazes pathways to profit, making it the biggest earning casino group in the world. Long-term CEO Sheldon Adelson founded LVS in 1989 with the purchase of The Sands Hotel. He created the now ubiquitous concept of the casino/convention center hybrid with the opening of the Sands Expo and Convention Centre in 1990. He continued revolutionizing the profit game when The Sands Macao Resort, Macau's first American-operated casino, opened in 2004.

LVS is also the only company on this list that has its own fleet of private aircraft dedicated to transporting executive directors, High Rollers, and VIPs. That kind of ingenuity coupled with world-class gaming floors in their 6 casinos brought in an estimated $13.7 billion in 2018 and 2019.
2. MGM Resorts – $12.89 Billion p.a.
With its roots going back to the late 1960s, MGM Resorts has had more name changes and corporate overhauls than any other entity on this list. (If you want to go down that particular rabbit hole, we recommend a stiff drink and several hours…) They are the Strip's largest casino operator, owning all or a portion of 7 Las Vegas Strip casinos as well as 7 regional casinos throughout 6 states.
They operate in Macau and have announced future planned expansions into Japan and The UAE. In 2010 they declared a shift towards non-gaming revenue sources (lodging, food, and retail), and other entertainment/ hospitality venues (most notably The Park and TMobile Arena). That shift away from a purely gaming-focused business model seems to be working as MGM Resorts raked in a reported $12.89 billion in 2019.
3. Caesars Entertainment – $8.74 Billion p.a.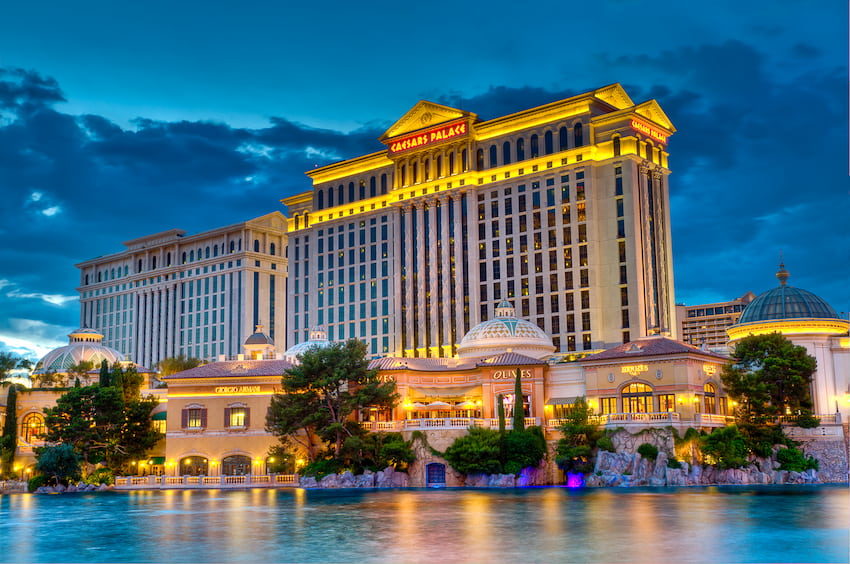 Caesars is one of the oldest names in casino entertainment, beginning as a single bingo parlor in Reno, NV in 1937. When they combined with El Dorado Resorts 83 years later in 2020, they became the largest gaming company in the US. They have grown their original modest offering into a portfolio of over 50 casinos in 13 states, 5 countries, and 4 continents.
Each property has its own distinct ambiance with diversified amenities that encompass just about any (legal!) need or want the patrons could dream up. Caesars' immense holdings rake in around $8.74 billion in profit every year.
4. Galaxy Macau – $8 Billion p.a.
If this list only included stand-alone casinos, Galaxy Macau would be the undisputed Number One. With annual revenue of over $8 billion in 2019, Galaxy Macau has repeatedly held the title of The Most Profitable Casino in the World since its 2011 opening.
As part of the larger Galaxy Entertainment Group, this fully integrated casino resort spans over 11.8 million square feet. The property boasts over 3000 hotel rooms, 120 restaurants, and over 200 luxury retail brands. They didn't skimp on their gaming floor either.
This premier destination has 650 tables, 1500 slot machines, and a high roller area second to none in the world. Interestingly, Galaxy began as a construction company in 1988 and their continued diversified holdings in construction management are credited with helping them to weather the global shutdowns.
5. Wynn Resorts – $6 Billion p.a.
Wynn Resorts was founded in 2002 by the former Chairman and CEO of Mirage Resorts Steve Wynn, and Japanese billionaire Kazuo Okada. Under their relatively brief tenures (Okada resigned in 2011, Wynn in 2018), they opened 5 luxury properties in Macau and Las Vegas. The company opened its 6th property in Massachusetts in 2019, after Steve Wynn's unceremonious departure. They have announced plans for a 7th luxury property in the UAE with a tentative opening date of 2026.
Despite the plethora of ugly headlines about the founder's behavior, the properties themselves are the epitome of luxury and class. All 6 casino properties are fully integrated resorts with amenities ranging from high-end shopping malls and lush golf courses to 5-star restaurants and spas. Global total revenues are reportedly $6+ billion for 2019.
6. Melco Resorts Entertainment – $5.7 Billion p.a.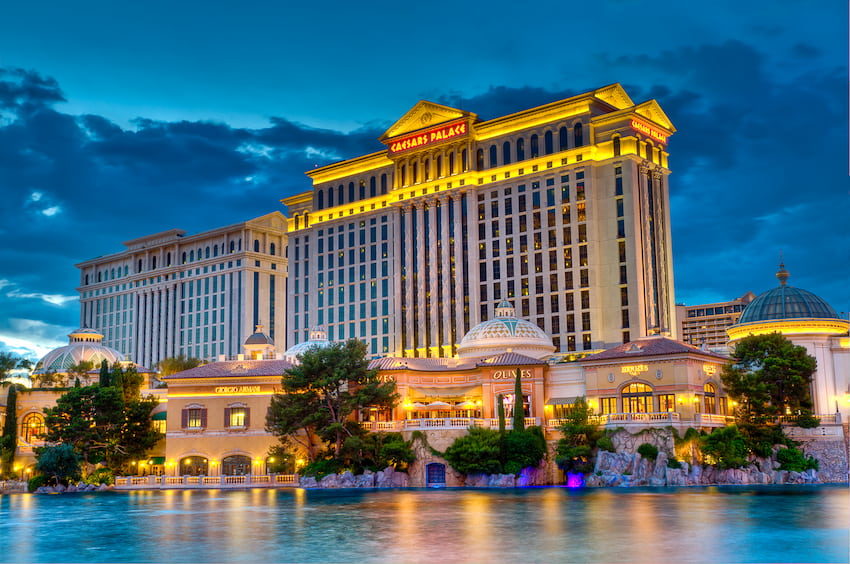 Previously known as Melco Crown Entertainment, Melco Resorts was founded in 2004 with a sole focus on Macau gaming ventures. Eight years later they expanded into the Philippine market with the City of Dreams Manilla. They continued in 2018 with a license to build the City of Dream Mediterranean, which will be the largest casino resort in Europe when it opens (as of this writing, CODM does not have a confirmed opening date).
Starting in 2018 Melco began pumping large sums of money into non-gaming projects in Japan such as a ski resort and an onsen spa. Combined revenue from their 6 integrated casino resorts, 7 slot machine parlors (known as "Mocha Clubs"), and numerous Japanese hospitality venues was estimated at $5.7 billion in 2019.
7. PENN Entertainment – $5.3 Billion p.a.
PENN Entertainment (formerly Penn National Gaming) began as a small racetrack operator in 1972. They now lay claim to North America's largest portfolio of regional casinos and resorts with 43 physical locations (including the famous Greektown Casino in Detroit, MI), and a formidable online presence.
In 2020 they purchased a 36% stake in Barstool Sports and cemented their place as a leader in integrated gaming and entertainment. Their forward-thinking approach and embrace of new technologies generate approx $5.1 -$5.3 billion each year.
8. SJM Holdings – $4.27 Billion p.a.
SJM Holdings Limited is one of the six concessionaires authorized to operate casinos and gaming areas in Macau, officially incorporated in 2001. They currently operate 13 casinos and 4 hotels, including their flagship casino, The Grand Lisboa. Situated on the island of Se, Macau, the Grand Lisboa's distinctive golden Lotus shape has defined the city's skyline since its opening in 2008.
Its 47-floor, 1350-room hotel towers above all other structures (sources vary on the exact number of rooms and the exact height of the tower), and is an internationally recognized landmark. The property offers a well-known cabaret, celebrity restaurants, designer shopping, indoor/outdoor pools, a spa and 1000 slot machines, and 800 tables.
This type of international recognition and high-end gaming experiences throughout all their properties generated $4.27 billion in revenue in 2019.
9. Marina Bay Sands – $2-3 Billion p.a.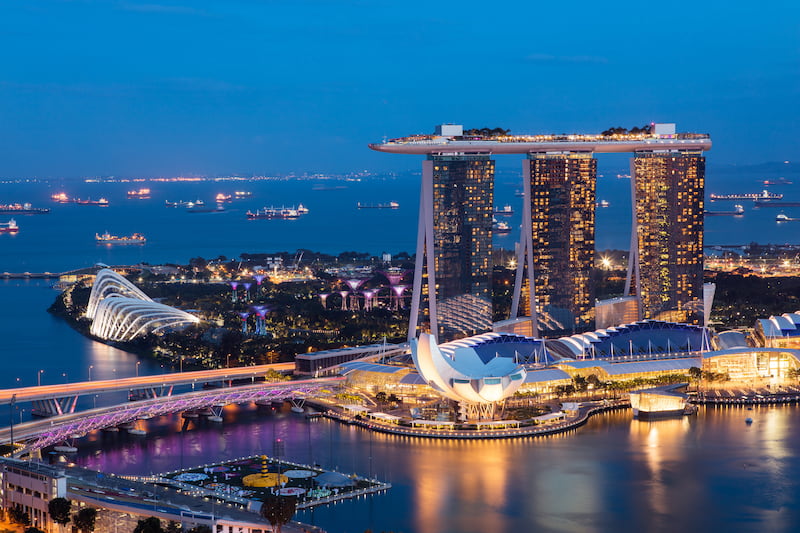 One of the only stand-alone casinos on our list, Marina Bay Sands is owned by the (previously mentioned) Las Vegas Sands Corporation. Its innovative design was based on the deck of a ship, with three hotel towers meant to invoke stacks of playing cards. This behemoth of a casino has held numerous superlative records since its 2011 opening, including the World's Largest Atrium Casino and the Most Profitable Casino in Singapore.
Like all of the casinos on the list, it goes beyond mere gambling and provides amenities ranging from movie theaters, a colossal infinity pool, celebrity-owned restaurants, a fully integrated museum, a massive shopping mall, and a convention center. Undoubtedly, however, Marina Bay Sands' main attraction is its boast-worthy casino floor with 1000 gaming tables and 1400 slot machines. All in all, these features brought in between $2 to $3 billion in 2018 and 2019 respectively.
10. Boyd Gaming – $1.93 Billion p.a.
Boyd Gaming was founded as a family-owned company in Paradise, Nevada in 1975. After 40+ years they have evolved into a multi-billion dollar entertainment corporation. Their portfolio includes more than 100 successful restaurants and dozens of showrooms.
They operate 28 gaming properties in 10 states as well as a single Tribal casino in northern California. They are also a 5% equity owner in FanDuel Group, one of the largest sports-betting operators in the US. Boyd Gaming's annual gross profit for 2021 was $1.93 billion.

**Please note that while every effort has been made to be factually accurate, financial figures from 2020-2022 are often available, unreliable, or unbelievable. The global shutdowns affected the gaming and hospitality industries particularly hard. We have chosen to focus on figures from 2018 – early 2020 in our attempt to accurately reflect the general standings of these properties. With that in mind, please enjoy this list but refrain from citing it in your college dissertation**