Slot games can often be overlooked by hardcore casino aficionados. Assuming they are low stakes and thus provide low wins, many ignore them for high-paying table games like blackjack and poker. Yet that could not be further from the truth. Thanks to progressive jackpots, slot games have provided some of the biggest casino wins in history. In fact one particular slot machine – Megabucks – has been responsible for every single winner on our list.
Here it is then, our guide to the biggest slot game wins ever claimed in land-based casinos:
6. $21 Million – Mirage Casino, Las Vegas
This story takes place quite a while before the other stories of big wins and is the tale of a WWII veteran named Elmer Sherwin. When Sherwin visited the Mirage Casino in Vegas for its 1989 opening, he managed to walk away with $4.6 million with $20 he borrowed from his wife at the time. 
Sixteen years later Elmer visited the Cannery Casino in Vegas and returned to the Megabucks game that had been so lucrative for him in the past. Wagering the $3 maximum bet, he spun and saw those familiar three Megabucks symbols land on his reel. At 92 years of age, he scooped $21 million and was the only person to bag a Megabucks jackpot twice in one lifetime.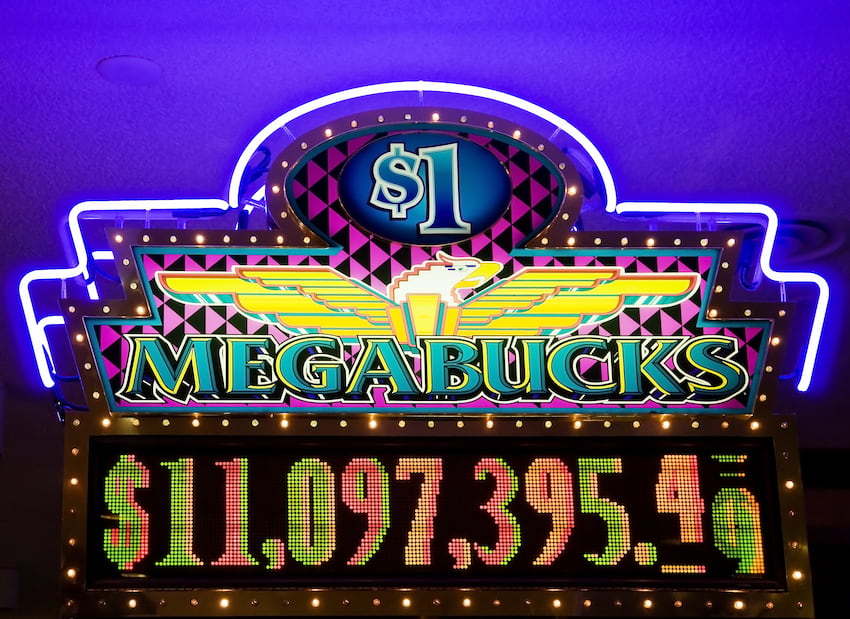 5. $21.3 Million – Caesars Palace, Las Vegas
While not the biggest win on the list, this one has the highest deposit-to-winnings ratio. A business consultant used a $10 bankroll to scoop a haul of over $21 million. The 49-year-old man from Illinois won in 1999 at the famous Caesars Palace in Vegas. 
The anonymous player hit the jackpot when he was once again playing the famous Megabucks slot machine which has accounted for every winner on this list. The gentleman chose to receive his winnings in annual instalments of $1.5 million per year over 25 years (taking inflation into account) and giving him a reliable source of income for many years.

4. $22.6 Million – Bally's Casino, Las Vegas
Johanna Heundl was a retired Californian, who had headed to the famous Bally's Casino in Vegas to celebrate her 74th birthday in 2002. She took up a birthday offer from the establishment to spend two nights there and get $100 in free play tokens. Before going for breakfast, she deposited her credit and put in a further $100 of her own funds. 
When she was just getting hungry and was about to leave, she took a last few spins with her remaining $20. The three Megabucks symbols lined up and she grabbed two jackpots. The first was $22 million, with a secondary one totalling $3000.  
3. $27.5 Million – Palace Station Casino, Las Vegas
The third biggest prize on the list was won by an anonymous retiree, gambling at the Palace Station Resort in Vegas. This ex-flight attendant ventured to the casino in 1998, only a few months after scooping $680,000 on a Wheel of Fortune slot game. While not recommended, she decided to play with an extra $100. The Megabucks symbols fell and $27.5 million was added to the total from her sizable previous winnings. 
2. $34.9 Million – Desert Inn, Las Vegas
In the year 2000, at the dawn of a new millennium, fortune would fall in favour of Cynthia Jay Brennan. Working as a waitress in a cocktail bar, Cynthia finished her shift and headed to the Desert Inn Hotel and Casino. Celebrating her soon to be mother in law's birthday, she decided to drop some funds into the Megabucks slot.
Depositing $21, she decided to wager the maximum $3 a spin and accessed the bonus rounds with the progressive jackpot. Using this amount meant that inevitably, her bankroll soon depleted and she chose to have two more attempts and then call it a day. The symbols fell just right and the Megabucks slot paid out its sizable jackpot of $34.9 million. 
Cynthia then used her winnings to help those in need, donating most of it to disability charities. 
1.    $39.7 Million – Excalibur Casino, Las Vegas
The largest jackpot on a slot machine at any casino took place at the Excalibur Casino in Las Vegas. Way back in 2003, the winner was a young software engineer who chose to remain anonymous. This gambler from Los Angeles dropped a mere $100 into the slot machine. Another Megabucks slot with a huge progressive jackpot, had to pay out to one lucky person at some point, and it ended up being his day. 

Anyone can win these jackpots, but managing a bankroll is important. Never forget that many more people don't win at all.
From the list above it may look like the only way to scoop a big win is to book a flight to Vegas and pull up a chair in front of a Megabucks slot.
However, at Casino.com we have a number of online progressive jackpot slots where the top prizes often reach into millions; you can check them out today and no air-miles are required!
In fact we had a big win when one of our players in New Zealand scooped a $400,000 NZD ($240,000 USD) jackpot when playing the Sisters of Oz: WowPot Jackpot game. WowPot Jackpot slots offer some of the biggest jackpots around, and you can enjoy the whole collection at Casino.com today!