Progressive jackpot slots are one of the major types of slot games. Popular on most major websites, this form of slot game offers features that traditional slots don't. While this might make progressive slots seem intimidating at first, they're remarkably simple once you understand the core rules. On this page, we'll take a look at progressive jackpot slots, their key features and history, and what makes them so successful to this day.
What are Progressive Jackpot Slots?
Progressive jackpot slots are a variation of the classic slot formula. This means they still revolve around selecting wagers and spinning the reels, and prizes are still usually won through matching a specific number of symbols. The difference is that progressive slots tend to offer much higher prizes than regular slots thanks to how their progressive jackpot system operates.
In traditional slot games, prizes are pre-set by the game developers. While there can be different levels of jackpot available, each of these tiers is static. In progressive jackpot slots, the biggest payouts are tied to the progressive system, which can keep growing over time.
The progressive feature operates by taking a small amount of each player's bet and entering it into one or more growing jackpots. These jackpots can be tied into a series of titles, so different games can compete for the same progressive payout. With many players over a long time, this prize can grow to enormous heights, far above what any traditional slot could offer. In fact, the highest slot wins of all time come from progressive jackpot games.
Key Features
In most ways, progressive jackpot titles play exactly like regular slots, with a few key discrepancies. This includes features such as:
Variable bets
Bonus games
Respins
Wilds and Scatters
Player bets contribute towards a larger payout
Shared jackpots over different titles
Jackpots which reset to a minimum after being struck
How Progressive Jackpot Slots Originated
The very first form of slot machine entered production in the late 19th century. These were clunky by today's standards, but still illustrated the core concepts that slots would always embrace. They used rotating drums, and depending on the matched symbols, they would payout different quantities or prizes.
As casinos saw unprecedented mainstream success in the 20th century, slots came along for the ride. But, despite their potential, they weren't always major hits. It wasn't until the 1980s that slots found a position as a primary casino force. At this point, slots began to boast earnings of around 70% of many casinos' total revenue stream.
Virtual Reels, Real Money
A primary contributor to this new level of success was the virtual reel system, introduced by engineer Inge Telnaus. This new digital system allowed reels to run on random number generation, which meant the odds could be separated from the physical layout of the reels. In effect, this new reel system allowed slot games to set the odds to anything they wished.
No longer tied to such specific odds, the '80s saw an influx of new ideas to take advantage of the possibilities that the virtual reel system offered. Progressive slots were one such example, introduced by International Game Technology in 1986. Called Megabucks, this system linked machines together, with bets slowly incrementing a progressive jackpot with odds that reflected its rarity.
The concept was an instant hit, growing over time to include ever-widening banks of slot machines. More connected slots meant a higher possible payout, which meant more interested players, creating a sort of feedback loop until equilibrium was met. With the ground set, these slots would continue to prove an inseparable part of the physical casino market.
The First in the Online Realm
Online casinos first appeared in 1996, but initial efforts were crude by the standards of today. Over time, these games would evolve from rough interpretations to titles that would meet, and even surpass the potential of physical machines. Online slots entering the realm of progressive jackpots was just a matter of time.
This time they arrived in 2009 thanks to online casino software giant Microgaming. Their game was titled Mega Moolah, the first online progressive jackpot slot. Based on the theme of an African Safari, Mega Moolah made headlines in its very first year, when a lucky player claimed a $6,374,434 jackpot. This was the largest ever online casino win at the time, which was later surpassed again by the same slot in 2015, with a win of $19,154,463, when adjusted for inflation.
What Makes Progressive Jackpot Slots so Popular?
The obvious answer to this question is the potential for huge wins, but that only illustrates part of the puzzle. On a broader scale, the success of this type of jackpot slots ties into the success of all types of online slots – their potential for flexibility and entertainment.
Slot games are a form of gambling that is incredibly easy to understand. Even at a glance, most people will understand the goal of slots, and how the basic functions operate. There are no overly complex rules as a starting point, so easing players in becomes simple.
From here, slots also saw enormous benefits through the flexibility that the games provide. Slots can be built around any theme imaginable, from licensed tie-ins of movies and sports to original creations and series. All of this, and they don't even need to be built from the ground up around progressive jackpots.
Modern slots are designed with flexible code so that they can be added to without undergoing a costly and difficult redesign process. This can sometimes manifest by progressive jackpots being added to a game that wasn't originally built with them in mind. Add to this the fact that progressive jackpots can be shared across websites and countries, and not just a few titles like in physical casinos, and their reach and popularity become all the most understandable.
Standout Progressive Jackpot Slots
With so many progressive jackpot slots available online, it can be intimidating to find a place to jump in. Have no fear, however, as all of these games are very welcoming, so you don't have to worry about being confused about the rules. For some specific choices, click on the link below to find our top ten selections of the best jackpot games: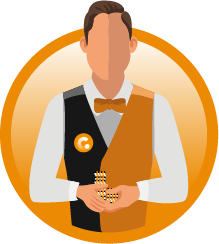 Did You Know?
Once won, a progressive jackpot won't start again with a prize of zero. Every jackpot of this type has a minimum value, which is known as the seed amount. These seeds are designed to provide players with an incentive to play, even if the jackpot isn't quite breaking into the millions yet.