For all its ability to evolve and adapt to new mediums, blackjack's recent history, including its success on the internet and mobile phones, is barely a minute on the clock of its existence to date. This classic casino experience has roots in the same decade that England and Scotland united to form the Kingdom of Great Britain, meaning that it likely celebrated its 300th anniversary sometime after the turn of the millennium.
Unlike lots of other card games, which were created and played on streets, evidence suggests that traditional blackjack began in French casinos around the beginning of the 18th century. However, it's possible to find similar games in the parlours of the Romans, albeit using blocks instead of cards. In any case, an early form of blackjack somehow found its way to New Orleans by 1820, where it was known as Vingt-et-Un and, later, 21.
Blackjack expert Angela Wyman suggests that blackjack could be found in Nevada in 1931 with remarkable odds: "the casinos really wanted to make blackjack a thing and they offered 10 to 1 payouts. We all wish they would do [that] again." When asked about the more important features that blackjack has developed over time, Wyman added: "I think the best thing to happen is the sheer variety. We're not stuck with one table and one version, so, as much as classic blackjack in person might be the best game, the fact that we have so many options is better for the player."
Of course, blackjack is perhaps best known today as an online game that comes in all sorts of weird and wonderful forms. In its more traditional guise, variants like Blackjack Surrender, All Bets Blackjack, Lucky Lucky Blackjack, and Buster Blackjack tickle players by offering a riff on the original blackjack rules. Live dealer blackjack is different, though. This style of game does away with the random number generators and has a real dealer play the cards. It's a much more social, immersive experience that tries to emulate the atmosphere of the bricks and mortar casino.  "We never could have anticipated the way online casinos have blown up", Wyman continued. "I never would have thought that all these online dealing things would become what they are."
Online vs. Offline. What's the Difference?
The difference between (and value of) traditional vs online blackjack is one of the great debates in the casino community. However, one of the most obvious – and jarring – differences isn't a difference at all. Both online and offline casino operators seem to favour computer dealers with increasing regularity. Wyman explains: "they will hire someone and they will tape her dealing, and she's a real person, and she's taped doing those motions and saying certain responses, and then depending on what the player does on the opposite side of the virtual table, the virtual person will then respond.
"They're all over Atlantic City [and] Vegas now, and I believe many of the tribal casinos began to pick them up in the past two or three years. I think they started coming out around eight years ago as a novelty. Now they're actually using them to replace pits. But don't blame the casinos – it's part of how they're adapting."
Wyman also notes that offline casinos can be the source of better payouts in traditional blackjack games, with Las Vegas serving up 'classic' blackjack on the Strip. Our expert adds that real-life casinos tend to avoid experimentation, though, with "Las Vegas Strip blackjack versus Atlantic City blackjack versus European blackjack" the only major variations to be found out in casino land. This discovery can be disappointing for players who are used to casino websites offering tens of different table games, slots, and live game shows, each applying their own particular quirk(s) to the original formula.
Side Bets
Side bets add a new paradigm to offline play, too. These special wagers are placed before a blackjack game begins and allow participants to bet on certain outcomes, such as which cards will be given to the dealer or the player. Side bets are a particular favourite of Angela Wyman: "Having been around blackjack for so many years, I know exactly what you should do on each hand, so [a side bet] just adds a whole different excitement to it. Plus, to be perfectly transparent, I work with so many people who design side bets, and their excitement is infectious, so it is a little bit about that. But it is a bit about preserving part of our gaming heritage but giving it that little bit extra."
Online, side bets aren't quite as popular, with one of them – insurance – considered by the basic strategy as something that nobody should ever take. In some scenarios, a side bet will hand the house an additional edge over the player. While this can mean additional rewards, giving the casino a boost is never a desirable starting point in a game of traditional blackjack. Side bets can be found as Perfect Pairs (won if a pair of cards is dealt) and Super Sevens (won with variations of cards numbered 7), though, as always, there can be plenty of others, including side bets attached to progressive jackpots.
The Executive Summary
Let's allow our expert Angela Wyman to summarise the benefits of playing online: "If you purely just want to play – so maybe you're a new player or someone who just wants to refresh their skills – you can find a game where perhaps you can just play for free as practice and see hundreds of hands just to get that comfort level up, or even play for lower dollar amounts. So in that way, I think that online's better." Angela adds that online games are generally more favourable to the player due to the wide range of novel experiences available.
Casinos, in the more physical sense, are more about enjoying an experience and soaking in the atmosphere: "It's a sad reality of the world we live in that we are so isolated. The social element of a table game – especially something like live blackjack – you can't duplicate that." Of course, there are always two sides to every chip: "Sometimes, the interaction with the people at your table is awful. You know, they ask you why you did that thing or they yell at you for taking the dealer's bust card. But whatever it is, you can't beat that excitement."
Overall, it may be that the traditional vs online blackjack differences are related to personality types. The more introverted players might find Atlantic City a bit of a nightmare compared to playing online blackjack on their laptop or mobile, while night-owls and party people may not be able to see beyond the absence of other humans when joining a Quantum Blackjack session online. It's much more likely that both of these groups pick and choose their experience according to many factors, though, such as location, time pressure, access, and the size of their bankroll. 
After all, keen casino gamers aren't going to avoid playing online if there isn't a real-life establishment nearby, and vice versa.
The Verdict
Blackjack, from its modest beginnings as the preferred game of French casino patrons in the 18th century, has – paradoxically changed significantly and not changed at all. Online is the home of live blackjack and extended choice and variation but, out in the world of physical casinos, the major gaming houses play classic blackjack above all else.
Unfortunately, Angela Wyman notes that the truest form of blackjack doesn't really exist anymore: "A classic, 'perfect' game of blackjack, which you almost never find, would be that 3:2 payout, two decks, allowing you to split any two cards, allowing you to split aces up to four times, allow doubling down on any two cards you want. You need to make sure you have that set of rules." Why are two-deck games so rare? They're easier to cheat in. Of course, online casinos use computers and simulated decks over actual packs of cards, so there's an entirely different set of mechanics in play. 
We hope you've enjoyed reading our expert insight into online vs live blackjack differences. Be sure to always split your aces, never split your tens, and have fun at the table.
Any questions? Our Frequently Asked Questions chapter will provide you with the answers in a clear and straightforward fashion.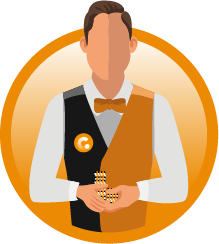 Did you know?
Online blackjack has moved up a level in recent years thanks to the introduction of titles featuring live dealers. These games let you sample a genuine casino ambience while playing conveniently online. Streaming technology is used to make a smooth blackjack experience that blurs the lines between live-action and online play.