Most people can instantly recognise the traditional roulette wheel. This is a wheel that is divided into numbered sections, with the idea being that you attempt to predict in which number the ball will land. While the switch to online roulette hasn't changed the shape or layout of the wheel, it has altered our ways of playing it.
What Is the Traditional Roulette Wheel?

If you go onto a site with online casino games, you can expect to see a selection of roulette titles. These digitalised versions use the same wheel that has been in casinos since the 19th century, so it is instantly recognisable to anyone who knows the game. It is a deceptively simple concept, in which you just have to decide where you think the ball will end up, and how much to wager on this happening. Our step-by-step guide on how to play roulette online will show you exactly how to place a bet.
Online casinos use the same wheel and the same rules that have traditionally been used in this game. This means that the look and the mechanics are simple to understand and have been proven to be hugely popular over time.
Why Has Online Roulette Become So Popular?

The arrival of online casino games in the 21st century has changed how we play the likes of roulette, blackjack, and slots. We can now join a table at any time while sitting at home or anywhere else. The top casinos are all highly secure and well-regulated, and most offer a large selection of games.
With roulette, the move to online games has allowed players to sample all sorts of different variants. For instance, British players can now easily try American versions or look for roulette games where French-style bets and rules are used.
Easy access to online casino games has made the game of roulette more accessible to far more people than ever before. Now, anyone who is interested can start playing, regardless of whether they have ever set foot in a land-based casino or not.
The move to online roulette has been particularly useful for anyone who may have felt intimidated about entering a casino, or worried about whether they could play with small stakes. By playing online, they can start off comfortably, using a size of stake they are happy wagering with.
How Live Dealer Roulette Has Combined Both Approaches

In the early days of online casinos, the traditional roulette wheel was recreated on a virtual basis. This meant that players would see a computer-generated wheel spin around on their screens. For this to work, the software developers introduced a random number generator (RNG) that reflected the elements of chance and unpredictability we associate with roulette, by generating wins fairly and randomly – as the name would suggest.
Advances in streaming technology then led to the next big change, as live dealer roulette began to appear in online casinos. In this version, a live dealer sits behind a physical roulette wheel, spins it, and interacts with players in exactly the same way you would expect to see in a land-based casino.
Roulette Goes Full Circle
In some way, this means that the game of roulette has gone full circle. We are now back to seeing a classic wheel and interacting with a human dealer. However, the big difference is that we can now do this from the comfort of our homes.
There is also the fact that you can now choose from a variety of online roulette versions, which includes live dealers spinning a physical wheel in front of your eyes, or a computer-generated virtual wheel spinning randomly.  
If you have ever wondered what it feels like to place a bet on a traditional roulette wheel, it is now easier than ever before to do this. Roulette, as a game concept, remains the same, thrilling casino experience it always was, but it is now easier to play than ever before.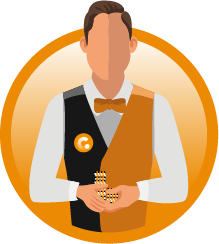 Did you know?
Did you know that roulette has gone virtual in recent years? From traditional live games to digital online games and, more recently, live dealer online games, you now have another option: virtual reality. VR Roulette was first trialled by Microgaming in 2016 and is likely to become the top option in the coming decades.