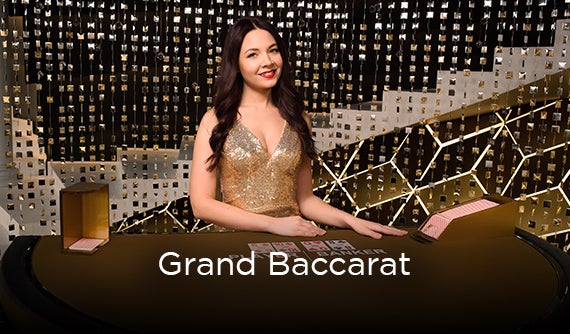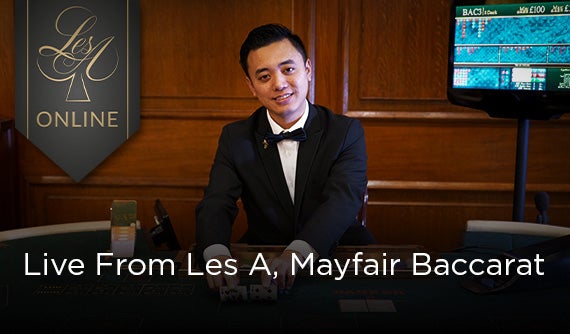 If you're looking for the best online casino to play Live Baccarat, then you've come to the right place: Casino.com UK recommends a number of online casinos hosting a wide range of Live Casino Games, including Baccarat options.
Experience the ambience, excitement and interaction with live dealers that were once only available on a trip to a brick-and-mortar casino. Now, thanks to streaming cameras, you can enjoy it all from the comfort of your home, or while on the go through your Android or iOS devices.
Number of Live Dealer Baccarat Games Available: 12.
Platform: Playtech.
Min-Max Bet Limits:

 

£1-£5,000.
Watching Mode:

 

Yes, some of the games allow you to join as a live watcher.
AVAILABLE LIVE BACCARAT GAMES TO PLAY
If you haven't done so already, register your account at one of our recommended casinos, login and make a deposit using any of your site's accepted payment methods.
There are several different Live Baccarat games in the Live Casino lobby, and you can see a short description of each one in the table below.
The games include both, Regular, and No Commission Baccarat games.
The games also differ in terms of betting limits with some games having a minimum bet of £1 and maximum bets of £5,000.
All of the games are played with an eight-deck shoe and they all feature side bets, which you can read about in the Rules section.
See below some of the most popular Live Baccarat Tables at online casinos in the UK:
| | | | |
| --- | --- | --- | --- |
| Live Baccarat Game Name | Bet Limits (Min-Max) | RTP % | Description |
| Prestige Baccarat | £2-£5,000 | 98.76% | Enhanced experience with five gameplay angles and action replays of winning hands. |
| Speed Baccarat NC | £1-£5,000 | 98.76% | Eight deck Live No Commission Baccarat. |
| Grand Baccarat No Commission | £1-£5,000 | 85.6%-98.76% | Normally, there is a 0.5% house commission is deducted from any Banker wins in Baccarat. In this game, there is no commission. The odds for some of the other hands are also different from the other games listed here. Check out the Help menu in the game for a complete breakdown of the payouts. |
Playing Live Dealer Baccarat combines the convenience of the online casino with the real-time action of a live casino.
While Live Baccarat may seem overwhelming to an inexperienced punter, you will soon discover that it's a pretty simple game to play. There is no additional equipment like a webcam or microphone needed to play, just a stable internet connection and an active online casino account.
Pros
Closest you can get to a real casino experience
Play with punters from all over the world
Watch as the cards are dealt in real time
Chat with your dealer
Cons
The game moves faster than online Baccarat
Can only play when there is an available dealer
To win in Live Baccarat, you have to bet on which hand will get closer to 9 points, the player or the dealer, or whether it will be a tie.
The card values work a little differently in Baccarat than Poker or Blackjack; cards that have values of 2-9 are worth the number on the card, an ace is worth 1 point, and 10's and pictures cards are worth 0 points.
A point value can't reach double digits; instead, you subtract 10 to get the point number. For example, if the player has an 8 and a 5 card, instead of 13 points, they'll have 3. Similarly, a K and a 5 is worth 5 points and not 15.
When the betting is open, you can place your bet on Player, Dealer, or Tie as well as a slew of side bets. These include:
Pairs: You can bet on whether the player or dealer will get a pair, a perfect pair, or either one.
Big: This bet wins if either five or six cards are drawn.
Small: Both the player and dealer will only be dealt two cards each .
Egalite Extra: In this bet, you are both betting that there will be a tie and what the tie number will be.
Just under the betting table, you can see the results from the entire shoe, including whether the win was a big or small.
The game flow is based on the set rules, there are no decisions that the player or dealer can make when it comes to receiving the third card.
The Player draws a 3rd card when the point total is between 0-5.
The Banker rules are as follows:
| | | |
| --- | --- | --- |
| Points for First Two Card | 3rd Card Dealt if Player has: | No 3rd card if Player has: |
| 3 | 0-7, 9 | 8 |
| 4 | 2 – 7 | 0, 1, 8, 9 |
| 5 | 4-7 | 0, 1, 2, 3, 8, 9 |
| 6 | 6,7 | 0, 1, 2, 3, 4, 5, 8, 9 |
| 7, 8, or 9 | Never | Never |
If all of this sounds overly complicated, then don't worry! The live dealer takes care of all of the gameplay, all you need to do is to place your bets and watch to see how the game plays out.
The two most common bets in Live Baccarat both have a 1:1 payout and the odds of winning are above 44%. However, except for No Commission Baccarat, the house does take a 5% commission on Dealer bets.
For example, if you make a £10 bet on the Dealer, you will win £19.50. Betting on a tie will result in an 8:1 payout.
The main side bet payouts are as follows:
Player/Dealer Pair: 11:1
Perfect Pair: 25:1
Big: 0.54:1
Small: 2:1
For a complete breakdown of all the side bets odds you can click on the in-game "Hamburger" button > Help > Return to Player and Payout Tables.
Unlike in Blackjack or Casino Hold'em, in Baccarat, once the bet is placed, the decision-making process is over. The rules will dictate whether additional cards are drawn, which means that the only strategy in this game is on the bets you place.
There are several side bets such as Player and Dealer pairs, big, and small, but these three strategies are focused on the main betting option:
Bet on Banker:

 

This is considered by many as the smart bet because of the slightly enhanced odds of winning. The house has a 1.06% edge on the banker bets as opposed to a 1.36% edge on player bets. This is also the reason why the house takes a 5% commission, except in the No Commission game.
Don't Bet on Tie:

 

Don't be drawn in by the 8:1 payout on a tie, the odds of winning are significantly lower than betting on either the Player or the Dealer. The house edge for Tie bets is 14.4%.
Money Management:

 

Money Management: There are several different money management strategies that rely on the near 50/50 odds of winning, similar to roulette. The Martingale and Paroli systems are popular amongst many punters,  but they're not recommended strategies. The main difference between these two strategies is Martingale is dictated by losing hands and Paroli by winning hands.
SOFTWARE (PLAYTECH'S LIVE BACCARAT PLATFORM)
Online casinos across the UK have teamed up with Playtech

 

to bring you the very best Live Baccarat experience possible. Utilising their trusted Eurolive platform, punters can sit at a baccarat table from anywhere in the world.
Playtech has hundreds of HD cameras streaming

 

the live action and combines these live games with its leading online casino game platform.
Live Baccarat games are touch-friendly for all mobile devices. To begin playing simply touch the chip that you want to play and then place it on the betting table.
Playtech did a great job developing the mobile version of the games, allowing for enough space on the screen to allow you to watch and chat with the dealer, and still have plenty of space to place your bets.
The games are available in both landscape and portrait mode, which allow you to choose whichever view you find more comfortable.
While the game itself is the same as online Baccarat, there are, of course, some differences that you have to get used to.
Whatever your question is, there are several different ways to get answers at your chosen online casino:
In-Game Help Menu – If the game is open, either on your browser or mobile device, you can always click on the three bars, or hamburger menu, to access a detailed help menu. Here you will find answers to questions about game flow, rules, betting options, payouts, odds, and more.
Customer Support – Contacting the 24/7 Customer Support team at your chosen online casino is another option. They can be reached in a variety of ways, including live chat, telephone and email. They will be able to answer your questions regarding billing, gameplay, technical issues, and more.
To begin playing Live Baccarat, you will need to open and fund an account. In addition to gaining access to the Live Dealer games, new players from the UK may be able to claim a Welcome Package. Before you start to play, check out your site's casino bonuses page for more information.
The promotions page is where you'll see all the latest offers for all the online casino games.
Make sure to read the Terms and Conditions to understand the wagering requirements of each bonus.
ADDITIONAL LIVE DEALER GAMES
Playing Live Dealer games at online casinos provides the same experiences that you'll get at a land-based casino. There is much more than just Live Baccarat.
Take a look at the Live Casino lobby and check out the Live Roulette and Live Blackjack lobbies, or take a seat in a game of Live Casino Hold'em or Hi-Lo. If the game is available at the casino, chances are there is some version of it at one of our recommended casinos.
PLAY LIVE BACCARAT FOR REAL MONEY
If you're going to play Baccarat at an online casino, then playing Live Baccarat will take your game to the next level.
Remember, Live Baccarat is only available for real money players, so register your account today and see for yourself that Casino.com UK recommends the best Live Baccarat casinos.