Las Vegas is never short of new ideas and innovations to get people to its casinos. Be it luxurious hotels trying to outdo each other, high-class restaurants, or celebrity shows and extravaganzas, it often seems like Vegas may have reached the end of the line when it comes to pushing the boundaries. Yet surprises are still in store, and visitors will go around the bend with the new X-Train project coming to the city.
The X-Train Project
The X-Train is not your typical railway outing. Instead of being a mode of transport, it blends the casino resort experience with a rail journey. Early concept images for the train showed a hybrid of travel and the utmost luxury. Huge screens played sports games and news, along with casino tables in carriages and full hospitality sections with built-in bars.
Originally, each train was set to hold 500 passengers in a 10-car train. They then reduced the number of passengers while increasing the number of cars to 14. Presumably, the aim was to fit more facilities in the carriages. The company has noted they have 17 carriages available for use but has said it can add more as needed depending on the success of the service.
The plan has been in the design phase for around 12 years now. Set to take people between Los Angeles and the gambling mecca of Las Vegas, the normal trip uses the Union Pacific Railroad line. A standard service operates five days a week and takes around five hours. A ticket for X-Train will cost $500 as opposed to the $99 normal rail fee but includes food and drink.
Competition on the line will also come from a new Virgin Trains high-speed link. This will carry passengers from Victorville, California, to Las Vegas in a speedy 90 minutes. Las Vegas Xpress, who run the X-Train service, has said the $4.8 billion Virgin project would not be competition. This service will start in 2023, but as Las Vegas Xpress is running an entertainment venue as opposed to a regular mode of transport, they won't be in direct competition.
Opening a Station in Vegas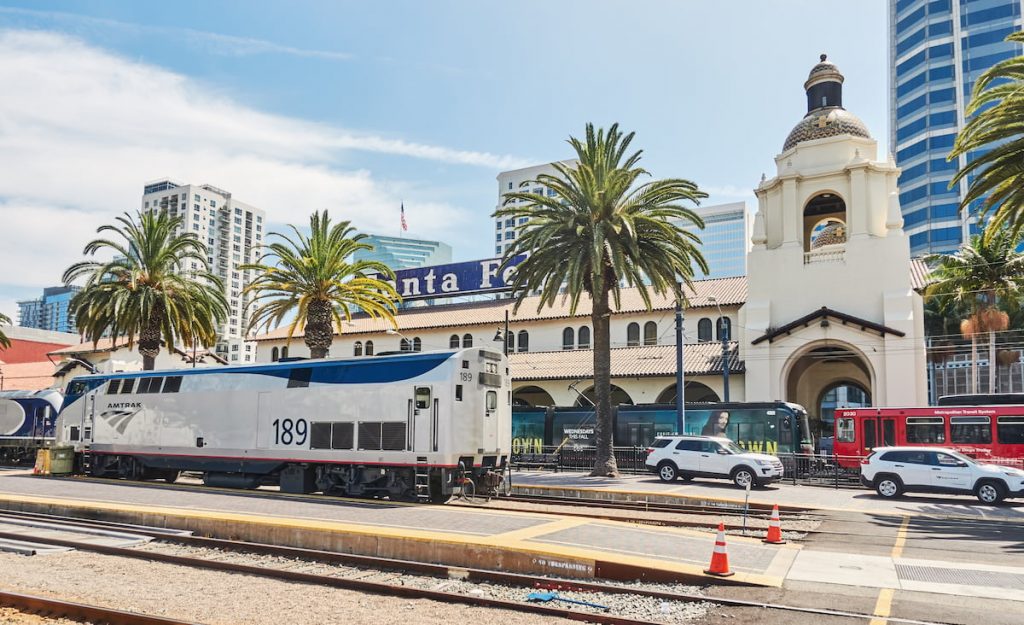 One of the main problems seems to be where and when the railroad will start and end. Though the company has been in talks with the Union Pacific Railroad, no agreement has been made to open a private passenger rail service. The line had originally been scheduled to run into Santa Fe Station in San Bernardino. From here, commuters had access to other Californian cities using the transport hub, such as Los Angeles. However, it will now travel to Union Station in LA.
Other ideas were that a purpose-built station would get created at the Greyhound Bus Station situated at the Las Vegas Plaza. However, this idea was cut short when the hotel explained that the bus company had its lease in its final term, which would not be renewed by the hotel. While this did leave an opportunity for a possible expansion by Las Vegas Xpress, space here is limited.
The final goal seems to be having the train end at a full casino and resort, though these negotiations have not moved forward. CEO Michael Barron did speculate that it may be at The Rio, as talks had taken place with the casino's new operators. However, he did also say the idea would be to have their own branded X-Hotel and Casino.
Launch Date Approaching
The company is now 90% ready and, despite delayed starts, seems ready to launch. the second phase is in implementation, in which improvements will be made to the rail line. This is specifically at the section near Barstow, California. A high-speed section here will reduce commuting time to 4 hours.
Despite a long road to operation and some major issues still waiting for a resolution, mainly where the railroad will start and finish, it seems like the project is finally about to get underway. This will be an exciting and unique addition to Las Vegas and could change the concept of the casino as we know it.