This October, NetEnt is rolling out the red carpet for one of the most star-studded slot games the year. After twenty years of developing slots that we love, the venerable developer has gone through its back catalogue of smash hits to bring us Superstars.
Iconic characters such as Finn and Gonzo are joined by Miss Banks and Brute to form an ensemble cast that represents NetEnts most acclaimed creations. The incredible board-game feature of this game even manages to incorporate some of NetEnt's most popular stand-alone games, such as Space Wars and Starburst to produce a truly memorable slot experience.
Gameplay
The reels are set up in a standard 5×5 formation, with 45 bet lines combined to offer a maximum win of 4,596x. The gameplay is initially quite standard, until you collect at least three diamond symbols on a spin. When this happens your free spins round will be triggered which can spark a litany of fun features, centred around a board game which now surrounds the reels.
Three free spins are your reward for triggering the free spin round, which will lead to random multipliers being scattered across the reel. Every time you land a new multiplier on the reels your fee spin count is replenished to three again.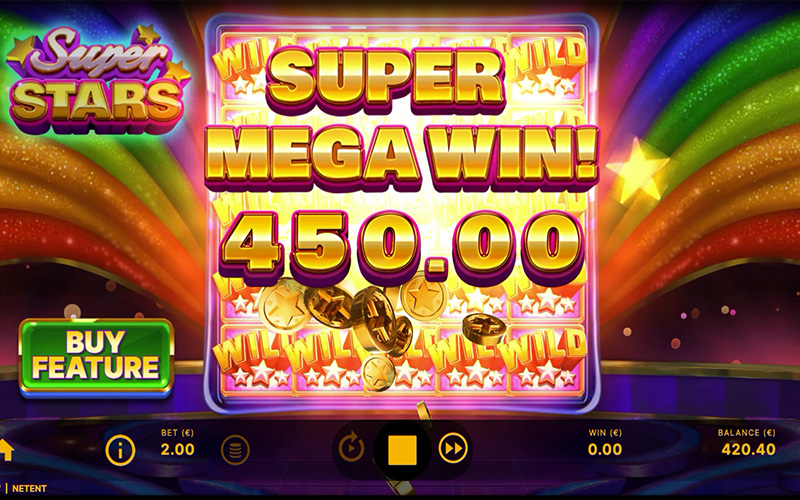 Special Features
The fun really begins if you land a dice on reel 5 during the free spin round. If you do this, then you will see your token start to move around the board game. Random dice will land on the reels as you progress, and these will be rolled to advance your token further around the board. Should your token land one a special square, you can trigger one of NINE special features, some inspired by the Superstars of NetEnt Slots Universe:
1. Miss Banks, puts her name to a feature which can place a maximum of fifteen multipliers on the reels. These multipliers range from 1 to 5x and can be added together if more than one lands on the same reel!
2. Space Wars was the game that first brought the extra-terrestrial diminutive disruptor, Brute, to our attention. In this feature he can be found joyriding in his alien whip. He's ventured this close to earth to reward you with three respins. As a parting gift before he rockets back to his own galaxy, he will review your board and clone the three highest multipliers available.
3. Starburst holds a special place in the heart of many slot enthusiasts. That special relationship could be cemented here as the famous Starburst Wild symbol will be fired onto the reels, giving juicy multipliers from 2 to 5x.
4. Finn, the character based on popular Irish legend, brings him own style to his feature. Using his clover, the Celtic rascal can give you an extra 5 on any multiplier up to 5x. He will then charm you with a favour – he will add all your multipliers together on a single line, meaning you can land more multipliers on your reels!
5. Gonzo's feature is based on his famous sword. Once he releases it from his scabbard, gold-coloured blocks will rain down on your board. No need for an umbrella to protect yourself form this rain though! These blocks can randomly multiply up to 24 existing multiples on your board by 2x, 3x or 5x!
6. Free Spins can also be added to your feature. The previous limit of three will be increased to four. This also means then when your free spins regenerate, you will also receive four more.
7. Extra Life is a feature that does exactly what it says on the tin. Get around the board and get an extra life. When you free spins counter goes to zero, the extra life will kick in to boost you back up to three (or four if you have activated the Free Spins feature).
8. The Wheel Game is sure to add some drama to your game! Spin the wheel and if it stops on a symbol, you will win a corresponding feature. This could be extra dice, and extra bonus game from one of the Superstars, multipliers, or bonus replays!
9. The Final Game will start when all reels are filled with multiplier prizes. The board will upgrade top present you enhanced multipliers of up to 1000x! Use your dice to get around the board, collect multipliers or extra dice!
We think that NetEnt has really pushed to boat out with the features of this game, and the unique approach of their most famous creations joining forces is sure to please players old and new. The game will be released on October 27th. In the meantime, you can familiarise yourself with some of the Net Ent back catalogue on Casino.com