We have selected the pick of the pack when it comes to wolf-themed slot games. See if you agree with our choices for the best wolf slots available right now:
#1. Wolf Gold
Released in 2017 by the well-respected Pragmatic Play studio, Wolf Gold taps into Native American mythology to produce one of the most popular slots games in recent years. The beautiful artwork allows you to feel the atmosphere old American frontier with colourfully crafted symbols including canyons, eagles, horses and, of course, the (wild) wolf.
Wolf Gold's atmospheric artwork is complimented by bonus features including free spins which can trigger profitable 3x multipliers. A healthy RTP of 96.01% is supported by a Mega Jackpot with a maximum win of 5000x should help to ensure that this step back in time will keep you from howling at the moon.
| | |
| --- | --- |
| Year of Release | 2017 |
| Game Developer | Pragmatic Play |
| RTP | 96.01% |
| Bonus Features | Yes |
| Maximum Win | 5.000x |

#2. Wolf Run
Continuing the Native American theme is the legendary Wolf Run. Beginning life as a physical slot machine in land-based casinos, Wolf Run was incredibly popular with players – so much so that the developers, IGT, would release the online version in 2014.
Simplicity is the key to this evergreen offering. While some contemporary games have convoluted and confusing betways, Wolf Run keeps it simple to maintain a user-friendly gaming experience, with sound effects that will spark memories of the casino floors of years gone by.
| | |
| --- | --- |
| Year of Release | 2014 |
| Game Developer | IGT |
| RTP | 94.98% |
| Bonus Features | Yes |
| Maximum Win | N/A |
#3. Wolf Rising
Wolf Rising is the second entry on our list developed by IGT. It is, as you may expect, all about wolves! The situation you find yourself in on this creative slot is that it is cold, it is raining, and the wolves are hungry and out to hunt. What is immediately striking about this slot is that the playing information is placed on the right-hand side of the screen, rather than its customary position at the bottom. This helps to give the game a fresh feel, although it may take some getting used to.
There are five reels with eights rows of visible symbols, producing twenty paylines. On the reels you will find white, brown, black and grey wolves, symbols which match up to theme perfectly. This, along with beautiful artwork and enjoyable audio, helps to produce a slot that is fun to play.
| | |
| --- | --- |
| Year of Release | 2011 |
| Game Developer | IGT |
| RTP | 94.71% |
| Bonus Features | Yes |
| Maximum Win | N/A |
#4. Wolf Legend Megaways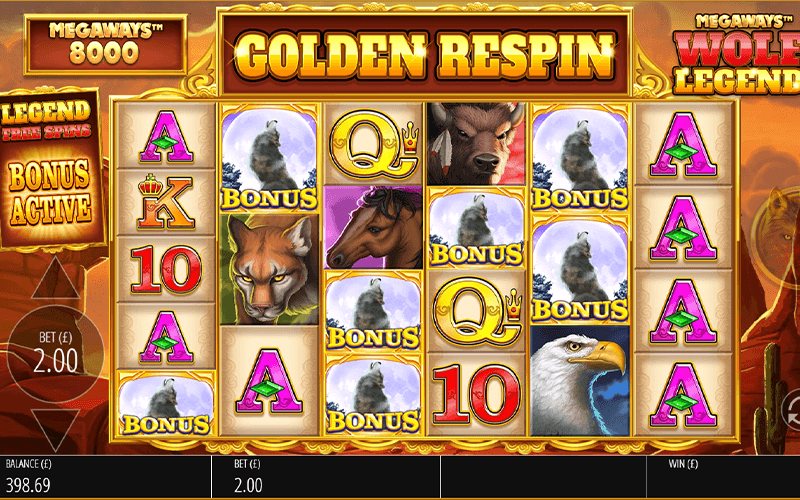 We return to the old American West for the second Megaways offering on our list of wolf themed slots. Similar to Wolf Gold, Wolf Legend Megaways leans into the canyon backdrop, with eagles, cougars and wolves appearing on symbols. Getting the right combination of these symbols will unlock bonus features including mystery symbols and an elaborate free spins feature which offers exciting gameplay.
At 50,000x this is the highest max win on our list, while the 6 reels with varying amounts of symbols produces 117,629 ways to win. Whether you run in a pack or are more of a lone wolf, this vibrant game's dynamic gameplay is volatile, ensure that each spin is engaging for all!
| | |
| --- | --- |
| Year of Release | 2019 |
| Game Developer | Blueprint |
| RTP | 96.21% |
| Bonus Features | Yes |
| Maximum Win | 50,000x |
#5. Curse of the Werewolf Megaways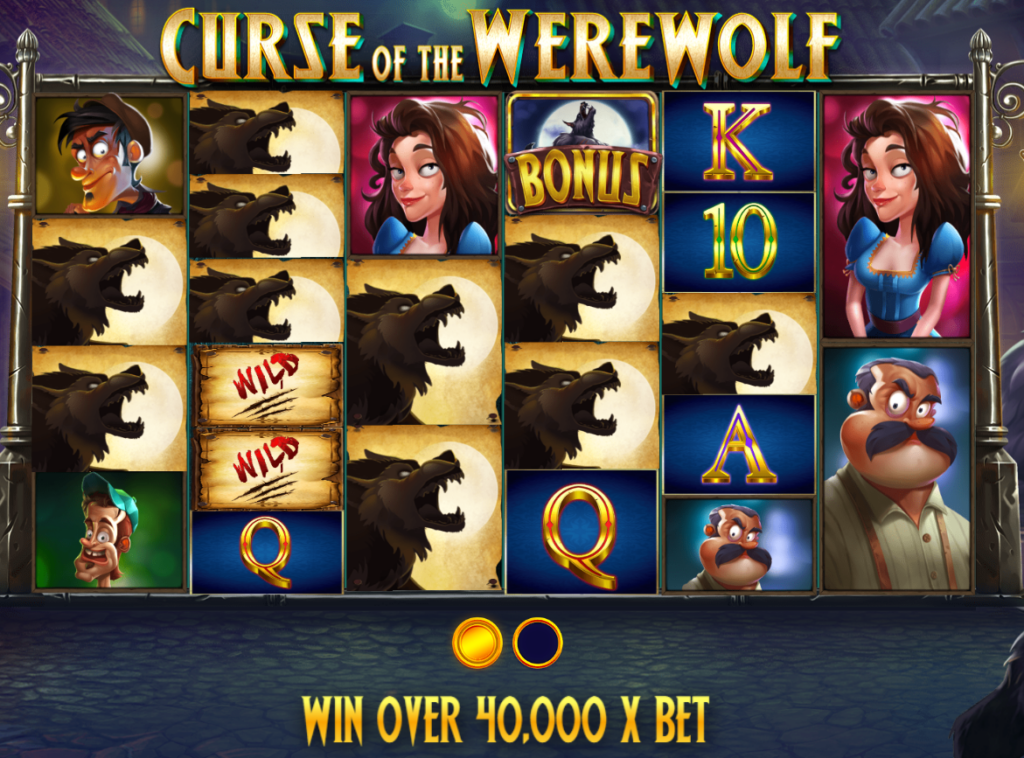 The second offering on this list from Pragmatic Play brings the legend of the werewolf to the slot machine. Set in an old English village, this highly engaging slot utilizes an eerie soundtrack to set the mood as you assist the townspeople in their monthly battle with their shapeshifting foe.
As one may expect from Megaways slots games, the maximum win is attractive at 40976x. Further, there are up to an astonishing 46656 paylines across five reels. With plenty of volatility and bonus features on offer, this addition to our wolf themed list is certainly a Thriller!
| | |
| --- | --- |
| Year of Release | 2020 |
| Game Developer | Pragmatic Play |
| RTP | 96.5% |
| Bonus Features | Yes |
| Maximum Win | 40,976x |
#6. Wild Wolf
The second offering on our list from IGT was released in 2020 and brings with it all of the impressive graphics and rewarding gameplay that you would expect from a developer who has been rolling out slot games since 1975.
Wild Wolf's simple set up is appealing, with five reels offering 50 paylines. The special features can combine to pack a punch. There are stacked wilds, while the five free spins can be retriggered to produce up to 225 free spins. These features, combined with the ethereal setting produce an engaging, fun experience.
| | |
| --- | --- |
| Year of Release | 2014 |
| Game Developer | IGT |
| RTP | 94% |
| Bonus Features | Yes |
| Maximum Win | N/A |
#7. Fire Blaze Golden: Tundra Wolf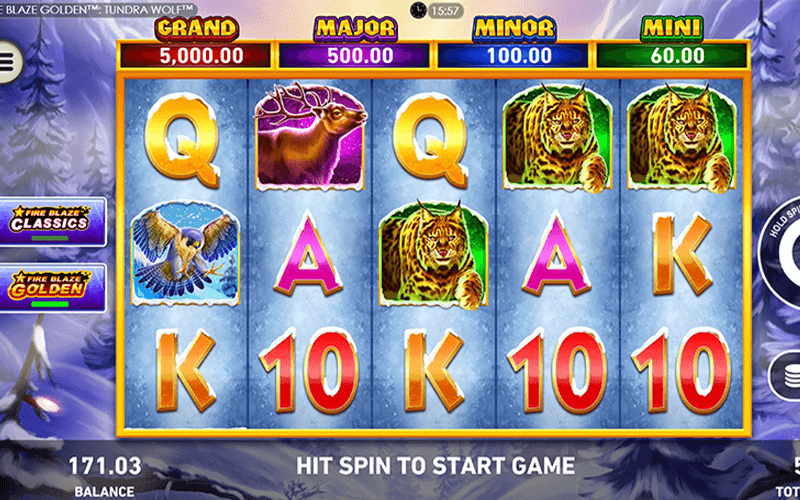 Playtech have a happy habit of producing some of the best slots games around, and this is no exception. Expanding their already impressive Fire Blaze collection of slots, Tundra Wolf takes us to snowy mountain tops in an aesthetically pleasing effort.
The 5×3 playable area produces 40 paylines, with a maximum win of 2000x on offer for those who go forth without fear on the mountainous landscape. The adventurous among us who opt for this slot will be treated to two versions of the game: Fire Blaze Classics and Fire Blaze Golden. Do not chose your path with too much haste though, as each option will alter the paytables and decide which Hold and Respins can be won.
| | |
| --- | --- |
| Year of Release | 2021 |
| Game Developer | Playtech |
| RTP | 96.46% |
| Bonus Features | Yes |
| Maximum Win | 2000x |
#8. Rockabily Wolves
The 1950's in America was an era that has caught the imagination of many a moviegoer. The decade that inspired Grease has similarly influenced Rockabily Wolves, a fun offering from Just For The Win. This charming slot features colourful characters, with the leading characters sporting the mandatory greased back hair that was the staple of the era.
While the RTP of 96.03% is average, the gameplay is enhanced by a respin feature that is triggered with just two scatter symbols. Should you decide to channel your inner Greaser, a maximum win of 6411x is on offer, meaning that a maximum jackpot of £320,550 can be achieved from the maximum £50 bet.
| | |
| --- | --- |
| Year of Release | 2019 |
| Game Developer | Just For The Win |
| RTP | 96.03% |
| Bonus Features | Yes |
| Maximum Win | 6,411x |
#9. Coywolf Cash
Coywolf is another slot that draws on the native American theme, but with a shamanistic twist! The usual symbols of wolves and bears are accompanied here with toe tapping shaman inspired drum beat to set the tone. The game itself is exciting, with Play'n Go giving it a wild volatility rating of 10/10. The rewards are something to stick your teeth into as well, with the possibility of a 2000x multiplier if you can stack the reels with Stacked Alpha Wilds and 7x multipliers.
As this list of wolf slots has shown, the wolf theme is not something new or unusual. Coywolf Cash however does set itself apart from the pack with its mix of multipliers, free spins, volatility and a catchy shaman drumbeat to boot!
| | |
| --- | --- |
| Year of Release | 2020 |
| Game Developer | Play'n Go |
| RTP | 94.3% |
| Bonus Features | Yes |
| Maximum Win | 4,000x |
#10. Wolf Howl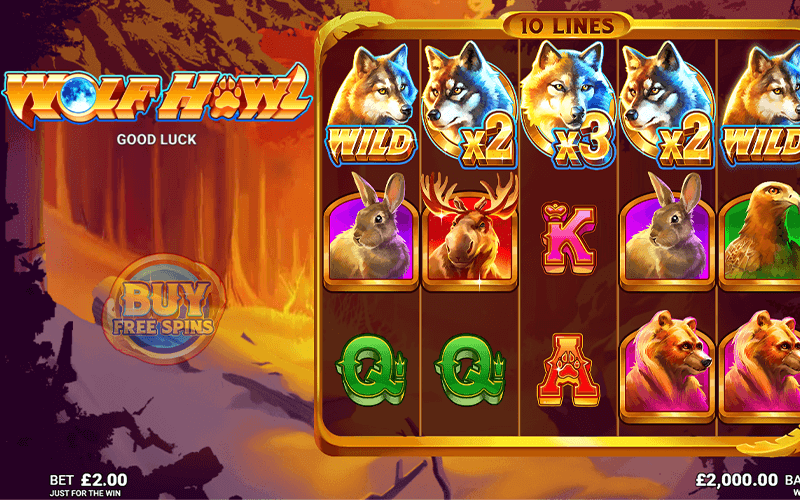 In a departure to their usual, exuberant offerings, developer Just For the Win produced a stripped back, classic slot with Wolf Howl. This is another game that has been developed with a tip of the hat to the classic Wolf's Gold, with some stylistic similarities to the legendary slot. However, style is where the similarities end, as when Wolf Howl is played you will note a substantively different game style.
The variance of a game can dramatically alter its style. A higher variance can lead to higher, though less frequent, pay-outs. The reverse is also true, meaning it is something to pay attention to when choosing the slot you wish to play. Wolf Howl has higher variance than many of the others on our wolf themed list, and a maximum win (25000x) to match. Though stripped back stylistically, the gameplay on offer makes this a more than worthy entry on our best wolf slots list.
| | |
| --- | --- |
| Year of Release | 2020 |
| Game Developer | Just For The Win |
| RTP | 96.46% |
| Bonus Features | Yes |
| Maximum Win | 25,000x |
Make sure to check in with Casino.com for the latest new-release online slot games, including all of your favourites!