If Monaco feels passé and Las Vegas lacks the thrills, maybe it's time to look further afield to find a Blackjack table with a view or a roulette wheel that will make your ears pop.
To be honest, ambition set the stakes a little high in many cases and some of these incredible casinos still remain little more than flights of fancy. Here is our pick of the casino dreams that soared and a few that fell by the wayside.
1. City of Dreams, Macau
In 2005, casino entrepreneurs Ken Ho and Kerry Packer had plans to build the world's first underwater casino in Macau. The City of Dreams complex was still in the hands of ambitious architects; and elaborate plans for an ear-popping, sub-aquatic, casino with 3,000 slot machines and 250 table games, were making headlines worldwide.
In the end, they completed building the City of Dreams in 2009. It was a remarkable casino, with 420,000 feet of gaming space. Sadly: all above sea level. There was an aquarium, a bubble fountain, and a dancing water theatre; but that is as far as the waterworks went. The dream of an underwater casino sank.
But don't despair. A short plane hop away in Singapore is the Resorts World Sentosa. Although its 15,000 square metre casino is on dry land, you can book an Ocean Suite room, complete with an underwater bedroom. Now it's the turn of the fish to ogle you!
2. X-Train, Las Vegas, USA
Where else but Las Vegas could you expect to be able to pass the time on your train trip by gambling at a selection of casino gaming tables? The X-Train was scheduled to launch in 2011, taking passengers on the 5 and a half hour trip from Los Angeles to Sin City, and providing them plenty of gambling opportunities along the way.
Sadly, the X-Train concept never made it out of the station, and any gambling on the train still has to be of the online variety. However, there are plans for a new X-Train to allow guests to make the journey from LA to Vegas in the height of luxury. Casinos won't feature on this train, although if CEO Michael Barron has his way then luxury X-Hotels with their own casinos will form part of the overall X-perience.
3. North Cadbury Court, Somerset, UK
North Cadbury Court is a 16th century country house which offers a luxury vacation to paying guests in the beautiful South-West of England. There are no shortage of activities on offer, with a Bar Room, Snooker Room, Indoor Pool and Jacuzzi among the options available in this sprawling estate.
There is also a rather unique underground casino, where a croupier will host your favourite casino games in this exclusive venue. There are blackjack, roulette and poker rooms in the cellars of the main building, with a disco room in the adjoining cellar for those who feel like dancing the night away.
4. Casino Jet Lounge
The airborne casino is another flight of fancy that has remained stuck on the runway. Several years ago, luxury aviation designers Airjet Designers teamed up with French airline interior design firm Designescence to create the Casino Jet Lounge casino concept for the Boeing 777.
Incredible though it was, the real thing never got off the ground. Too expensive, too exclusive, and it was always going to be tricky keeping the roulette wheel level.
Virgin also briefly flirted with the idea of adding casinos to its stand-up bars in first and business class. In 1981, Singapore Airlines installed lightweight slot machines in the aisles of its planes. However, that particular experiment lasted only two months.
5. Esperanza Base, Antarctica
Ice bars and ice hotels have sprung up all over the world, so why not an ice casino? Well the casino at the Esperanza Base in Antarctica may not be frozen, but it does offer a gaming experience in one of the remotest parts of the world.
The Argentinian Esperanza Base is occupied by around 60 people all year round, and their main community centre has been christened the 'casino'. As 'esperanza' means 'hope', perhaps it is fitting that a casino in the far-flung southern region of the planet should offer hope of gaming success to its residents and any intrepid visitors who may drop by.
6. Desert Cave Hotel, Coober Pedy, Australia
Underground casinos come in two flavours: illegal and below street level. Fortunately, better regulation and sensible law is making illegal casinos increasingly redundant. This is why we are looking down – at casinos (literally) under the ground.
One of the best subterranean venues for a game of Blackjack or Video Poker is the Desert Cave Hotel in the South Australian town of Coober Pedy. The former opal mine is now a hotel, complete with underground rooms, an underground bar, and a gaming room with "the only underground poker machines in the world". For the claustrophobic casino fan, it's a nightmare; but, for those in search of a bizarre betting experience, the Desert Cave Hotel casino is one to discover.
7. Taxi Cab Casino, London, UK
One of the smallest casinos on our list, this allowed punters to play some of their favourite games from the back seat of a British black cab. While the space didn't allow for a full-sized roulette table, guests could play blackjack with a real dealer, whilst enjoying a selection of their favourite beverages from the fully-stocked bar.
The 'World's Smallest Travelling Casino' was set up in 2016 to celebrate the summer of sport which included the European football finals, and offered free rides to passengers in a number of British cities including London, Glasgow and Birmingham.
This casino is no longer operating though, so don't expect a croupier to be seated opposite you next time you hail a cab in the UK.
8. Prison Casino, Nevada, USA
The Nevada State Prison may not seem like a natural venue for a casino, yet an inmate-run gaming operation operated for 35 years with the full approval of the prison authorities. Between 1932 and 1967 the casino operated without any issues, with and for the inmates of the prison, offering games such as blackjack, craps and poker to its captive audience.
A succession of wardens were happy to keep this prison casino running, considering it to be a positive distraction for the prisoners. It was only a bill was passed in 1967 outlawing prison casinos that this gaming establishment was forced to close its doors.
9. Rivers Casino, Chicago, USA
The relaxation of casino gambling legislation in the United States has meant the loss of one bizarre casino. Rivers Casino, in Illinois, was built in 2011 on a giant, shallow, pool of water. Originally casinos were required not only to operate on water, but must also set sail before gambling could commence. Fortunately for Rivers Casino, the latter requirement was relaxed by the time they started operations.
The bizarre set-up allowed the hotel to comply with the state law on casino gaming, by qualifying as a 'riverboat'. In 2019, legislators relaxed the law and granted the casino a permit to become the first casino in the state to be allowed to trade on dry land.
10. Casino Pyongyang, North Korea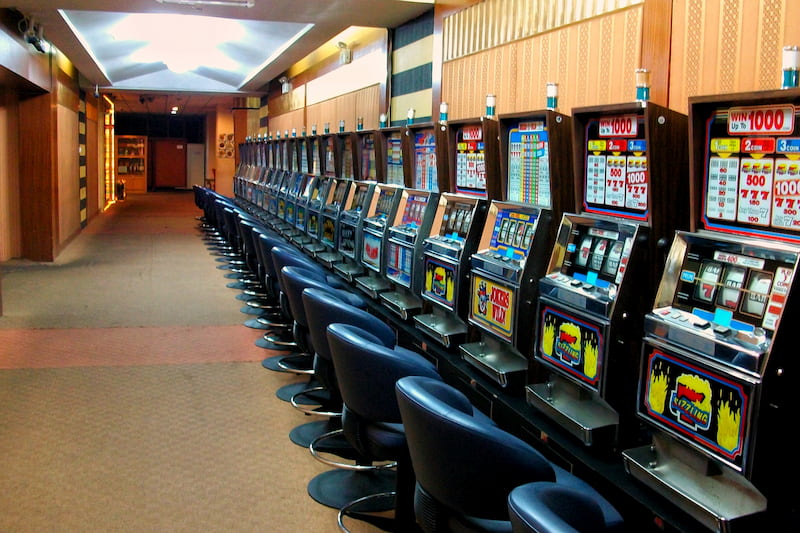 We do not necessarily associate North Korea with entertainment – much less casino gaming – but in fact there are a couple of casinos in this otherwise restrictive country. While locals are not permitted to gamble in North Korea, the Casino Pyongyang offers gaming opportunities for tourists, particularly those visiting from China.
Casino Pyongyang is to be found in the basement of the Yanggkado International hotel, and is open at night until 3am local time. Tourists can try out a selection of slot games – albeit perhaps not the latest machines you might find in Las Vegas – as well as some gaming tables featuring casino favourites.
Chinese visitors to the port city of Rason in North Korea can visit the Imperial Hotel and Casino to get their gaming fix in that particular town.