Video poker is a hugely popular online game, and it's a fun twist on the world-famous card game. Unlike titles like Texas Hold'em, however, there's no bluffing involved, as it's just you against the machine. Additionally, although the outcomes are, ultimately, down to chance, there is also an element of skill involved in knowing how to play your hands properly.
That doesn't mean that you can't employ a bit of video poker strategy, though. Expert players know which games are best to choose, and they also know how to make decisions within the rounds. Check out this guide for some expert tips and strategies for different varieties of video poker.
Is There a Strategy to Video Poker?
There isn't a complex strategy to video poker like there is to other forms of poker, but there are plenty of things you need to know before you start playing. First of all, you should study the value of the hands. Check them out below, from highest to lowest:
Royal flush
Straight flush
Four of a kind
Full house
Flush
Straight
Three of a kind
Two pair
Pair
You also need to know how the games work. When you play video poker, you'll make your bet and then be dealt your initial hand. Five cards appear on the screen. You then have the option to hold some or all of the cards and press the button again. The cards showing after your second draw represent your final hand.
The game pays out for each of the hands listed above, based on a pay table shown on the machine. but nothing for a high card. In some games, the pair needs to be of a certain value as well. You get better returns based on how high the hand value is.
Because you have the option to hold some of the cards, you can employ a strategy to try to hit a paying hand. For instance, if you have four cards of the same suit you can try to hold them and hope for a flush to spin in. The same can be said for a straight.
What Video Poker Strategy Can You Use?
The best video poker strategy to use is to always attempt to get a hand that pays out the highest. While it is tempting to go for the higher value hands like a royal flush, these are highly unlikely. Therefore, if you have the choice between holding a dealt straight, or drawing one card to complete a royal flush, it makes more sense to opt for the royal because it will pay so much more than a straight.
You also need to be aware of the different rules of the games you are playing. For example, Jacks or Better is a hugely popular video poker offering. In this game, the lowest paying hand is a pair of jacks, so any pair below that won't pay out. Still, if you land a low pair on the first draw you should always hold them to try to hit three of a kind or better.
Video Poker Strategy Chart
To know what the best cards to hold are, you could try looking at video poker strategy charts that tell you how many cards to hold. Have a look at the chart below to get an idea about how many cards you should hold based on the initial deal.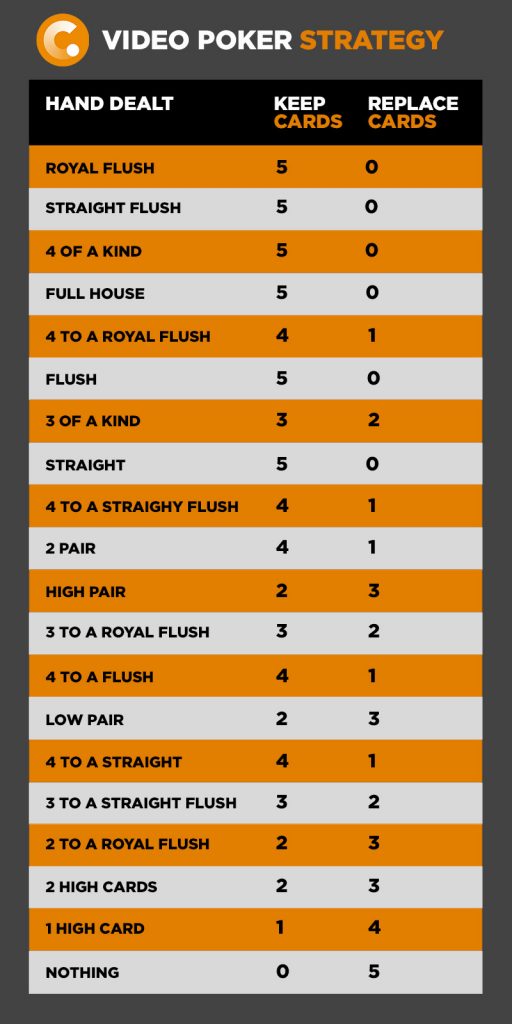 Look at the table below for some of the typical odds you'll encounter in a standard game of video poker.
Video Poker Odds
The odds of making hands are the same as you would find in a traditional game of stud poker, making it unlikely that you are going to see a Royal Flush in your hand, for example. The odds quoted below are based on using a standard pack of 52 cards, and do not take account of wild cards which are a feature of some video poker games.
| | |
| --- | --- |
| Hand | Odds |
| Royal Flush | 1 in 649,740 |
| Straight Flush | 1 in 72,193 |
| Four of a Kind | 1 in 4,165 |
| Full House | 1 in 694 |
| Flush | 1 in 509 |
| Straight | 1 in 255 |
| Three of a Kind | 1 in 47 |
| Two Pairs | 1 in 21 |
| Pair J,Q,K,A | 1 in 7.69 |
| Any Pair | 1 in 2.37 |
Top Tips for Playing Video Poker
If you want to have fun playing video poker and incorporate a strategy into the game, have a look at some of our top tips.
Set a budget and stick to it
Play at a reputable casino that has good reviews and a welcome bonus
Check the rules of the specific variant you're playing
Study video poker strategy charts and odds charts
Don't forget that video poker is all about having fun. It's a game of chance, so just go with the flow and see what happens.