Beer, sausages, country pubs, Monty Python, the Queen, and King Arthur. We're heading to the island of Albion today, with some online slots that celebrate the very best of British. Fly those flags and sing Rule Britannia, as we roll out the red carpet for five UK slots games that put the Great into Britain.
#1. Mighty Arthur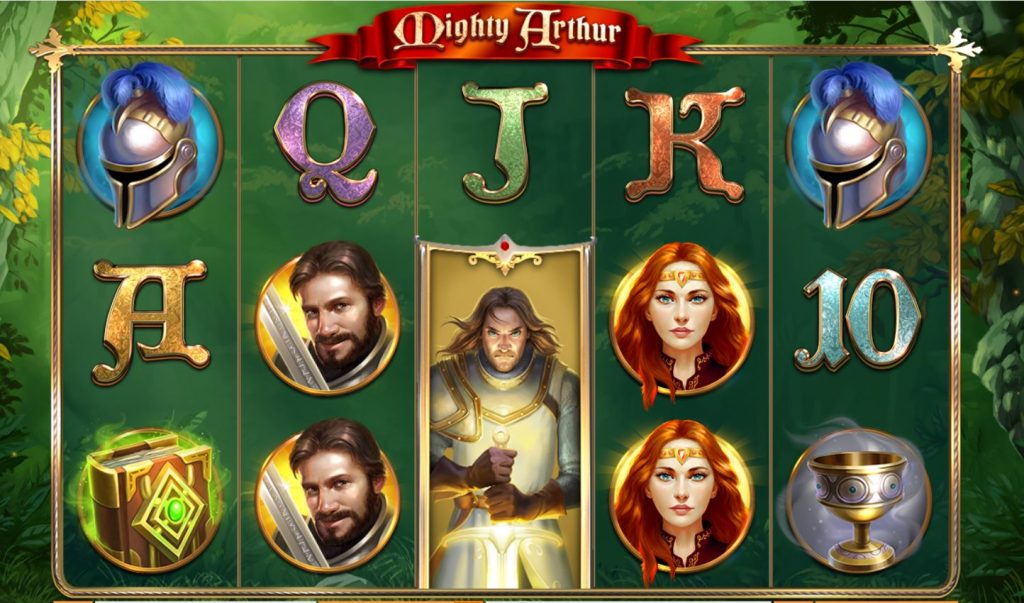 Mighty Arthur is a five-reel online slot based on the legend of King Arthur. Although probably more myth than fact, the tale of Arthur Pendragon, pulling the sword Excalibur from the stone, marrying Guinevere, and enjoying a magical boost from his sidekick Merlin is all packed into this 20 payline game.
Merlin pops up as a Merlin Random Wild, in both the base game and the bonus round. He conjures up additional Wilds, boosting any bonus win. King Arthur also occasionally appears as a large 3 x 1 Wild symbol.
Other icons include Guinevere, the Holy Grail, some ancient armour, and the Bonus Crown; three of these triggers ten free spins. The music is suitably regal, the visuals are comic book camp. All in all, a worthy tribute to the greatest Britain who probably never actually lived.
| | |
| --- | --- |
| Year of Release | 2017 |
| Game Developer | Quickspin |
| RTP | 96.94% |
| Bonus Features | Yes |
| Volatility | Low |
#2. Ozzy Osbourne Video Slots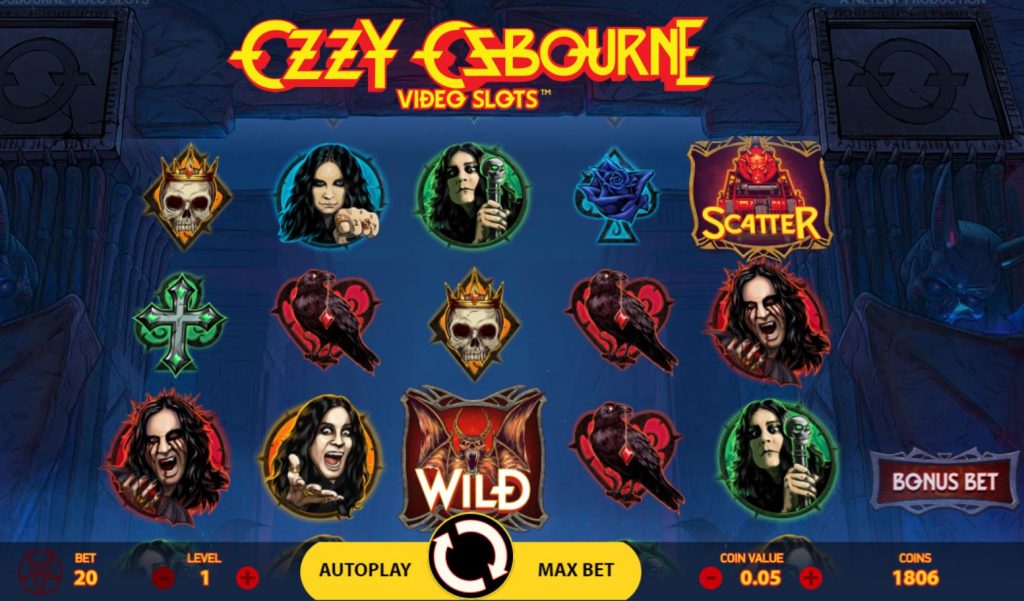 From mythical British legends, to one that still lives and breathes. Ladies and gentlemen, bats beware, it's the one, the only, the Brummie rock God, Prince of Metal Darkness, Black Sabbath front man, and dangerous night out: Ozzy Osbourne.
Osbourne has had a remarkable career, from Birmingham factory worker, to rock and roll icon, to reality television star. In this fantastic online slot from developers NetEnt, the focus is solely on his years as a solo rocker.
Ozzy Osbourne Video Slots has five reels, 20 paylines, a full on rock soundtrack, as well as a lot of big hair and black eye shadow. There are also several bonuses and features to play for, including a Bonus Bet that doubles the stake but adds free spins and multipliers.
This game rocks the reels. The soundtrack is awesome and it's a total blast to play. Check in with Ozzy today.
| | |
| --- | --- |
| Year of Release | 2019 |
| Game Developer | NetEnt |
| RTP | 96.67% |
| Bonus Features | Yes |
| Volatility | High |
#3. Sherlock Mystery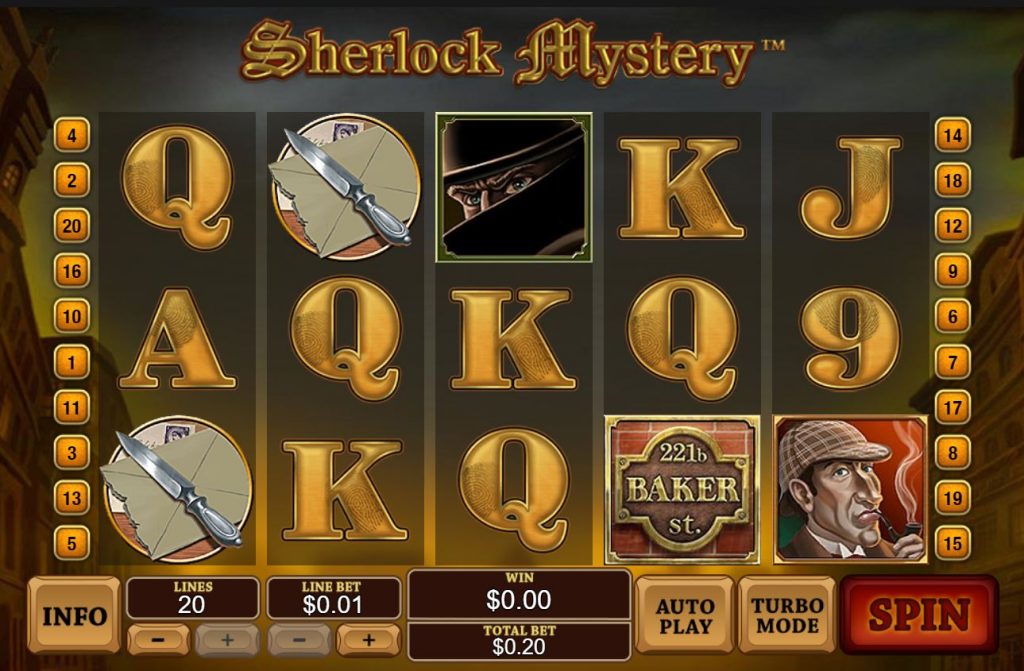 Did you know that, according to Guinness World Records, Sherlock Holmes is the 'most portrayed literary human character in film and television history'. First created by Sir Arthur Conan Doyle in 1887, Sherlock Holmes, and his sidekick Watson, continue to hold court in our collective imaginations.
One franchise spin off is the five reel, 20 payline, game Sherlock Mystery from Playtech, which elegantly pays tribute to Baker Street's most famous resident. The audio sounds more like the Pink Panther but the sepia-toned aged graphics are on point.
Icons in play include pistols, daggers, Watson, and Holmes' nemesis Moriarty. The bonus is a magnifying glass. Three of these starts the Crime Scene Bonus where you have to solve clues to win cash. There is also a Baker Street Free 10 free games bonus round. Should you play this? It's elementary, my dear Watson.
| | |
| --- | --- |
| Year of Release | 2014 |
| Game Developer | Playtech |
| RTP | 94.09% |
| Bonus Features | Yes |
| Volatility | Medium |
#4. Ascot Sporting Legends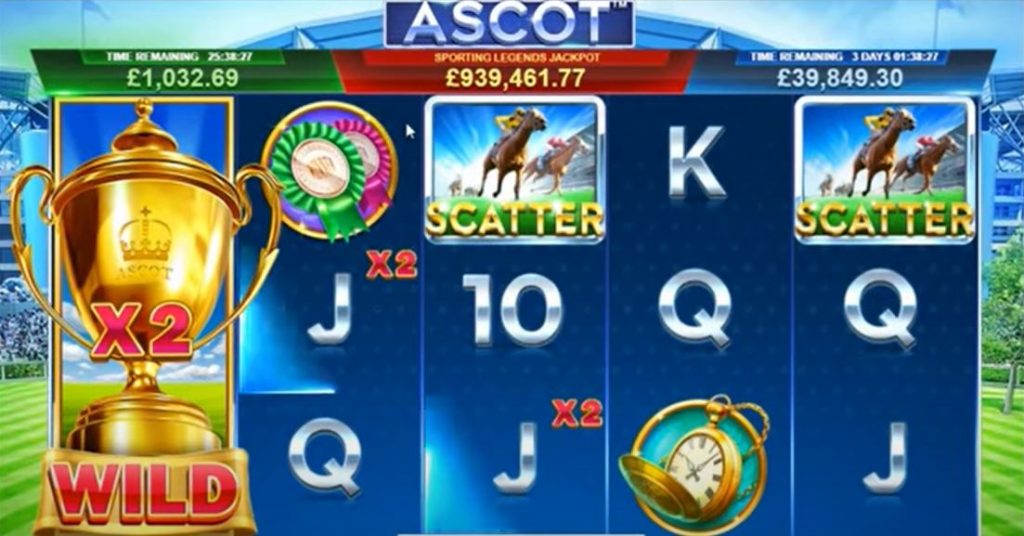 Is there anything more quintessentially British than a day at the races? Ascot Sporting Legends is five reels of well-dressed equine elegance, dedicated to the 300-year-old annual horse race. Ascot is the centrepiece of the UK social calendar; a chance to dress up, bet some money, and watch the best race horses in the world strut their stuff.
The online slot has a stable-full of goodies. There are 25 paylines and some suitably pomp music. The game has three progressive jackpots that are all connected to the Sporting Legends Jackpot pool. At the time of writing, the top Mega Jackpot stood at more than £141,000 – not a bad day at the races.
Visually, the game is garish and bright, with icons of be-suited and well-frocked race goers, as well as rosettes, horseshoes, and a stopwatch. The Scatter icon is racing horses. Hit this three times and you trigger the free games bonus round.
There are also three different Ascot trophies. These are all wild, with some expanding and multiplying. Bright, bold, and fun to play, Ascot Sporting Legends is a gloriously British online slot.
| | |
| --- | --- |
| Year of Release | 2019 |
| Game Developer | Playtech |
| RTP | 92.96 – 94.96% |
| Bonus Features | Yes |
| Volatility | High |
#5. Jekyll and Hyde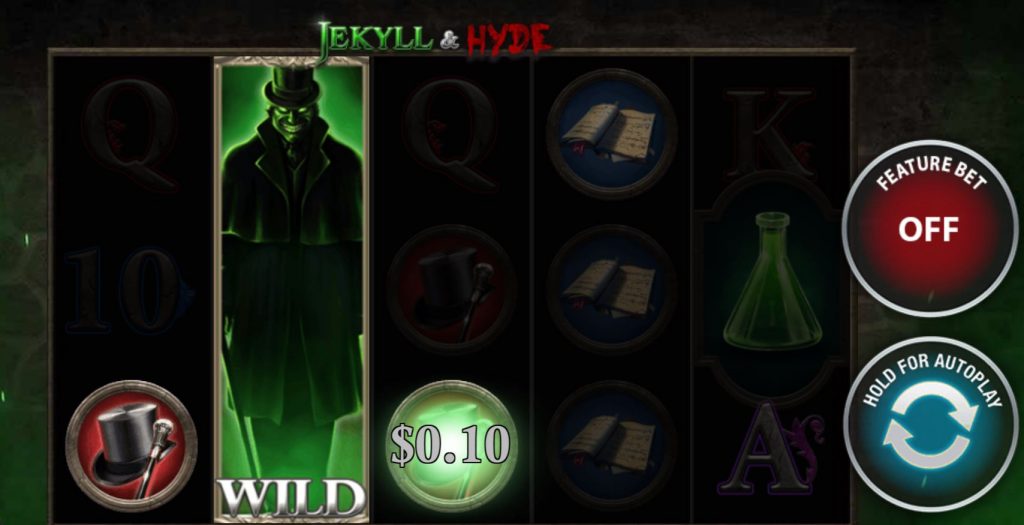 We're back in Victorian London for the dark but delicious Jekyll and Hyde. This five-reel online slot perfectly captures the dark mood of Robert Louis Stevenson's classic tale of bi-polar potion dabbler Henry Jekyll aka psychopath Edward Hyde.
The slot's soundtrack of tolling church bells and stagecoaches in the night is the perfect backdrop. Icons feature both Jekyll and Hyde, as well as a pair of equally switchable ladies. If you trigger the bonus round, you can play as either character with a different set of features.
Despite its sombre mood, Jekyll and Hyde is a blast to play and one of the most atmospheric online slots you can spin today. Don't sit in a dark room and never play it alone! Have fun and enjoy spinning the best of British.
| | |
| --- | --- |
| Year of Release | 2014 |
| Game Developer | Playtech |
| RTP | 96.22% |
| Bonus Features | Yes |
| Volatility | Low |