Trigger warning: gender stereotypes are in the house. If your second home is a safe space, it's time to take cover and get ready to walk out in protest. It's Venus. It's Mars. It's the age old battle of the sexes.
In the world of online gaming, does gender make a difference? In modern society, the gap between men and women is getting smaller. Wages are levelling out, life roles are less defined, and an army of millennials is proselytising gender fluidity.
It will take a few more generations before what's below your waist (officially) no longer defines you. In the mean time, we are taking off our underwear, looking down, and asking a simple question: when it comes to gambling in online casinos, does gender make a difference to the way we play?
Coming up:
Ladies' Night: Old Time Gamblin' Gals
Gender in Context: What's the State of Play?
Brain Surgery: Does Biology Factor?
Online and Anonymous: Is Behaviour Different Behind Closed Doors?
Strategy and Sex: Games People Play
Levelling the Field: Getting the Fair Sex to Play
Ladies' Night: A Cautionary (and Misogynistic) Tale from History
At first glance, the world of betting, sports, and online casinos seems to be the domain of the male. An environment where it's a case of man against the house: a battle to bring home the bacon by risking it all. The scent of testosterone is strong at the blackjack table, as player after player doubles down and demands to be hit.
In fact: women are no strangers to the casino tables. In 18th century England, gaming was not acceptable for aristocratic women. The men gathered in London clubs for raucous nights of cock fighting, dice, and cards. Meanwhile, the women would politely assemble for more socially acceptable forms of entertainment like theatre, opera, and singing.
However, girls will be girls and a group of ladies, including Lady Buckinghamshire, Lady Sarah Archer, Mrs Sturt, Mrs Concannon, and Lady Elizabeth Luttrell, started running faro tables from their home. (FYI: Faro is a 17th century French card game similar to lansquenet and Monte Bank).
The high society ladies were discovered, disgraced, and lambasted in the press. It was a moral scandal. The Faro Ladies were seen as a shocking example, with a 'moral kinship with the lower classes'. They managed to avoid being pilloried in the stocks but each was given a £50 fine.
Times have changed. Today, women enjoy equal opportunities and can wager, win, and lose as they like. There may still be a few secret gentlemen's clubs that don't allow woman but its all to play for in the online casinos.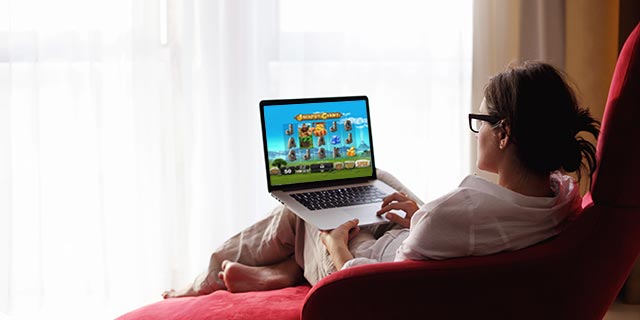 Gender in Context: It's Still (Mainly) a Man's Man's Man's World
Context is critical. The background struggle for overall equality is always an underlying factor, with every research paper and study into the differences between the sexes. Traditionally, men have been the risk takers and women the family makers. This is an inherited, historical, gender bias that still resonates today.
Times change. In 2016, the playing field is more even. Sports betting is still largely a man's game but it's even money on the casino floor, with regard to gender. Add bingo to the mix and the XX chromosome really starts to make its presence felt.
One of the most recent studies into the behaviour of online casino players was conducted by the State of New Jersey's Division of Gaming Enforcement. New Jersey is home to Atlantic City, the gambling destination second only to the betting Mecca of Las Vegas. New Jersey controls more than 90 per cent of the regulated US online casino and gambling market. The only other states that currently allow online casino-style gambling are Delaware and Nevada.
The report reveals that in the top 10 per cent of the most active online casino gamblers, women made up more than half the group. Overall, women counted for 40 per cent of the demographic betting at online casinos. To counter this: men made up approximately 90 per cent of the online poker subgroup.
At the other end of the spectrum is bingo. Considered the preferred option for the female, the reality is not quite as one-sided as people think. In fact, the ratio is about 3:2 in favour of women. They dominate but not by much.
This seems to indicate that there are more and more women playing at casinos online and we are all playing the same games. Perhaps, the difference is more than skin deep.
According to the New Jersey Report:
Average age of a male online gambler is 38.29
Average age of a female gambler is 41
The majority of both male and female players are aged between 25 to 34, followed by 35 to 44
Women are concentrated in the 25 to 52 age range
In the top ten per cent of gamblers, women outnumber men by 53.39% to 46.61%
Disparity in gender is significantly less among casino only gamblers, compared to casino and poker
While in New Jersey women prefers to play slots, in other places in the world there are different trends. A survey, compiled by the UK Gambling Commission interviewed more than 4,000 Welsh gamblers, shows some interesting findings, not just regarding slots. Here are some of the results from the 2015 survey:'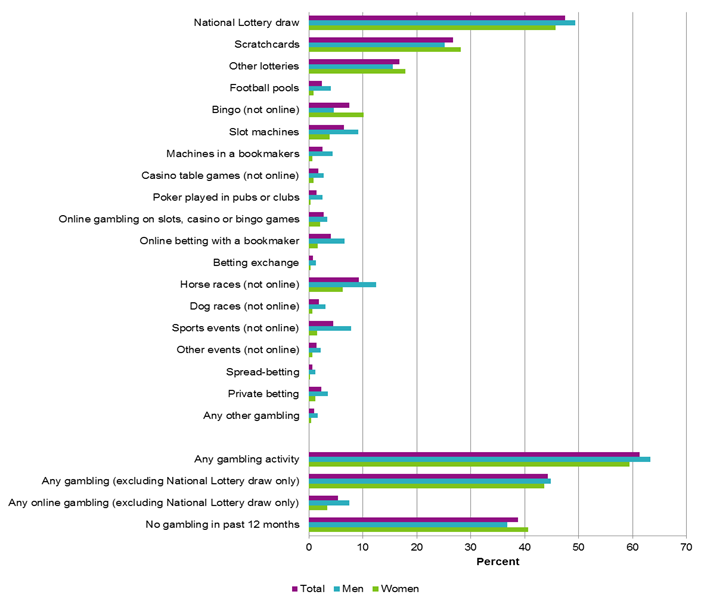 Source: http://www.gamblingcommission.gov.uk//docs/Welsh-Problem-Gambling-Survey-2015.xlsx
Brain Surgery: What's Going On Under the Hood
Let's look at the raw materials. Is it nature or nurture that defines behaviour? A team of researchers led by Daphna Joel, from the University of Tel Aviv, released a study in 2015 that found very few physical differences between male and female brains.
Using the latest MRI scanners, the research revealed only minor deviations and just 0.1 per cent of subjects displayed exclusively stereotypical male and female behaviours. "There is no one person that has all the male characteristics and another person that has all the female characteristics. Or if they exist they are really, really rare to find," says Joel.
Another paper from the University of Iowa also refutes any preconceived notion that gender behaviour is hard-wired. It appears that the plasticity and malleability of the brain is shaped by experience. The area of the brain connected to social cognition, interpersonal judgment, and empathy is generally larger in women. Due, it is thought, to the female role as primary parent.
The cause is unclear and traits appear in both genders. What the report suggests is that gender behaviours are a result of education, culture, and tradition.
Online and Anonymous: Behind Closed Doors, Gender is Irrelevant
Online casinos have changed the way people gamble. Traditionally, the land-based casino has been the home of the alpha male: unafraid to take risks and confident at the tables. Today, modern venues reach out to all demographics by offering visitors a wide range of entertainment options.
Most online casinos give visitors the chance to play for free, without revealing any personal information. Personal details are needed only to verify age and make deposits and withdrawals. Gender is only an issue with regard to branding. There are clearly scores of online bingo sites that specifically target female players.
Maybe, they are making a mistake… Read on…
Strategic Gambling: One Man's Blackjack is Another Woman's Bingo
Another key difference between male and female casino fans is the type of games played. Although we are dealing with generalisations, there is clearly a trend for male players to lean towards strategy-based games while women opt for less skill-based games like online slots and bingo.
A 2010 report, from the University of Greenwich, by Roslyn Corney and Janette Davis, examined the attraction and risks of Internet gambling for women. The survey revealed that men and women were equally as likely to play the National Lottery but scratch cards and bingo were favourites with the fairer sex.
Like everything, these trends look likely to level out over time. Business looks to secure new customers wherever it can. It realises the importance of the pink pound.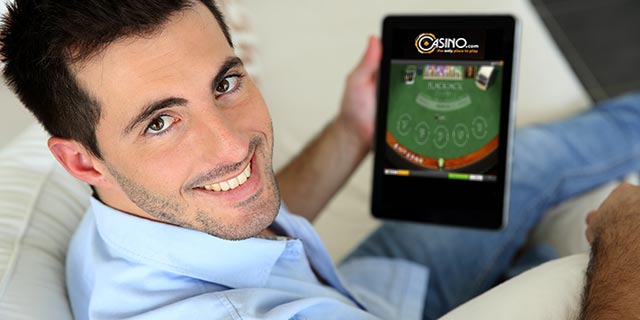 Levelling the Playing Field: Games for the Girls
The online casino industry is a constantly evolving business. Now, nearly 20 years old, it's a well-established sector and has to move with the times. According to Technavio, the top five trends impacting the global online gambling market, at this time, are changing market strategies, the use of alternative cash options, changing gambling habits, the increasing usage of credit and debit cards, and the growing number of online women gamblers.
The Top Five Trends Impacting the Online Gambling Market Through 2020, according to Technavio:
Increasing penetration of credit and debit cards
Changing consumer gambling habits
Use of alternative options to cash
Changing marketing strategies
Growing number of online women gamblers

It's the last point that is of interest here. In 2015, female players accounted for 40 per cent of the gambling population in the US and 49 per cent in the UK. The use of personal electronic devices allows women to play in private and avoid intimidation and any unwanted male attention.
It's also a young woman's game, with far more players under 35 years old. Operators are specifically targeting female players. The launch of woman-centric casinos like Cameo Casino, Pink Casino, Maria Casino, and 888 Ladies has met with mixed results but the trend is in play and looks certain to expand.
The online casino business is a relatively new industry, starting in the late 1990s. In 25 years, it has seen only a handful of female executives in key positions. There are a few notable exceptions, including PartyGaming's founder Ruth Parasol and Denise Coates, the brains behind Bet365.
What's interesting about these alpha females is that they have made no particular concessions to their own sex. Instead, opting to make their fortunes by serving equal action for all.
Emma Lynes, a freelance online casino marketing and branding consultant, working from Gibraltar, says the industry is always looking for an angle and will endeavour to cater to the broadest church.
"The online casino business is a constantly evolving, hungry, and competitive business. New industry players arrive all the time, as territories open up. I've recently been working with a casino company out of South Africa. The question of gender is not a specific issue but the website branding is deliberately neutral.
"When I first started in the industry, many of the online casino websites – especially the US facing brands – featured pictures of half naked girls and guys on motorcycles. They were clearly targeting young men," she said.
"These days, businesses reach out to a much wider audience. It makes no sense to alienate your online casino from any demographic. I work in the business and I enjoy playing blackjack and have several accounts online. I think gender has no real factor in the modern online casino environment."
In Conclusion…
The original question was: does gender make a difference?
We've established that both history and 'context' exist. These traditional representations of men and women cloud both the question and the results. There exists an outdated and misogynistic precedent. If we disregard this, and instead look at the physical nature of the male and female brain, it would appear that nurture – as opposed to nature – is what defines a societal role. Aside from a small size difference, our brains are essentially identical at birth.
Bringing it all up to date, and looking at the state of the online casino business, we can see that women are making an increasingly more significant impact on a market which is eager to embrace them to the fold.
Therefore: although gender still factors, there doesn't appear to be any real difference between men and women when it comes to enjoying a little time at the casino. Fashions and trends will shift but we can expect a more universal and inclusive gaming floor in the future.
So, have you decided who plays better? Now it's time to start playing! Click here to join Casino.com and get an amazing welcome bonus!