Located on the east coast of the United States, in the middle of the mighty Grand Strand beach in South Carolina, Myrtle Beach is one of the country's most tempting tourist destinations.
A winning blend of subtropical climate, and beaches that stretch as far as the eye can see, make Myrtle Beach a winner for fun and sun loving visitors. In fact, it is estimated that more than 14 million people make the trip down South every year.
There's one more reason why Myrtle Beach is such a crowd pleaser. Just three miles offshore, the casino cruise ships are open for business. In the last century, a three mile limit off the coast was set as the boundary of the United States. This was based on the distance a shore-based cannon could fire.
All Aboard
Entrepreneurs seized upon the fact that – if you took a boat into international waters – US laws did not apply. Simple: equip your boat with all the accoutrements a casino needs, load up with eager punters, and head out to sea for a distance of three miles.
Known as the 'cruises to nowhere', the casinos rapidly became big business. Happy holiday makers enjoyed the opportunity to have a flutter and the state's political leaders soon realised there were revenue raising possibilities with the offshore betting boom.
Earlier this year, residents of Myrtle Beach and South Carolina were asked a simple question: would you rather raise infrastructure funding through a tax on petrol or through gambling?
These questions, however, related to land-based casinos. This would be a disaster for the casino cruise business which already operates legally. The last thing it wants is the introduction of land-based casinos.
Bet on Blue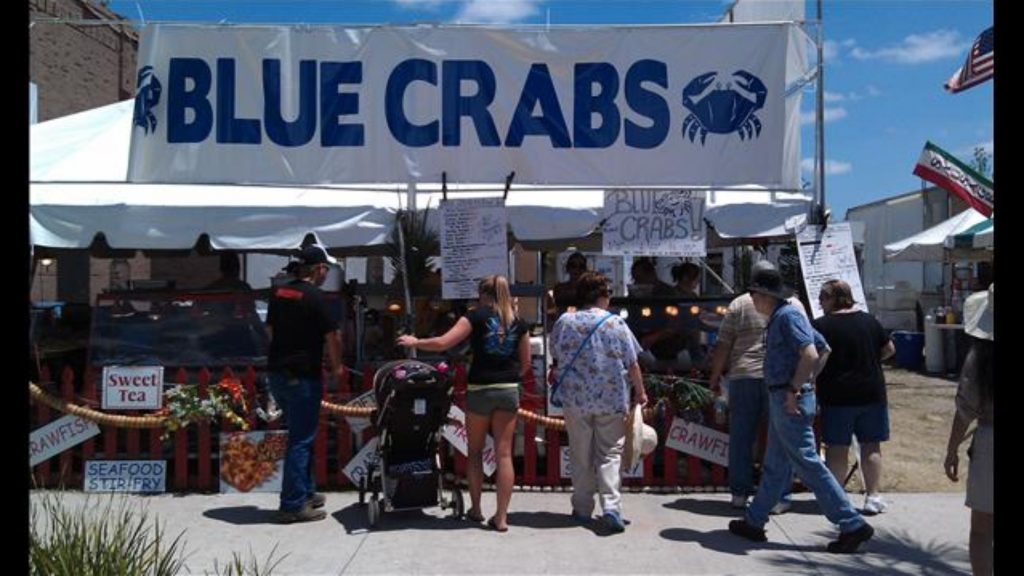 The Myrtle Beach casino cruises operate mainly from the Little River waterfront which is also home to the annual Blue Crab Festival
There are several gambling boats, including the SunCruz Aquasino and the Big M Gambling Boat.
The SunCruz Aquasino is a 220 foot long boat that can accommodate 600 passengers. Trips normally last for five hours and a wide range of classic casino games are on offer, including blackjack, craps, and the ever-popular slots.
All You Can Eat Action
The Big M is a slightly smaller boat that claims to pay out 'more jackpots than any other casino in South Carolina'. Games on board include Let It Ride, 3 Card Poker, and the 'loosest' slots. All it costs to enjoy a five hour trip is $25 and there is an all you can eat buffet on board.
Frequent Myrtle Beach visitor and casino cruise fanatic Todd Jones is a regular daytripper on the Big M Gambling Boat.
"Me and my family have been coming to Myrtle Beach for as long as I can remember. We live in Columbia and it takes less than three hours to get to the beach," he said.
"The kids are grown up now so now my wife and I can do exactly what we want. The Big M is the third boat that Diamond Management have owned. The first time we tried a casino cruise, we sailed on the Southern Elegance. That was eventually replaced by the Diamond Girl Two and now the Big M.
"We enjoy the actual cruise as much as we enjoy ourselves playing at the casino. It's a lot of fun and the staff are very patient. They are friendly and helpful because there are a lot of novice players to consider.
"I do remember one time when the surge was quite strong and the roulette chips flew all over the table. It definitely adds another dimension to the game," he said.
Sing a Happy Thong
There is – of course – much more to Myrtle Beach than just the casino cruise business.
Crime writer Micky Spillane used to help judge the Miss South Carolina Pageant at Myrtle Beach in the 1950s. These days, you could face a fine or even arrest if you bare too much skin. Thongs are banned and revealing any portion of the buttocks is not permitted.
Country music lovers are also well catered for at Myrtle Beach. The Carolina Opry was opened in 1986 by Calvin Gilmore and has earned a reputation as the best country and western music destination outside of Nashville.
And Finally…
Struggling to choose a holiday destination this year? Of the 14 million annual visitors to Myrtle Beach, only 100,000 are from outside the US. So, if you want to experience some deep south hospitality, blue crab, and a famous cruise to nowhere, you know where to come.