There are only five land-based casinos in New Zealand, and under the 2003 Gambling Act no new casino venue licences will be issued. Until recently there were six casinos to choose from, but Queensland's second casino – SkyCity Wharf Casino – is 'closed until further notice' according to its website. Three of the four casinos are operated by SkyCity, while the casinos found in Christchurch and Dunedin are independently owned.
We take a look at each of the five land-based casinos, with information on what you can expect to find in each of them:
SkyCity Auckland
Positioned in the bustling heart of Auckland, SkyCity Auckland stands as a prominent and extensive casino complex, offering an expansive array of gaming options to patrons. SkyCity Auckland is the biggest casino in New Zealand, and its vast gaming floor caters to diverse preferences, housing a wide range of table games that include classic favourites like blackjack, roulette, baccarat, and poker. Alongside these traditional offerings, a huge selection of over 2,000 electronic gaming machines beckon solo players seeking their fortunes. Beyond the realm of gaming, SkyCity Auckland morphs into a multifaceted entertainment hub, housing an impressive selection of dining establishments and entertainment venues that foster a lively and captivating ambiance for both locals and visitors alike. As with all the casinos on our list, you must be at least 20 years of age to enter.
SkyCity Queenstown
Perched gracefully in the stunning town of Queenstown, SkyCity Queenstown not only beckons avid gamers but also captivates with its unparalleled location. Commanding panoramic views of Lake Wakatipu and the surrounding mountains, this casino offers electronic gaming machines and a selection of table games, including blackjack and roulette. The allure of gaming amid such breathtaking vistas creates a unique ambiance that effortlessly combines the thrill of gaming with the tranquility of the natural world. The sister SkyCity Wharf Casino in Queenstown has closed at time of writing, with no details of whether it will reopen or not.
SkyCity Hamilton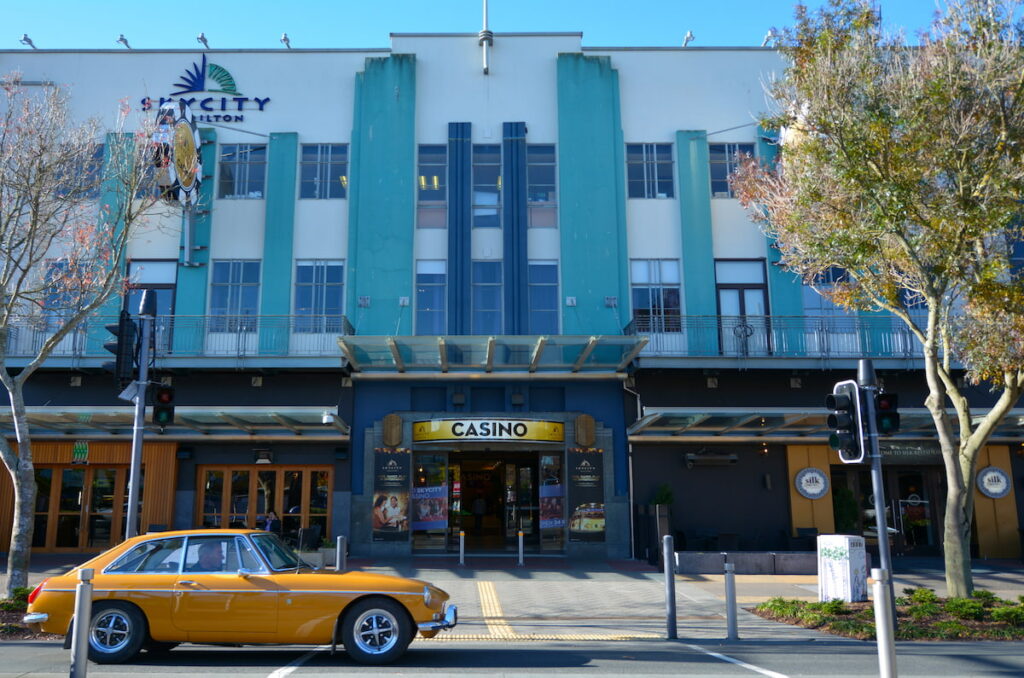 Set against the backdrop of Hamilton, SkyCity Hamilton provides a distinct casino experience with a more compact scale than its sister casino in Auckland. While relatively smaller in size, the casino doesn't compromise on its commitment to gaming excitement. Patrons can indulge in an assortment of electronic gaming machines and partake in classic table games such as blackjack and roulette. The intimate setting allows for a more relaxed atmosphere, where visitors can immerse themselves in casual gaming and enjoy one of the bars and restaurants on site. Level Two of SkyCity Hamilton also features a bowling alley with 'world-technology and lanes' in the Bowl and Social zone.
Grand Casino Dunedin
Housed within a heritage-rich building constructed in 1883, Dunedin Casino stands as a timeless testament to classic casino aesthetics. Its focus centres on cultivating an atmosphere steeped in tradition, highlighted by an array of traditional table games that include blackjack, poker, baccarat, and roulette. Beyond gaming, the casino's interiors evoke an aura of elegance and historical significance. By cherishing the architectural heritage of the location, Dunedin Casino invites patrons to journey back in time while relishing the allure of classic gaming.
Christchurch Casino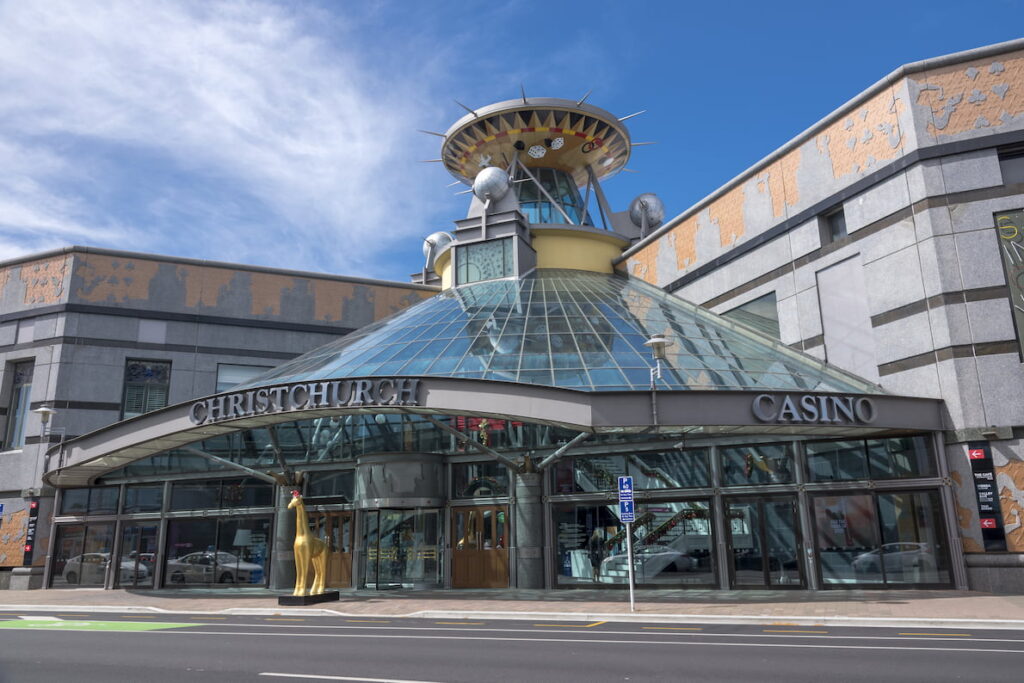 Occupying a central spot in Christchurch, Christchurch Casino unfolds as a vibrant and comprehensive gaming destination, and is also the oldest establishment on our list. The casino embraces an extensive variety of gaming options that cater to all preferences. Patrons can immerse themselves in timeless table games such as blackjack, roulette, poker, and baccarat, complemented by a diverse selection of electronic gaming machines. Beyond the realm of gaming, the casino complex blossoms into an entertainment hub with a mix of dining establishments and bars that serve to heighten the overall experience for visitors. 'Club Aspinall' offers an exclusive sanctuary for VIP members and their guests on the top floor.
Of course, if you can't make it to any of these brick-and-mortar casinos, you can always enjoy some casino action by playing online. Casino.com offers more games than any of the establishments in our list, and you don't need to travel anywhere to start playing. From the latest slot games to traditional table games, live casino, game shows and virtual sports, we have got you covered. Just sign up for free from New Zealand (or any of the other countries where we offer our services) and get started!