A racino would typically be described as the dream of all gamblers, as its facility provides an avenue for them to enjoy the best of both worlds as they get to participate in gambling in the casino while horses race on the track outside.
Long ago, the racetrack wasn't getting a lot of attention from punters, but with the advent of the racinos, this particular niche of iGaming has continued to grow more significant, with bettors willing to place their bets on the horses or dogs, and still enjoy the thrill of playing traditional casino games.
Racinos these days have so much to offer players. As the industry continues to expand, more features and amenities, such as multiple games, restaurants, hotels, etc., are being incorporated to make it a more attractive form of entertainment.
You'll find racinos in many places all over the world, but some of the largest and best to visit for a pleasant experience and a safe gambling experience include the following:
1.   Oaklawn Racing Casino and Resort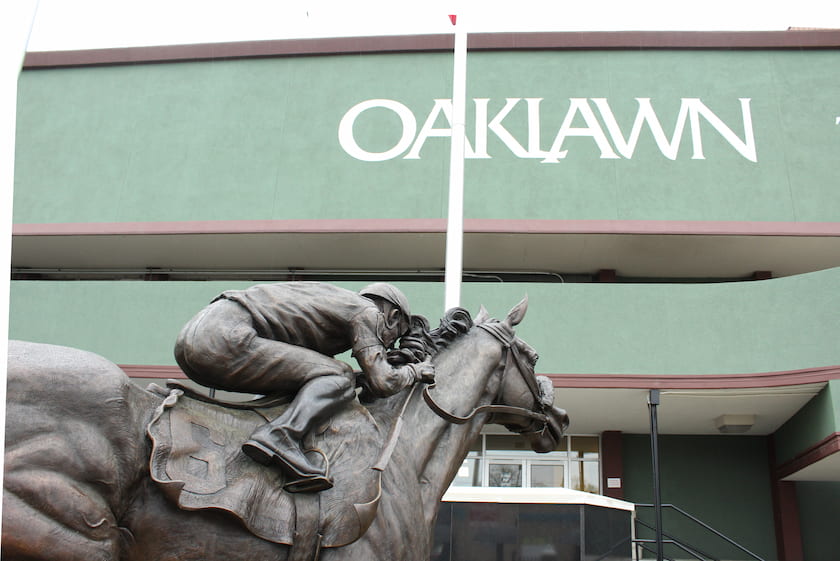 Oaklawn Racing Casino is located in Hot Springs National Park and is one of the only two casinos in Arkansas. This casino gaming venue features a 200-room boutique hotel with a fitness centre, luxury spa, dining restaurant, bar, and other entertainment options.
The racino is active 24 hours a day, seven days a week, and hosts its live thoroughbred racing from late January to May. Other year-round gaming activities include race and sports booking, video poker, reel games, thousands of slots, and live dealer table games, such as blackjack, Three Card Poker, and more.
2.   Delaware Park Casino and Racino
Delaware Park is a large gaming facility with many gambling options, including live seasonal thoroughbred racing, live table games, a 25-table poker area, year-round international simulcasting, and much more.
Slots at Delaware Park accepts bets from a half-cent to $50 denomination. The multifaceted casino comprises slot machines of different shapes and sizes, including electronic table game varieties. Delaware Park is open 24 hours a day from Monday through Saturday, and from 6 am to 12 pm on Sundays.
3.   Gulfstream Park Racing and Casino
Located in South Florida, Gulfstream Park is an entertainment hub that blends sports, casino gaming, live shows, and other recreational activities. Its well-known racetrack is home to several establishments, such as bars, a theatre with a sitting capacity for 800 people, and luxurious suites.
Gaming options at Gulfstream Park include electronic table games and slot machines allowing players to enjoy their game even when social distancing is necessary. Delaware Park casino and racing features include redeemable gift cards for slot tickets, food, and a first aid centre.
Note that the legal age to wager on slots in this casino is 21 years and above.
4.   Indiana Grand Racing and Casino
Located approximately 30 miles southeast of downtown Indianapolis, Indiana, Grand Racing and Casino is an entertainment facility that offers a mix of over 2000 reel, video, and poker slot machines, including bonus slots and jackpots. Players have the luxury of choosing from the many games available such as Big Bang Theory, The Walking Dead, and others.
Punters can also enjoy thoroughbred and quarter horse racing for seven months out of the year. Also, off-track betting on both local and international horse races is available.
5.   Prairie Meadows Racetrack and Casino
The Prairie Meadows became the first racino in the United States in 1995 and is home to several live racing sports and simulcast action. Prairie Meadows has evolved over the years from a simple racetrack to a fully-fledged racino with something for everyone, from live horse racing to live action at the casino's 44 tables, featuring blackjack, craps, DJ Wild Poker, Double Draw Poker, as well as over 2000 slot for slot lovers.
Prairie Meadows runs its season from April through October and also offers simulcast racing from some of the best tracks in the country, including Belmont, Arlington, and Churchill Downs, to mention a few.
Whether you're a slot lover or get the thrill from the racetracks, racinos are a great avenue to explore your gambling itch and more. Feel free to visit one of these racinos listed above to experience sports; gambling is one of the largest racinos in the world.