Casino.com have partnered up with the exclusive Les Ambassadeurs Club in Mayfair to bring live dealer action to you direct from the floor of London's most prestigious gaming house.
Now players from all over the globe can experience the atmosphere of playing live casino games at this boutique casino in the heart of fashionable Mayfair. Place your bets on the spin of the roulette wheel or a fast-paced game of baccarat at the same time as patrons of the club, without having to leave the comfort of your home. Membership of Les Ambassadeurs Casino is seen as one of the most prestigious in the whole world, and now for the first time you can play at those famous tables via live stream from Casino.com.
History of Les Ambassadeurs
Les Ambassadeurs Club is located at No. 5 Hamilton Place in Mayfair, on the site once occupied by one of Henry VIII's hunting lodges. The Georgian townhouse which hosts the club today was built in 1807 by Robert Hobart, the 4th Earl of Buckinghamshire, and he lived there until his death in 1816. The house was purchased by the Marquess of Conyngham and remained in his family until 1878. Leopold de Rothschild – of the famous Rothschild family – was the next owner of the property, and he made a number of alterations to the house including the construction of an exquisite library designed by Florentine master wood-builder Chevalier Rinaldo Barbetti. Captain Leonard Plugge, a businessman and Conservative politician, became the final owner of the house at number 5 as a private dwelling from 1934 until his death in 1950. Businessman John Mills took on the lease of the property in 1950 and created Les Ambassadeurs Club, and over the years it gained a reputation as one of the most sophisticated clubs in the city. The current owners took over the club in 1981, and since then it has become one of the most exclusive clubs not only in London, but in the world.
Exclusive London Casino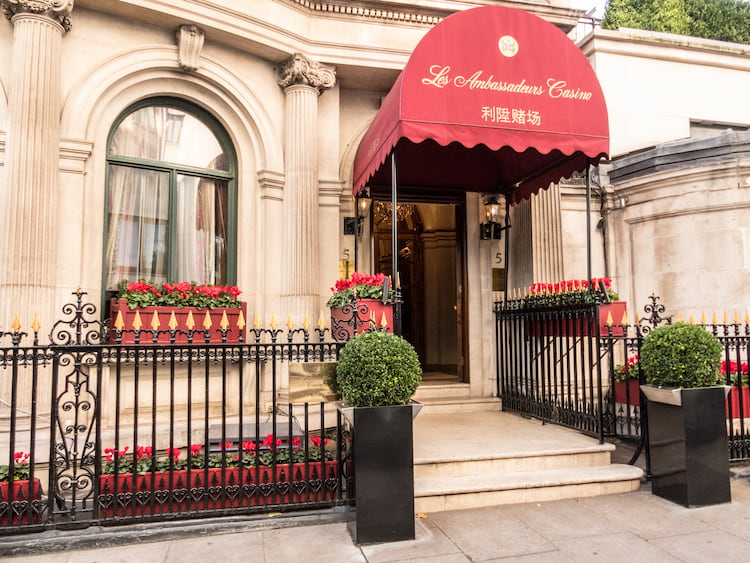 Should you fancy visiting Les Ambassadeurs club in person, a weekly permit will cost around £1,000, while annual membership can be yours for the price of £25,000 per year. In years gone by jackets were required for male visitors, while women were expected to wear dresses or their equivalent when playing at the gaming tables in person. However, when you play from home the dress code is whatever you choose to wear, and there is no fee required to experience the ambience of this exclusive gaming club via live stream direct to your laptop, phone or tablet.
Live Roulette at Les Ambassadeurs
Take your virtual seat at Les Ambassadeurs' live roulette table to play European roulette alongside patrons of this highly esteemed club. Bets start at just $0.20 up to a maximum of $10,000 on outside bets such as Red/Black or Odds/Even. If you choose to bet on just one number – a straight up bet – you can wager anything from 20 cents up to $500, and the overall table limit goes up to $250,000. The Dual Play gaming experience means that while you bet via your streaming device, players can make their bets from the club floor, so you really are a part of the action at the casino's favourite table.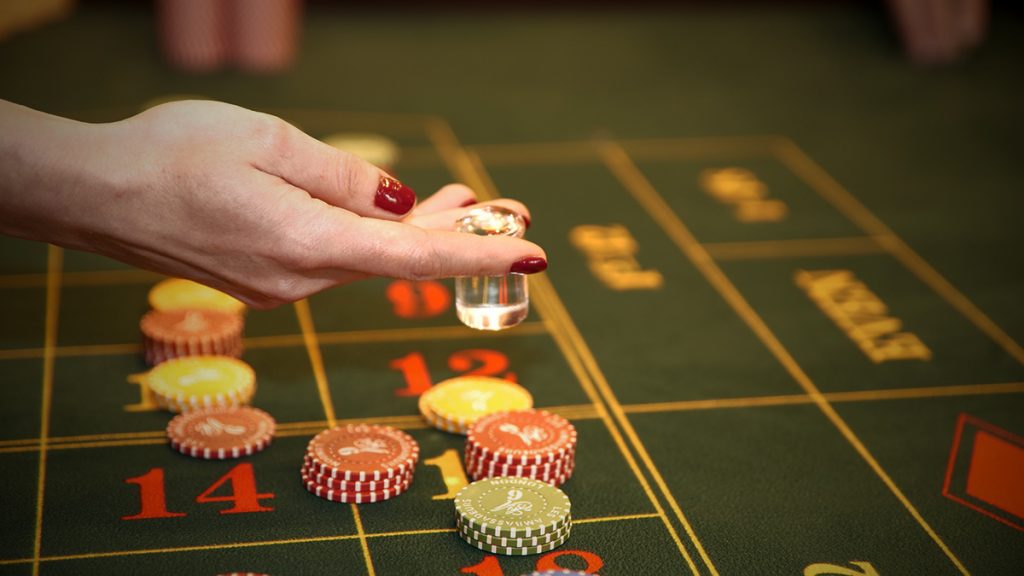 Live Baccarat at Les Ambassadeurs
Les Ambassadeurs Exclusive Baccarat game brings the oldest game in the casino to life via HD quality live stream of all the action. Minimum bets at the roulette table are $1, rising to a maximum of $5,000 on a Banker/Player bet and $1,500 if you choose to wager on the Tie. There are plenty of side bets to choose from here as well, including Perfect Pairs, Big/Small wagers and 'égalité bets'. These égalité bets are side bets that Player and Banker hands will have the same score. The longest odds on the baccarat table are for an égalité bet on 2 – i.e. that both hands will have a score of 2 – which pays out at 220 to 1. All side bets have a maximum wagering amount ranging from $100 to $400, but all start with a minimum stake of just a dollar.
Casino Gaming at London's Exclusive Boutique Casino
Players from all over the world – except for the United Kingdom – can enjoy live dealer gaming streamed direct from Les Ambassadeurs celebrated casino floor. This club has hosted members of the British aristocracy since the early nineteenth century, and casino membership is one of the most sought-after and exclusive in the entire country.
However, players at Casino.com don't need to join a waiting list for admission or pay membership fees, as live baccarat and roulette gaming from Les Ambassadeurs is now just a click away.
Go to our Live Casino page to start rubbing shoulders with London's high society at Les Ambassadeurs gaming rooms today.