Slot games may not involve particular skill to play, but our experts have come up with some slot betting tips which can help to get the most from your spinning.
The original slot machines date back to the late 19th century, and today slot games are more popular than ever. However, the sheer number of slots available today, from progressive jackpot slots and officially branded slots to Megaways slots, along with some of the gambling terms involved in slot betting, can be daunting for newcomers.
You should always be aware that winning at slots is based entirely on luck, so while these tips won't guarantee a win, they can help you understand the game better and potentially enjoy it more, too.
Money Management
Effective money management is an essential aspect of slot game betting. One way to do this is to determine your bankroll, which is the money you have set aside for slot game betting. Your bankroll should be a sum of money you are comfortable using and potentially losing.
How to manage your bankroll
For example, if you have a £1,000 bankroll, a money management strategy would be to only stake a small percentage of this money during each session. Perhaps you would play with £50 in a single session and stop playing when you have either won a sum of money or lost £50. Money management also involves choosing an appropriate stake for each spin.
If you, for example, budget to bet £50 in a session, your stake per spin must reflect this. Therefore, if you stake between 10p and 20p per spin, this would give you 500 or 250 spins, respectively. Approaching slot betting with a sound money management strategy also means you will enjoy the game more, without the stresses of exceeding your limits.  
Betting Tips
We've collaborated with a number of experts in the casino industry to create these slot game betting tips for you so that you can get the most out of gambling on slots:

1. Play low volatility slots by Steve Bourie
As the name suggests, low volatility slots offer more small wins, rather than larger, and rarer, jackpaots.  Therefore, if you play low volatility slots, such as Starburst and Wild Scarabs, you will have more of a chance at smaller, but more frequent wins.
Conversely, progressive jackpot slots such as Mega Moolah and the Jackpot King slots are highly volatile, which means the wins will be less frequent, but the wins should be much greater when you have a winning session – these are the types of games that the biggest winners play.
As a rule of thumb, slots with big jackpots are high volatility slots. They have the highest risk and require a large bankroll to deal with the losses.
•             The advantage of low volatility slots
The advantage of playing low volatility slots is that with the small but frequent wins, you can play for longer and get more value for your money. It also means you are subjecting your bankroll to a lower level of risk. In addition, you are more likely to trigger bonus features when playing low volatility slots as opposed to high volatility slot games.

2. Take advantage of bonus offers and free spins by Stephen Tabone
The iGaming industry is highly competitive, which is why online casinos offer various sign-up bonuses to new customers as an incentive. These bonuses include no-deposit bonuses, 100% welcome bonuses and free spins.
•             Deposit bonuses
These offers give you an opportunity to test games without using your own money and are an excellent way to put your money management strategy into practice.
However, you should be aware that deposit bonuses often come with wagering requirements, which can involve playing through your initial deposit and the bonus up to 30 times, so you should always check the terms and conditions of any deposit bonus in advance.
•             Free spin offers
Online casinos also provide players with free spins to promote new slots games such as officially branded slots from TV shows and films, so you should always be on the look out for these offers. Again, this type of offer gives you the chance to gain more insights into slot volatility as it is often only possible to work out the volatility of a slot by actually playing it.

3. Be aware of the psychology of gambling by Heather Ferris
It is important to be aware of some of the psychological tricks employed by online casinos in slot game betting. This knowledge can help you understand the behaviour around playing slots:
•             Variable interval reinforcement schedule
Don't be put off by the description. A variable interval reinforcement schedule simply refers to a response, which is rewarded after an unpredictable period of time has passed. In an experiment, rats were able to obtain food pellets by pressing a lever and it was found that the rats continued to press the lever even though they were no longer rewarded with the pellets.
In slot betting, a variable interval reinforcement schedule means players do not know when they will be rewarded in the form of winning lines and, in slot playing, this reinforcement schedule means players can end up playing slot games for quite a long period of time.
•             Almost wins
Almost wins, also known as near misses, are when the same symbols appear on the reels but the last symbol is different, giving players the impression that they have almost won the jackpot line. These near misses can encourage players to play for a longer period of time as they feel they are close to winning the jackpot.
From a psychological perspective, these almost wins still provide a dopamine hit, meaning the near misses can feel like a reward and keep slotters playing. In fact, the psychologist B. F. Skinner once said: "The almost win is just as rewarding as a win."
•             Losses disguised as wins
Slot players should also be aware of disguises. Slot games have become more complex with a wide range of symbols and even penny slot machines can contain so many paylines that some wins do not cover your stake. The player may have spent $5 on that spin but only won $4. Because dollar amounts are converted into credits, most people don't realize what just happened. All they see are the flashing lights and bells indicating that they are a winner.This is referred to as losses disguised as wins.

4. Choose a machine with a high payback percentage by Nicholas Colon
When choosing what slot machine to play, so that you have the maximum chance to end your session as a winner, you must choose the machine with a high payback percentage.
This begs the question, "how do I know what machines have a high payback percentage?". Well, there are many things to look out for that can help you to determine this: one tip is to avoid themed machines, of which Wheel of Fortune is a prime example.
The reason for this is that the hold percentage on these games is higher, as the game developers are paying licensing fees to use the theme. This eats into their profits, and they compensate by holding more of the player's coin in.
Conclusion
Hopefully, these slot game betting tips will have provided you with new insights into slot game betting. You should now be aware of the importance of money management to keep control over your bankroll.
Additionally, if you follow the tips to play low volatility slots, take advantage of deposit bonuses and free spins, as well as take the psychology of gambling into account, you should enjoy a more controlled game betting experience.
And of course, gamble responsibly always. Take gambling as a form of entertainment and set money aside that you would spend on something you enjoy doing, never expect a win or bet money that you can't afford to lose.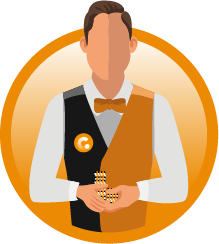 Did You Know?
Volatility is one of the most important features of any slot machine. A high volatility slot will have low odds but high prizes, while a low volatility slot offers the opposite. Placing large bets in a high volatility slot produces a great deal of risk and reward – but it can be a very expensive way to play.