As with many other games, casino-based or otherwise, there can be a lot of terminologies involved with playing online slots. Here's our attempt at clarifying the rules of slot gaming and making things just a little bit easier to pick up. Check out the most important slot game features (and their definitions) below.
Basic Features
·         Paylines
This term describes the combinations that need to be made in order to claim a win on the reels. They can take any form or direction but, represented visually, they usually cross the gameboard from one side to another. The number of winning paylines in a slot can range from just a few to over a hundred-thousand if you are playing a Megaways game.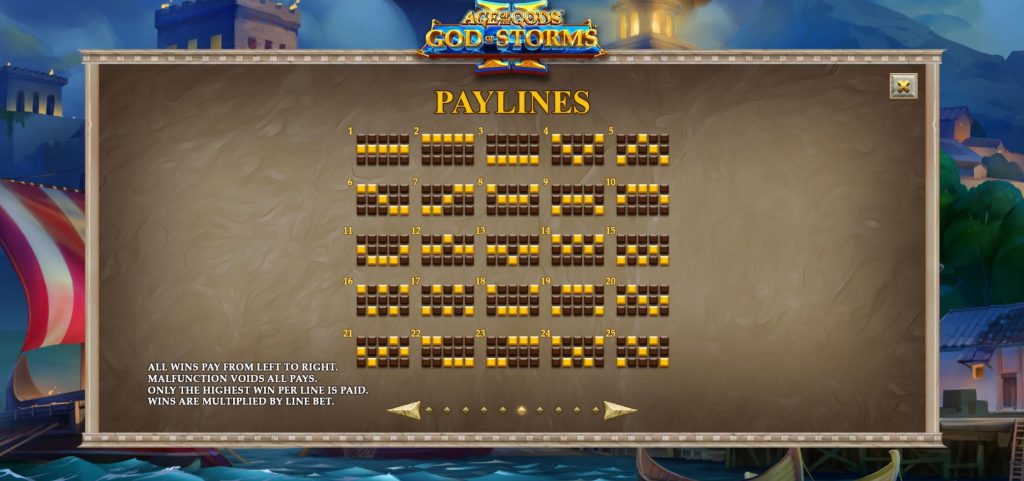 ·         Wilds
Wilds are special symbols that can be used in the place of any other symbol, especially when it comes to making winning lines. While an older feature of slot gaming, wilds have been subjected to quite a bit of experimentation in recent years. Consequently, they now come in lots of different types, including:
These wilds will stretch to cover an entire reel when they appear. The biggest advantage of expanding wilds is that they create more chances for the player to win.
This is a regular wild that remains on the reels even after the 'Spin' button is pressed again. Sticky wilds may also be referred to as locked or locking wilds, depending on the game and/or developer.
Transferring wilds are symbols that 'spread' to other reels. This means that a wild on the first reel will be added to all other reels, too. How long this takes may be specific to each individual slot.
Also known as shifting wilds, a walking wild symbol begins on one reel and moves to another with each subsequent spin. The walking wild can move either from left to right across the reels or vice versa.
A random wild appears whenever it likes – or so it may seem. Every new spin of the reels gives the player the possibility to reveal one of these random wild symbols.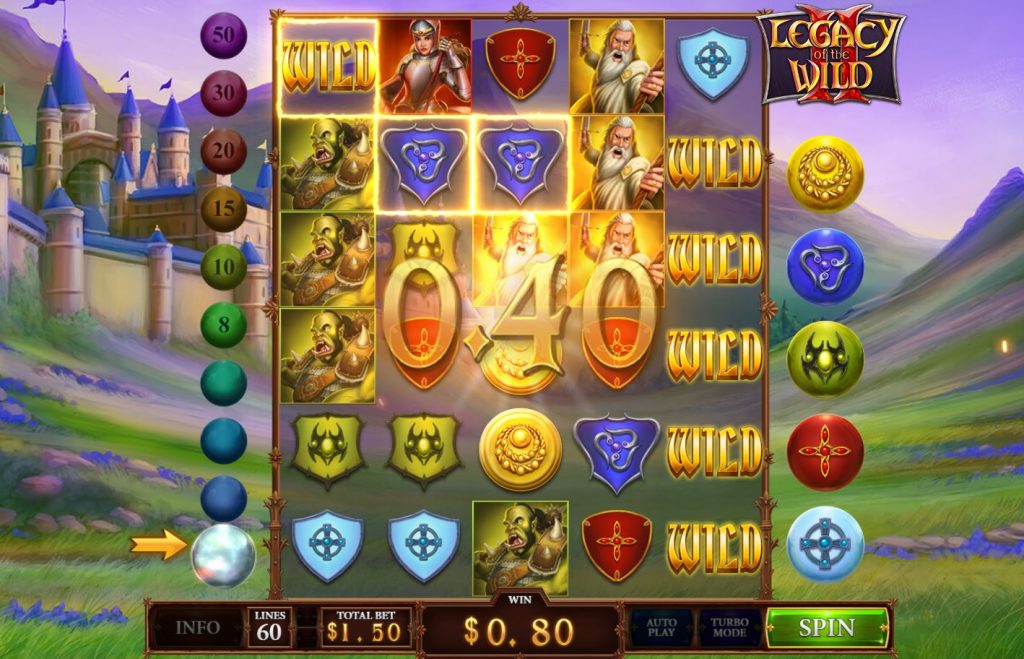 This special symbol type is actually two or more wilds joined together. They can cover entire reels in some scenarios but will generally stretch to no more than five stacked wilds at once.
·         Scatters 
A scatter symbol often provides the key to opening up a bonus game or receiving a special prize. In general, scatters have their own unique imagery and must be found in quantities higher than one to be useful. Each game has its own rules for scatters so their value in gameplay will vary based on what slot you're playing. For example, the hugely popular Halloween Fortune games from Playtech use the games logo as a scatter symbol, unlocking a bonus game when three or more appear on the reels at the same time.
·         Free Spins 
Free spins describe exactly that – a free turn on the reels. It's how these spins are acquired that changes so much from one slot to another. For example, some games have a Free Spins symbol included on the reels (like scatters, you'll probably need more than one to claim a prize), while others may only hand out extra goes in bonus rounds.
·         Bonus Rounds 
A staple of TV quiz shows, bonus rounds are any additional modes hidden within a slot that offer new ways to win. The prizes that are available in these rounds may include extra credits, multipliers, free spins, or chances to climb the game's paytable. In any case, bonus rounds are highly-desirable features.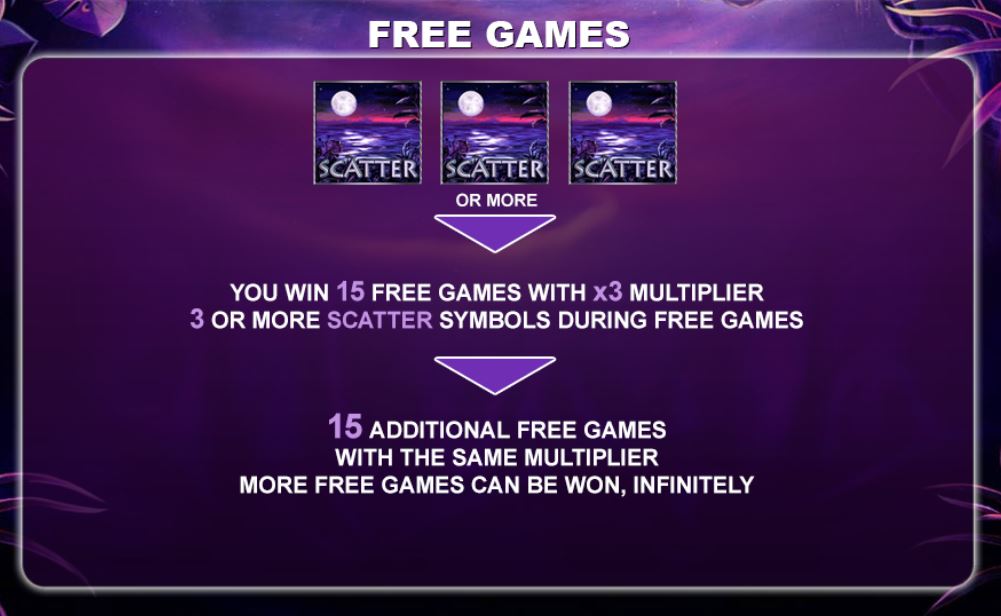 ·         Multipliers 
Simple but valuable, multipliers' only job is to – you guessed it – multiply your winnings. You'll generally experience multipliers in the region of 2x – 10x but figures in the hundreds or even thousands are a possibility in certain games. It's well worth hunting these special slots down, regardless of your personal skill level.
·         Volatility
This seemingly complex term actually has a straightforward definition. Volatility is how frequently a slot pays out in winnings. Note that volatility is linked to a slot machine's overall risk factor and is often described alongside related terms like Return to Player or RTP (how much a slot pays out, defined below). 
·         Ways to Win
An easy definition that has been muddied by efforts to make games more exciting and varied for players. In brief, it describes the total number of ways that a slot can be won but we need to get a little more specific than that, given the number of variants out there. Games advertised as having so many ways to win are known as 'All Ways' slots.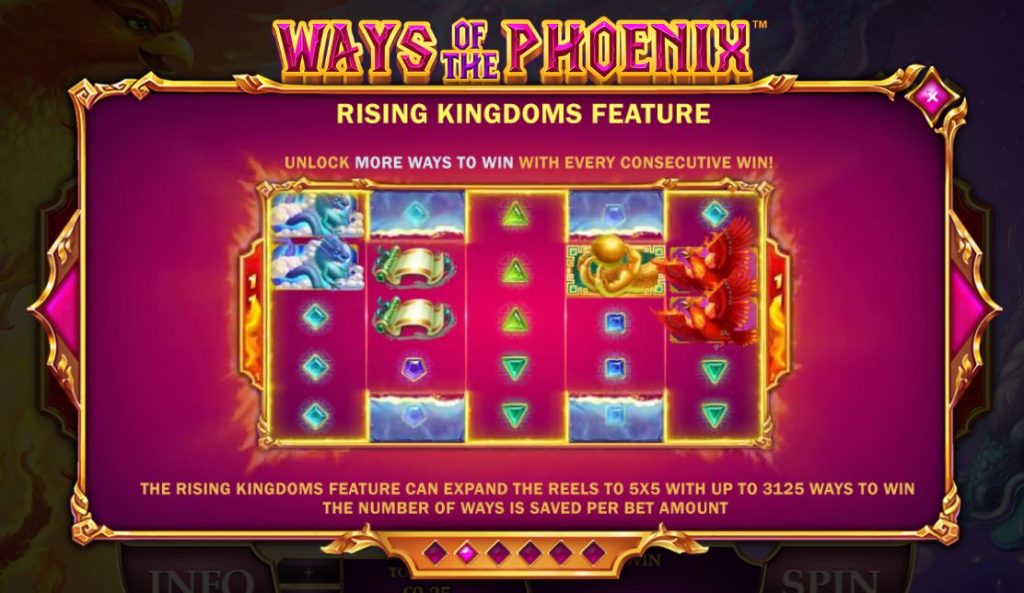 A notable feature of this type of game is that it doesn't matter where a symbol lands on the reel, at least as far as putting together winning combinations is concerned. This means that traditional paylines are dispensed with – or, put another way, that they're all wagered on at once.
·         243 Ways to Win
In this form of the game, players bet on 243 winning combinations, with reels of 3x3x3x3x3 (=243) symbols. 
·         720 Ways to Win
720 Ways games aren't very common at online casinos. Much like the above, the sum of the symbols on the reels equals 720 (3x4x5x4x3).
·         1024 Ways to Win
This is another five-reel (4x4x4x4x4) slot.
Special Game Features
·         Gamble Feature
A gamble feature or gamble button is a clickable option in some slots that activates when a payline is won. As the name suggests, by clicking, you'll be gambling your winnings on a (usually) 50/50 chance of doubling your haul. Unfortunately, if you lose, everything you've just won is taken away.
·         Fixed/Variable Paylines
We've touched on paylines already (see: Ways to Win) but a slot with fixed paylines means that you'll be wagering on all of them at once with a single bet. This means that matching symbols count towards a winning combination wherever they land on a reel. Variable or adjustable paylines can be set by the player.
·         Adjacent Ways
One thing that many new slots players may not be aware of is that winning combinations have to start on the first reel. In games supporting adjacent ways, they do not. This means that matching symbols on reels 2, 3, and 4 are just as valid as those on 1, 2, and 3. 
·         Cascading Reels
Cascading reels usually take the form of blocks that fall into the play area – before disappearing and being replaced in their entirety when the Spin button is pressed again. The lure of cascading reels is that they can produce more 'spins' per button press than in standard games. Playtech's Cascading Cave is a prime example of this type of game.
·         Cluster Pays
The 'cluster pays' feature allows players to find wins according to two rules, specifically, that matching symbols must appear next to each other and one of the four corners must be engaged, too. This can mean that winning combinations look more like Tetris pieces than straight or diagonal lines.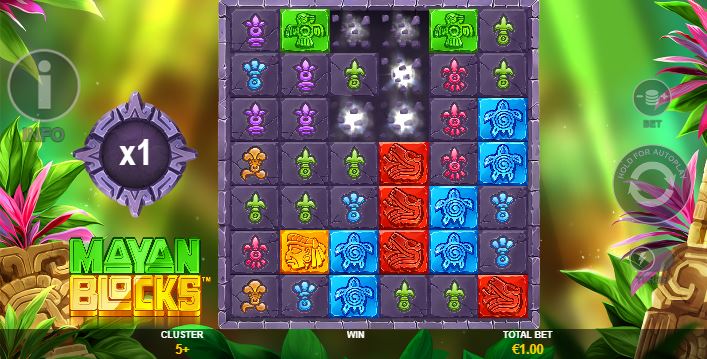 ·         Mystery Symbols
A mystery symbol adds a bit of excitement to slots gameplay by keeping its value and imagery a secret until the player involves it in a winning payline. If it triggers adjacent paylines when revealed, mystery symbols can produce a much larger winning combination from a single spin.
·         Win Both Ways
Similar to adjacent ways, the Win Both Ways feature means that winning paylines now work from right to left as well as the standard left to right. The obvious value in Win Both Ways games is that it effectively doubles the number of paylines in play at any given time.
·         Megaways 
Megaways slots have six reels with a changeable number of symbols on each one. With the number of possible symbols standing between two and seven, players get to play with a maximum of 100,000 paylines. Megaways can now be found in many different slots, such as Buffalo Blitz Megaways from Playtech.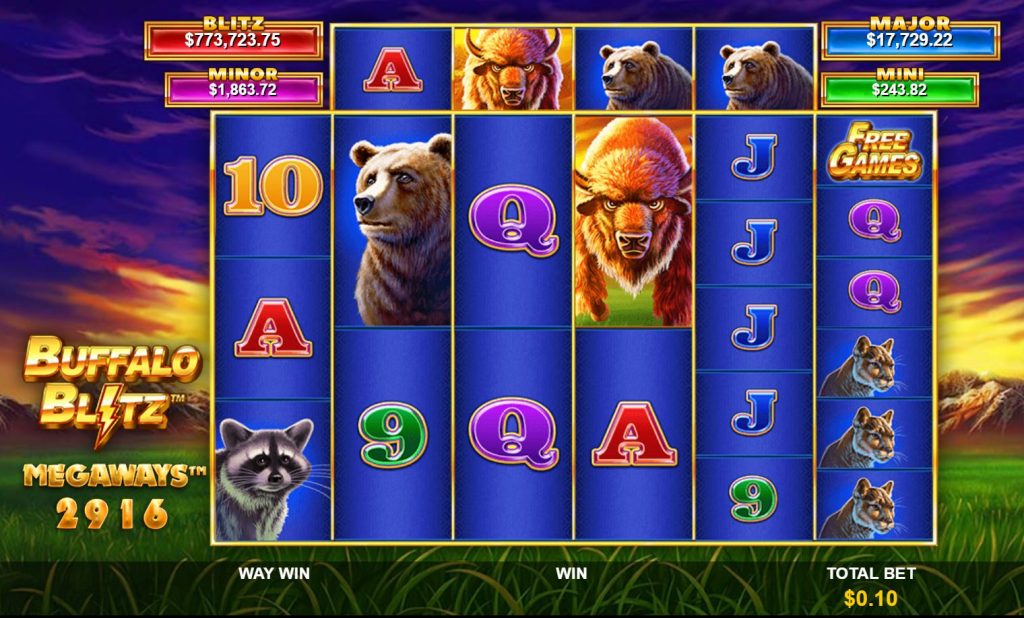 ·         Expanding Reels
This feature of modern slots simply describes the potential for more reels or rows to be added to the gameboard. 
·         Expanding Symbols
Slots typically have 1×1-sized symbols – a square. However, in games with expanding symbols, the width and height of symbols may change during gameplay.
·         Colossal Reels
Colossal reels create two games in one by splitting the gameboard in half. This may appear as a standard 5×3 slot plus a 5×12 main game that offers the highest chance of winning.
·         RTP
A term relevant to every slot, RTP means 'return to player'. This is a theoretical number that describes how much of a player's wager will be given back in winnings over a huge amount of plays, usually in the millions. Many of the most popular slots have RTPs over 97%. More traditionally, a high RTP game is known as 'loose'. 
·         Synced Reels
While not the most common feature, synced reels are games that include the possibility for two or more reels to spin around together. The obvious benefit of synced reels is that a symbol on one reel is in the same position as the next, which can contribute to easier wins – especially if the synced reels are capable of expanding.
·         Respins
Often confused with free spins, respins are turns on a slot machine that usually involves one or more held reels from a previous round. Respins are a frequent component of bonus rounds, and may not be found in regular gameplay.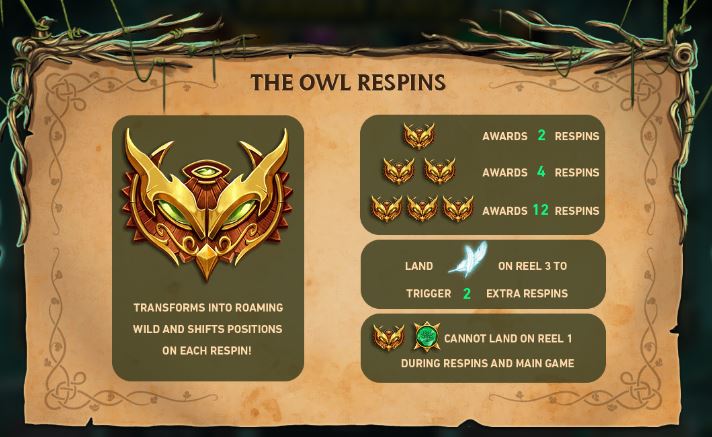 ·         Bonus Re-Triggers
Related to some slots' free spins, re-triggers are designed to restart bonus rounds that award those valuable extra turns. More often than not, re-triggers can be activated by collecting a set number of scatter symbols. This is often in the region of three or more symbols. 
·         Nudges
Especially popular in British (physical) fruit machines, nudges give a symbol a shove into another column, meaning that a non-winning spin can still activate paylines. Today, nudges can be considered rare in online casino games but slots that try to emulate older games ('classic' slots) may still include them.
·         Horizontal Reels
An easy one. Instead of spinning vertically, games with horizontal reels spin left to right. This unusual style of slot may include some suitably unique gameplay features.
·         Split Symbols
Slots that include split symbols effectively have two symbols in the place of one. This includes special symbols such as scatters. Note that there are just as many upsides to split symbols as there are downsides. 
·         Symbol Transformations
Often associated with wild symbols, transforming symbols are one of the rarest slot machine features on the market. They do exactly as the name suggests, though, i.e. turn non-wilds into wilds. To utilise a transforming wild, you may need to find a different symbol altogether to trigger the reaction. 
We have gotten together a group of casino experts to come up with some top tips for online slot play, which can help you to make the most of your gaming.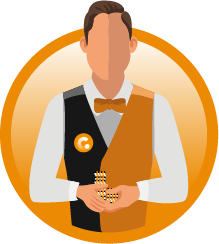 Did You Know?
Big Time Gaming introduced its innovative Megaways feature in 2015, and it has since gone on to become a staple of online slot games. The feature increased the number of potential pay lines from dozens to hundreds of thousands, allowing developers to come up with even more creative ways to win.