Blackjack may be a simple game – get your hand as close to 21 before the dealer and before going bust – but experts still recommend that players master the rules and find out how exactly the game works before playing. As such, we have curated this list of blackjack FAQs to answer some commonly asked questions.
1. What is the house edge in blackjack?
At the end of the day, casinos operate as a business, which means these establishments are always looking to give themselves an advantage. The house wants to guarantee a long-term profit; one way to do this is through the house edge, which is different on each game, but essentially refers to the small percentage of all wagers that the casino operator expects to secure. In other words, the house edge is the statistical advantage the casino (which is represented by the dealer) has over the player.
The house edge in blackjack is typically 0.5%, but it depends on the type of variation being played. More experienced players who use advanced strategies may see the house edge reduced to around 0%, whereas inexperienced players will see the house edge at roughly 2%.
2. When should I take insurance in blackjack?
One of blackjack's many elements is insurance, which is effectively another wager, but it can only happen if the dealer's card is an ace. Typically, the value of the insurance is half the value of a player's initial bet. It pays out 2:1 if the casino representative shows a picture card or a ten for their second card, making blackjack.
Beginner players need to know that taking insurance can be a risk. If the dealer does not have blackjack, you will lose your insurance bet, so experts typically advise against it.
3. When should I double down?
For some people, 11 is a lucky number. It is the same in blackjack, since the best time to double down in the casino game is when the total of your first two cards equals 11. The act of doubling down in blackjack allows players to increase the value of their initial bet by up to 100%, and when your cards equal 11, there is a good chance one more card could hit 21 or at least close to it. It is also possible to double down with a hard 9 or 10.
4. What is a tie in Blackjack?
Blackjack scoring is straightforward. However, it still comes as a surprise to players that they can end the game with the same finishing hand as the dealer. That is called a tie or a push, and when it happens, the player does not win or lose. The original stake is returned to them, and they move on to the next hand.
5. Is card counting illegal?
Card counting in blackjack is a legal strategy in the United Kingdom, Canada and the United States, although we do not recommend using this method to try to beat the house. In short, it involves the player keeping a count of how many high cards and how many low cards have been dealt, and then adjusting their bet depending on how favourable the remaining cards in the shoe are.
Card counting only works when the game is played with a limited number of cards, as is the case most of the time in land-based casinos. If you know how many decks are being used, you can keep a count of how many high and low cards are left, based on how many have already been dealt.
6. Is it a requirement to tip a dealer?
No, tipping a dealer is not required, but it is allowed, and whether or not to tip is something we discuss on our chapter on blackjack etiquette. If you play online, this is not something you have to worry about, but if you are playing in a land-based casino, there are a few ways to tip a dealer if that is what you want. You can give the dealer a chip or place a bet for the dealer.
7. How do I know which blackjack variation is best for me?
Blackjack has several variations, including blackjack, blackjack switch (you play two hands at a time, and you can switch the top two cards between hands), and double exposure, which is where both of the dealer's cards are dealt face-up. Deciding which variation to play comes down to what you want the house edge to be. If you are new to blackjack, one of the best variations of the casino card game is the 3:2 version.
8. What blackjack variation offers the best odds?
There are many different variations of blackjack, but the gambling community often regards single-deck blackjack as the variation that offers players the best odds. The house edge is around a favourable 0.13%.
9. Is it really possible to win when playing blackjack online?
While the house edge gives a statistical advantage to the casino – whether online or offline – it is certainly possible to win when playing blackjack online. We have dedicated a chapter to the stories of some of the biggest winners to have won while playing blackjack with Casino.com.
10. Do I have to pay taxes on blackjack wins?
Paying taxes on blackjack wins depends on the country. However, in Canada and the United Kingdom, individuals do not have to pay taxes on blackjack wins or any gambling wins, including sports betting, bingo, and lotteries.
11. Do live dealer games offer better odds?
Live dealer games feature a real-life dealer at a physical table. That means it is entirely possible to count cards when the dealer is shuffling between each hand. Where feasible, counting cards can improve odds compared to digital blackjack games, which use software to shuffle cards, making the card counting strategy difficult. It also depends on the cards the live dealer's shoe is dishing out. For instance, if the shoe has a lot of tens, the odds of playing live dealer blackjack are better.
12. Is it possible to count cards online?
Card counting is a practice which only works in physical casino, and will not be effective when playing online. The reason for this is that while brick-and-mortar casinos use a limited number of decks, there is no limit to the number of virtual decks available when playing online. Generally online casino software will shuffle cards after each hand, which also removes the opportunity to use a card-counting strategy.
13. Can I use blackjack specific bonuses?
One of the advantages of the online casino industry is that operators offer various bonuses and promotions to attract and retain users. (Significant terms and conditions for the Casino.com welcome offer are found here.) While these incentives help the casinos grow and function, they also give players the chance to try games and play with welcome bonuses and extra spins. When it comes to blackjack specific bonuses, check out our promotions page for the latest offers.
Blackjack has origins dating back to France in the 1700s, but even with its age, the game's simplicity has allowed it to remain a fan favourite within the gambling community for decades. However, blackjack has several rules and elements, such as blackjack insurance and card counting, that players need to understand before playing. Of course, that is the case with most casino games, including poker and roulette. This article covered a lot of important ground for beginners, but if you still have additional questions on how to play blackjack and the culture surrounding it, you can always contact us at support@casino.com. Furthermore, if you have specific in-game questions, there is a live chat feature available in the games lobby after registration.
Contact Details:
E-mail: support@casino.com
UK freephone: 0800 9012 483
International number: +350 200 44793
Live chat customer support agents are available 24/7 in our live lobby once you have a registered account
Casino.com Welcome Bonus Terms & Conditions:
You must be a new customer and not have previously registered with Casino.com to receive both the free spins and 100% Welcome Bonus and be aged 18 years or older.
You will need to make a minimum deposit of £20+ in one transaction to qualify for the bonus.
The bonus amount will then need to be wagered 40x before withdrawal. Some games do contribute at different levels and you can see the full list of these games plus the Welcome Package full terms and conditions here: https://play.casino.com/promotions/welcome-bonus/
Gold Card Happy Hour Terms and Conditions:
Promotion runs 20:00 – 22:00 (GMT) every Tuesday, Wednesday & Thursday.
Gold Card Happy Hour is available on Casino.com Live Blackjack tables only.
Two Gold Cards will be shuffled into each new shoe. If you are dealt a Gold Card you will receive 100% of your initial stake for that hand.
Bet Behind does not count.
If the dealer is dealt a Gold Card, no prize is available for that hand.
The maximum cash prize that can be earned from one Gold Card is $/€5,000. All cash prizes will be credited instantly.
One Casino.com Live Blackjack shoe consists of four decks of cards.
If a Blackjack shoe with a Gold Card shuffled into it is started before the close of the promotion deadline but is still being played after the deadline passes, you will still be able to receive cash prizes from being dealt a Gold Card, until the end of that shoe.
If you haven't made your first deposit, please do so to claim your Welcome Package, after which you can take part in this promotion. Welcome Package Terms and Conditions apply.
For full details of the applicable betting limits, bonus abuse terms and other rules that apply to all our promotions, please refer to our General Promotion Terms and Conditions.
Bonus funds are awarded to be used for regular casino gameplay and are not to be abused or used strategically with the sole intention to leverage or abuse the bonus award. Activity that may constitute bonus abuse includes but is not limited to: making large up-front bets and then substantially reducing your stakes to clear wagering requirements; moving from a low weighted game to a high weighted game after a large win for the purpose of clearing wagering requirements; low risk betting player has breached these terms.
This promotion is a casino-only promotion. This means that only stakes on casino games will count towards completing qualifying or wagering requirements.
Not available on iOS app.
In the above scenarios, gameplay is analysed on a case by case basis and only genuine abuse or intentionally irregular gameplay, based on the listed restrictions but at Casino.com's discretion, will be acted against.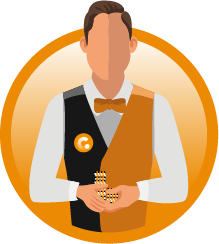 Did you know?
What is doubling down in blackjack? This is a strategy where you place an extra bet to double your stake, but only get one more card to complete your hand. It can be used when you feel that you are in a strong position to beat the dealer.