The spooky season is upon us which, means fancy dress, pumpkin carving, eating far too many sweets and of course lapping up anything that is eerie, creepy or scary! That's why here at Casino.com, we have put together a fang-tastic list of our top Halloween themed slots!
Read on if you dare…
1. Halloween Jack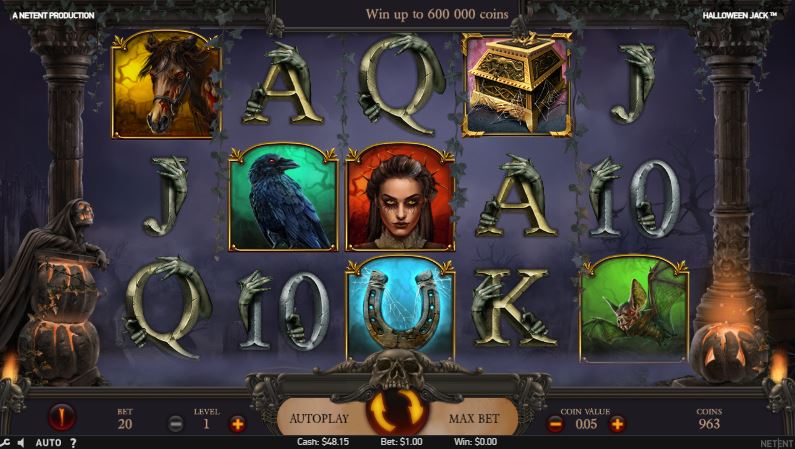 With one of the most recognisable characters from any Halloween themed slot, this really is a frightfully great game. With dark and ghostly graphics, this game is not for the faint of heart at all. Don't be surprised if you should see Jack himself walking across the reels, or when the Expanding Death Reaper Wild bonus round kicks in offering you up to 3,000x your stake.
With many ghoulish features and bonus rounds – this slot is utterly packed with treats.
Game Release: 24/10/2018
Developer: NetEnt
Bonus Feature: Yes
RTP: 96.28%
Max Win: x3,000

2. Halloween Fortune
Halloween Fortune was originally released in 2012, but do not let that fool you into thinking it is past it's time. Far from it: with Witches, Ghouls, black cats and a cauldron full of wins, this slot holds up among the best of them.
Look out for the Witches Brew bonus round, which can earn you up to 20 free spins and a potion to reveal a multiplier up to 10x your stake.
Game Release: 15/10/2012
Developer: Playtech
Bonus Feature: Yes
RTP: 97.06%
Max Win: x10,000
3. Blood Suckers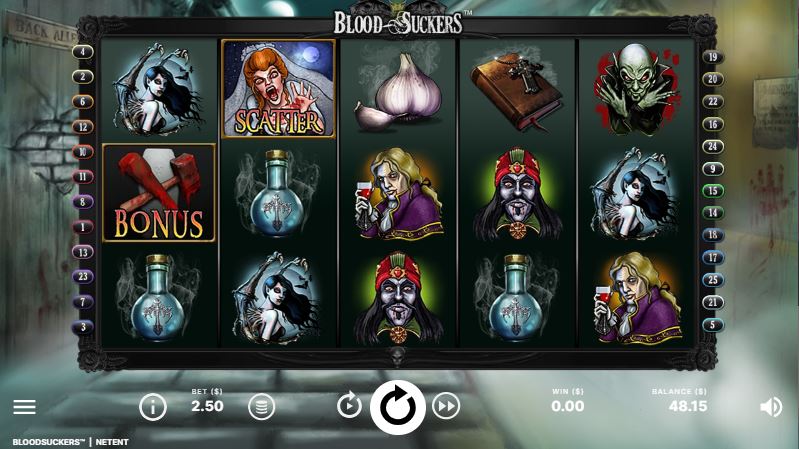 With such a unique spin on a classic character and theme this really is a game that slays. Blood Suckers is a classic slot from NetEnt with one of the highest Returns to Player of any slot game, which is why it has remained so popular for so many years.
Its ghoulish graphics, an incredible offering of up to 900x your stake (pun intended) per free spin, Vampire slaying bonus features and multipliers, this is a slot that you'll lust to sink your teeth into.
Game Release: 10/11/2013
Developer: NetEnt
Bonus Feature: Yes
RTP: 98%
Max Win: x900
4. Ghost Glyph
Ghost Glyth is one of those slot games that just instantly raises spirits…
With a quirky design that is more likely to remind you of a friendly ghost , rather than the horrifying spirits you would expect to find in a haunted house, this is a slot that everyone can enjoy!
It differs in play than most other slots, resurrecting a 7×7 play grid and 7 different bonus features which truly make this game un-boo-lievable.
Game Release: 03/09/2020
Developer: Quickspin
Bonus Feature: Yes
RTP: 96.18%
Max Win: x2,260
5. Vampires vs Wolves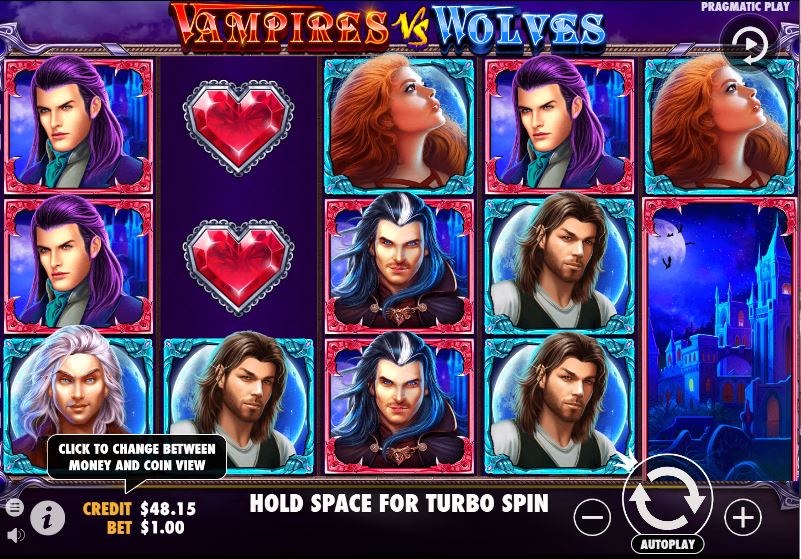 Whilst the title of this slot may remind you of a certain 'sparkly' movie, trust us that this game is far more serious and spook-tacular.
Its atmospheric graphics strike first, then the multiple bonus rounds pounce at you, whilst the glamouring main character hides in the shadows with the most lucrative bonus round of all.
If you are thirsty for blood – and wins – then Vampires v Wolves is the slot for you.
Game Release: 28/07/2019
Developer: Pragmatic Play
Bonus Feature: Yes
RTP: 96.49%
Max Win: x1,000
6. Halloween Fortune II
Much like its predecessor, Halloween Fortune II is one of the most bewitching slots available online. It feels like more than just a game with its 3 lead characters returning to dazzle on the reels. This time, they really have pulled out all the stops (and the spell book).
The glamourous trio offer a bonus of up to 18,000x your stake, a pumpkin multiplier and wickedly good free spins.
Game Release: 10/10/2016
Developer: Playtech
Bonus Feature: Yes
RTP: 94.99%
Max Win: x18,000
7. Fairground Fortunes: Ghost Train
"All aboard". You are about to venture on one hell of a ride!
Buy your ticket and stop off at Coconut scatters, wild symbols and free spins along the way to your ultimate destination of a possible 100x your total bet!
The question is, will this scare-fest of a slot invoke a Fright or Flight response in you?
Game Release: 15/01/2016
Developer: Psiclone Games
Bonus Feature: Yes
RTP: 94.06%
Max Win: N/A
8. Curse of the Werewolf
Aooooowwwww! Curse of the Werewolf is a slot that will have you howling and cowering in your seat. Join the villagers in their hunt to find the notorious Werewolf.
When you do, you will be greeted with Mystery Symbols Features, Spin Modifiers and free spins.
Who will strike first? The villagers or the Werewolf…? You'll have to join the hunt to find out.
Game Release: 06/08/2020
Developer: Pragmatic Play
Bonus Feature: Yes
RTP: 95.5%
Max Win: x40976.00
9. Lucky Halloween
It's a full moon tonight on the enchanting and eerily enticing Lucky Halloween slot.
Packed full of creepy sounds, freaky characters and a hell-raising amount of features! Whether it's the Pumpkin Tree feature or the Mega Wild feature, this game is spell-bound to get you in the mood for Halloween.
Game Release: 29.09.2016
Developer: Red Tiger
Bonus Feature: Yes
RTP: 95.07%
Max Win: x800
10. Jekyll and Hyde
This dark and twisted slot is not one to be ignored – not that you could if you tried.
It offers a potion of creepy background music, characters that you wouldn't want to meet down a dark alley and a split of various different bonus rounds.
After experiencing this slot to the fullest you will be left with that unnerving feeling that there really is someone looking over your shoulder…
Game Release: 12.04.2016
Developer: Playtech
Bonus Feature: Yes
RTP: 96.16%
Max Win: N/A
There we have it Ghouls and Guise. That is our top ten list of Halloween slots for you. Are you as freaked out as we are?
We would love to hear your thoughts in the comments or over on Twitter/Facebook so be sure to share with us what your most spook-tacular Halloween slot is!