Roulette is not just one of the most popular of all casino games, it's also one of the oldest. First devised in France in the 18th century, the simple to understand and impossible to master nature of the game has made it a cultural touchstone in many nations. From its home as European roulette to a broad spectrum of other styles, the game has persisted, it's evolved, and, most importantly, it's paid out huge prizes.
With that in mind, we thought it would be interesting to take a look at some of the biggest winners to ever spin on Casino.com. From players all over the world, here's what the luckiest roulette fans took home. Names have been adjusted to protect the privacy of the players.
Abel R. – Canada – $170,000

The first winner we want to look at hails from Canada, and their lucky day occurred in July of 2021. Going by the name of Abel R., this player enjoyed playing a variety of live roulette games and had a day they would not soon forget!
When questioned on their strategy, Abel R. had the following to say: "I felt deep in my heart that the two was coming so at last minute I started putting money all over the number, and when the ball dropped on two, I literally went crazy."
Roulette is a game of chance, but our player's luck was in on this occasion. While the member would have been happy enough with their winnings alone, we thought it would be a nice idea to help them celebrate. Sending a collection of six of the finest bottles of wine from all over the world, we know Abel R. didn't take their celebration lightly.
Zizi – Saudi Arabia – £446,659.50

With their regular job owning a flower shop, Zizi was no stranger to impressive displays of beauty and perfume-scented blooms. What they couldn't have known, however, was that they would soon be experiencing the sweet smell of success!
While not much is known about Zizi other than their winnings, we do know that they came to play. With a starting balance of £60,000, this player made their mark in both live roulette and live blackjack. Taking home the big win here meant winning six straight bets in a row, not an easy feat to accomplish.
So happy was Zizi in being informed about their winnings that they responded the only way a hugely excited player could, through a string of emojis. While these don't quite translate to regular text, suffice to say many love hearts were sent on that day!
Of course, we couldn't stop there, as we also added a signed and framed photo of Cristiano Ronaldo to round out the player's collection.
C. Hines – Canada – CAD 848,000

Hailing from Canada, C. Hines worked in the construction field and was familiar with building it big. 'C' is a big fan of Quantum Roulette Live, one of the live roulette games available at Casino.com, and decided to try his luck.
Fortune was certainly shining upon our Canadian player, who hit a x400 multiplier to land a monster win. That $848,000 prize seemed too good to be true, and this exact thought was shared by the player's friends and family: "I told you (at Casino.com) and I told my wife too, Lmfao. And I told my buddies. Nobody believed me."
As we processed the payments the next day and sent the player some of our favourite champagne, we can only hope that their friends realised they're not the joker they first seemed.
Mandev – Denmark – $2,000,000

Our second biggest winner hails from Denmark, where they worked in a local factory. Splitting their attention between slots and live roulette, diversification in winnings was the name of Mandev's game. Considering they started from a total deposit of $700, the success of this player has to rank up there with some of the biggest in our website's history.
Opening with live roulette, Mandev hit seven times in a row with a neighbour bet on 20. With a whetted appetite, they then jumped into Age of the Gods Live Roulette. Deciding to tempt fate, Mandev placed a total bet of $666.60 on this roulette jackpot game, taking home $793,040.27 for this bet alone.
The next few days were a whirlwind, with Mandev continuing to hit big while letting us know about their incredible run of luck.
Some choice snippets from our back and forth include:
"it's wild to win 50k on 1 round in roulette. It's a sick run from 500$ to 1.100.000,00$ in 7 days"
And perhaps most impressively:
"Yep I just hit my 2 Mil goal"
To help celebrate, we sent this member one of our favourite bottles of champagne and even created a private live table. We also wished them luck, as if they need any more of that!
Moss – Kuwait – $4,049,530.00

Rounding out our big winners is Moss from Kuwait. Playing live roulette and slots, Moss proved themselves a strong player, collecting a series of wins over months. Starting with a balance of $25,000, the last winnings claimed by Moss ended with a session winning $385,600.08.
The month before, Moss brought home $138,608.38. Before this, they claimed $124,215.16. Eventually winning total prizes of just over $4 million, Moss goes down as our biggest winner, at least so far.
So successful was Moss's run, that even they could barely believe their luck, stating: "I'm fine brother thank you I loved the Play Last night!! Crazy!
And crazy when I won more money, I swear I didn't need, I said is enough!!"
As we sent this player some more family-friendly congratulatory gifts of bonuses and candy, they were quite happy to move onto whatever life has for them next.
Though these are the biggest winners we've had on our website yet, they only represent a tiny fraction of our overall winning player-base. As time goes by, we hope and expect to be celebrating many, many more big wins.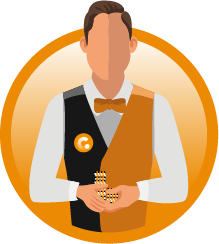 Did you know?
Engineer and inventor Charles De Ville Wells is one of the earliest roulette high rollers on record. In 1891 he went to Monte Carlo with a bankroll estimated to be in the region of £400,000 by today's standards, and he left after winning ten times that amount. His exploits were later immortalized in a famous music hall song called 'The Man Who Broke the Bank at Monte Carlo'.