Play Live Poker Online at Casino.com UK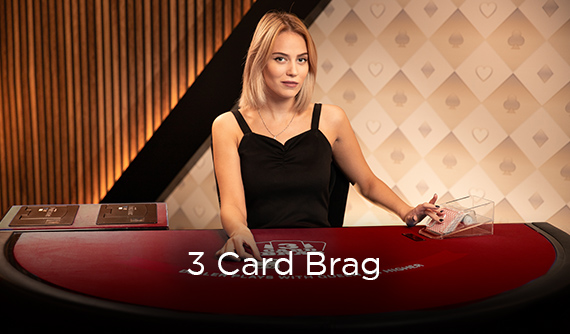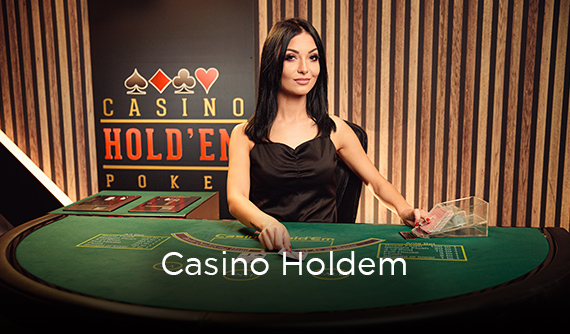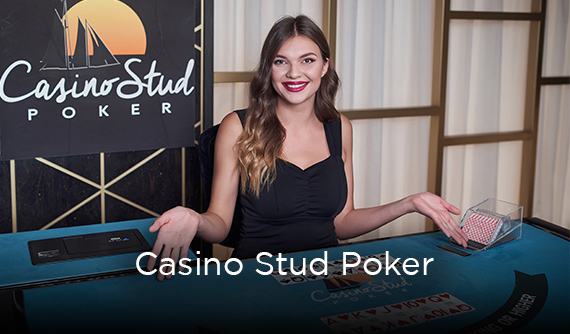 Poker has long been one of the UK's most popular casino games, and now you can play with a Live Dealer anytime and anywhere with the innovative Casino.com UK Live Poker games. Our growing collection of Live Poker games include Casino Hold 'em, 3 Card Brag, and 55 Card Stud Poker.
The Live Casino is a collective effort between Casino.com UK and Playtech, one of the leading casino game developers in the world. The Live Poker games take place in a unique casino that only caters to online players. With hundreds of streaming cameras, British players can place bets, watch as the cards are dealt, and even chat with the dealer.
As poker continues to rise in popularity in British and around the world, it's now easier than ever to play for real money. Register your online casino account in a few simple steps and see if you have what it takes to beat the dealer.
Unlike traditional poker, Live Poker is a game that pits the player against the dealer. If you aren't sure how to play, check out the rules section below.
Casino.com UK is part of the Mansion Group family, one of the best online casinos for British players. Since its inception over 15 years ago, Casino.com UK is known for using the latest technology and a history of fair play. If you have any questions about making withdrawals, deposits, bonuses, you can contact the award-winning Customer Support team 24/7.
While all three Live Casino games have slight variations in the rules, the basis of the games is similar. Start by visiting the Live Casino lobby and join one of the tables. The game will open in a new window with a live feed showing your dealer.
There is the option to join a table without placing any bets. This is an excellent way to get a first-hand look at the style and pace of play before you wager any of your chips.
While the traditional style of poker pits the players against each other and requires techniques like bluffing and trying to predict what cards your opponents are holding, Live Poker games are one on one games against the dealer. Whoever has the best hand wins.
When you join a table, you will have to wait for the current game to finish before joining in on the action. Once the hand is over, follow these simple steps to play.
Place your ante bet:

 

Each hand starts with a 20 second window for you to place your initial bet. If you don't get your bet down before the clock reaches zero, you won't be able to play the hand.
Cards are dealt:

 

The dealer hands out the cards, with the specific number of cards and how they're dealt varying based on the type of game you're playing.
Play or Fold:

 

After you see your cards, it's time to decide whether you want to fold your hand or call and double your ante bet. If you choose to call, the dealer will finish dealing the cards, and if your hand beats the dealer, the money will instantly be added to your bankroll.
The rules are pretty simple; have a better hand than the dealer. However, just beating the dealer isn't enough. The payout is based on the cards in your hands. Live Poker uses the traditional hierarchy of poker hands, with a royal flush earning the highest payout, followed by a straight flush and a four of a kind. You can see the complete paytable and the odds of getting each hand below. This information is also available on the Live Poker tables.
To even the house edge a bit, the Live Dealer will need a qualifying hand in order for a game to count. For example, the minimum qualifying hand in Casino Stud Poker is a K high card. Therefore, even if you're holding a royal flush, but the dealer doesn't have any card higher than a Q, all you will win is your initial bet back.
WHY PLAY AGAINST A LIVE DEALER
There's a special feeling you get when playing with a Live Dealer that most players don't get when playing the online version of these games. Instead of digital cards, you're watching the dealer shuffle and deal a from a 52-card deck. While all casino games at Casino.com UK use a Random Number Generator (RNG) to guarantee fairness, there is just something different about seeing real cards instead of playing with a computer-generated deck.
Another cool factor is that all players, no matter where they live, are dealt the same cards as you. This gives you a unique perspective as to how others play the game. Are they folding or calling?
A Live Chat option gives you the ability to talk with your dealer and ask questions, which helps create an authentic casino experience.
The final advantage is that Live Poker ups the action with several exciting side bets and even a progressive jackpot that you won't find in the online Poker games.
There's no doubt about it for the best casino poker experience; playing against a Live Dealer is the way to go.
The Live Poker rooms at Casino.com UK are open 24/7. There are three different titles to choose from, each one giving the player a slightly different way to win.
Live Poker Game

Overview

Casino Hold 'em

Casino Hold 'em is based on the wildly popular Texas Hold 'em game, but with a few modifications. The game starts with the player and dealer two face-down cards and the three-card flop in the middle of the table. 

At the start of the game, you can place a Blind Call along with your ante bet. If you don't place the Blind Call, you will have the option to fold or call after the flop. If you play the call bet, the river, or the final two cards, will be placed on the table. 

The hand that has the best five-card hand, combining the two face-down cards with the five communal cards, wins the hand. 

The dealer needs at least a pair of 4s to qualify for the hand.

3 Card Brag

A unique poker variant, 3 Card Brag is played with just three cards. After placing an ante bet, you will receive three cards, all face-up. If you like what you see, add a Pay Bet, and the dealer will reveal its three cards. 

The qualifying hand for a dealer is a Q high card. 

3 Card Brag has two side bets; Pair Plus and Poker Plus.

Casino Stud Poker

After placing your ante, you will receive five face-up cards. The dealer will have one card face-up, and the remaining four cards face down. If you like what you see, place your Call bet, and the dealer will flip over its cards.

There are two side bets. The biggest one is the progressive jackpot, which you can activate by placing a £1 chip on the Jackpot bet. The second is a 5+1 side bet. 

The qualifying hand for the dealer is a K high.
LIVE POKER ODDS AND PAYOUTS
Assuming the dealer has a qualifying hand, you can use the chart below to see the odds and payouts for each winning hand. In the case where there is no qualifying hand, the player wins a 1:1 payout for the ante bet, and the call or pay bet is a push and simply returned.
The hierarchy of winning hands is pretty much the same for each of the three games, but the specific payouts and odds vary.
Casino Stud Poker
| | |
| --- | --- |
| Winning Hand | Payout |
| Royal Flush | 100:1 |
| Straight Flush | 50:1 |
| Four of a kind | 25:1 |
| Full House | 10:1 |
| Flush | 7:1 |
| Straight | 5:1 |
| Three of a kind | 3:1 |
| Two Pairs | 2:1 |
| Pair | 1:1 |
| High Card | 1:1 |
Casino Hold 'em
| | |
| --- | --- |
| Winning Hand | Payout |
| Royal Flush | 100:1 |
| Straight Flush | 20:1 |
| Four of a kind | 10:1 |
| Full House | 3:1 |
| Flush | 2:1 |
| High Card | 1:1 |
3 Card Brag
| | |
| --- | --- |
| Winning Hand | Payout |
| Prial | 5:1 |
| Running Flush | 4:1 |
| Run and below | 1:1 |
For additional information regarding the side bets, click on the help menu located on the game window, or ask your Live Dealer.
CLAIM YOUR POKER BONUS AND BEAT THE DEALER
Casino.com UK has some of the best bonuses for Live Casino games in the UK. Using bonus money is an excellent way to try out new games at relatively low risk. To claim a bonus, starting with the Welcome Package, you will need to register your online casino account and make a deposit. There are plenty of secure and quick payment methods, so you can get in the game quickly. In addition to the Welcome Package, Casino.com UK has frequent promotions and bonus offers. Get all the latest information, including how you can use and redeem bonus winnings, when you visit the Promotions page today.
Casino.com UK is dedicated to providing the best player experience. While Live Poker is a fun and engaging game, it can be frustrating if something is not clear. Therefore, we have several ways to help you find the answers you need quickly.
In-Game Help Menu: Every game has a detailed help section that goes through game flow, rules, betting limits, side bets, payouts, and more. Click on the Hamburger menu button to open the section and find the answers you need. Alternatively, all our Live Dealers are highly trained and experts in the game and will be happy to answer your questions.
Customer Support: Casino.com UK has an award-winning Customer Support team that is available 24/7 to answer any questions you have. These can be regarding your account, making deposits and withdrawals, bonuses, technical issues, and more. You can contact Customer Support

 

via Live Chat, telephone, and email.
PLAY LIVE POKER FOR REAL MONEY
Choose from three-card, five-card, seven-card Live Poker, or play them all when you join Casino.com UK. Each game is exciting in its own way, with different betting options and qualifying dealer hands. Register your account today and get unlimited access to our entire Live Dealer Casino, including Live Blackjack, Live Roulette, and Live Baccarat. Along with access to real money casino games, you'll receive an exclusive Welcome Package with your first deposit. Start playing Live Poker at Casino.com UK today.
Play Live Poker Online at Casino.com UK