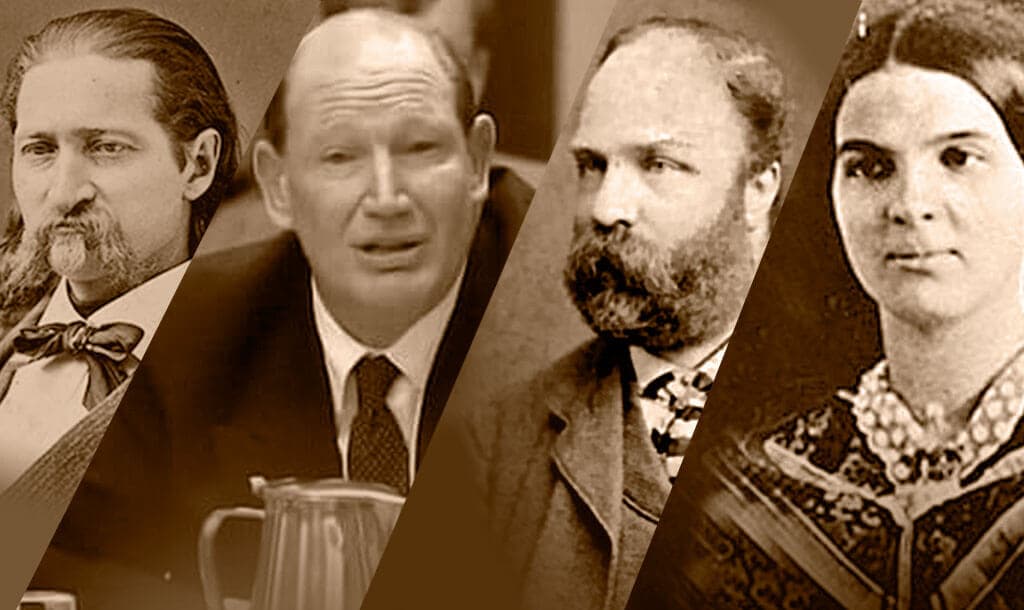 Are you sitting comfortably? Join us now, as we dust off the green baize, oil the roulette wheel, and shuffle the cards, for a full house of tales from the tables; the players, the bets, the winners, the losers.
Casinos are the perfect setting for high drama. Whales come to win and lose, fortunes are made and lost; it's the playground of the rich, the famous, the hopeful, and the notorious. If life's a gamble, this is where people come to live.
There might be eight million stories in the naked city. You can double that for Las Vegas. Here are just five of the greatest gambling stories ever told.
#1. Dead Man's Hand
Born on the 27th of May, 1837, James Butler Hickok was the ultimate blagger, bluffer, and bad ass. He was also a dab hand at poker and a Wild West legend. He was on the planet for less than 40 years but mopped up a 1,000 lifetimes.
Hickok was folk hero who earned the moniker "Wild Bill" thanks to his exploits as a frontiersman, soldier, scout, showman, lawman, actor and gambler. His reputation was a mix of fact and fiction. Allegedly, he wrestled bears, killed lots of men, and was a spy for the Union Army in the Civil War. Some of this is true.
When he wasn't being wild, Mr Hickok loved a well-stocked saloon and a game of Poker. In the Old West, Poker was a different game. There was often no draw – you just played the cards in your hand. Decks sometimes consisted of only 20 cards: four sets of A –K – Q – J -10.
On August 1, 1876, Hickok was sat in the Nuttal & Mann's Saloon, in Deadwood, playing Poker. When a seat at the table opened up, Jack McCall sat down to play. He was drunk and lost all his money.
The next day, Hickok was back in the saloon for more five-card stud. Instead of his normal seat, facing towards the door, he now had his back to the entrance: a bad move. In walked McCall and shot him in the back of the head. At the time of his death, Hickok was holding two pairs: black aces and black eights. Since then, these cards have been forever known as the 'dead man's hand'. Any Poker player worth his chips will know this story and the origin of – arguably – Poker's most famous hand.
#2. The Big Man From Oz
Few men can make the casinos of Las Vegas go weak at the knees. Kerry Packer is one. The billionaire Australian media tycoon had pockets so deep, he could break or make a casino. In 1999, Packer lost more than $28 million at casinos in London. A few years later, he won $33 million in Las Vegas. A run so lucky that casino managers capped his bets at $25,000 a play.
Las Vegas might be famous for its high rollers but it's Packer's extraordinary generosity and Ozzie chutzpah that lingers on. After accidently bumping into a cocktail waitress, causing her to drop her tray of drinks, he asked for her name and address and discretely paid off her $130,000 mortgage. Packer paid off several mortgages over the years. Another time, he was so fed up listening to a loudmouthed Texan bragging about his $60,000,000 empire, Packer turned to him, pulled out a coin, and said: "I'll toss you for it." The Texan didn't say another word.
#3. The Man Who Broke the Bank
Breaking the bank occurs when a player wins more money than the reserve held at the table. In Monte Carlo, in 1871, the Roulette tables were each loaded with 100,000 Francs. When the money was gone, play was suspended, a black cloth was laid over the table, and the casino staff would visit the vaults for more reserves.
It was very rare – until the arrival of failed textile entrepreneur Joseph Jagger. The Yorkshire businessman was facing bankruptcy but his experience with spinning wheels had taught him that every wheel has a bias.
Using his knowledge, and down to his last few pennies, Jagger headed to Monte Carlo where he studied the tables at the legendary casino for a month. He then began to bet. He won more than two million francs in a few days; the equivalent of more than £8 million today. Breaking the bank several times. Jagger's ability to spot an imperfection, and win a fortune, resulted in the complete redesign of the roulette wheel.
#4. The Queen of Sin
In the early nineteenth century, New Mexico was at the centre of the conflict between the US and Mexico. The Santa Fe trail cut through the territory. It was the main supply route, plagued by the Comanche, and travelled by men desperate for whiskey, women, and a game of Poker.
Enter the 'Queen of Sin'. Maria Gertrudis Tules Barceló; a saloon owner and professional gambler. In a man's world, she was a woman who took no prisoners. She moved to Santa Fe in 1825 and set up a pop up casino near a mining camp. It was so successful, she earned enough to buy her own casino in town.
The opulent casino was a hit, featuring crystal chandeliers, etched glass mirror ceilings, and drapery lined walls. Every visitor to Santa Fe would visit her casino, on the off chance of seeing 'La Tules' dealing Monte at the tables. Barceló died in 1852, leaving a considerable fortune to her family. A pioneer and not a woman you would want to cross.
#5. The Greatest Gambler Ever?
Is a great gambler someone who always wins, or is it someone who is fearless and risks it all? In the case of Anargyros Nicholas Karabourniotis, it's both.
Archie Karas was born in Cephalonia, in 1950. His family was dirt poor and Karas had to shoot marbles, as a teenager, to earn money for food. He ran away from home at 15 and ended up working in a Los Angeles restaurant.
He honed his skills as a Pool player, eventually earning more money in the pool hall than the restaurant. He then started playing Poker and built his bankroll up to $2 million. Other pros considered Karas a weaker player and, by December 1992, Karas had only $50 left after a disastrous run playing high stakes games.
Undeterred, Karas went to Las Vegas and began the greatest three year run in gambling history. He took his $50, added a $10,000 loan, and made more than $17 million in the first six months. Karas basically then set up shop in Binion's Horseshoe where he sat at the table with $5 million on the table in front of him, waiting for someone brave enough to bet him.
He waited and they came. By 1995, he had amassed more than $40 million. Then it all started to go wrong. Karas lost most of his money in just three weeks, playing dice and baccarat. Karas has had a few mini streaks since but nothing like his original run. In 2013, he was arrested for marking cards at a Blackjack table and sentenced to three years probation. He may have fallen from grace but Karas is a true gambling legend to this day.